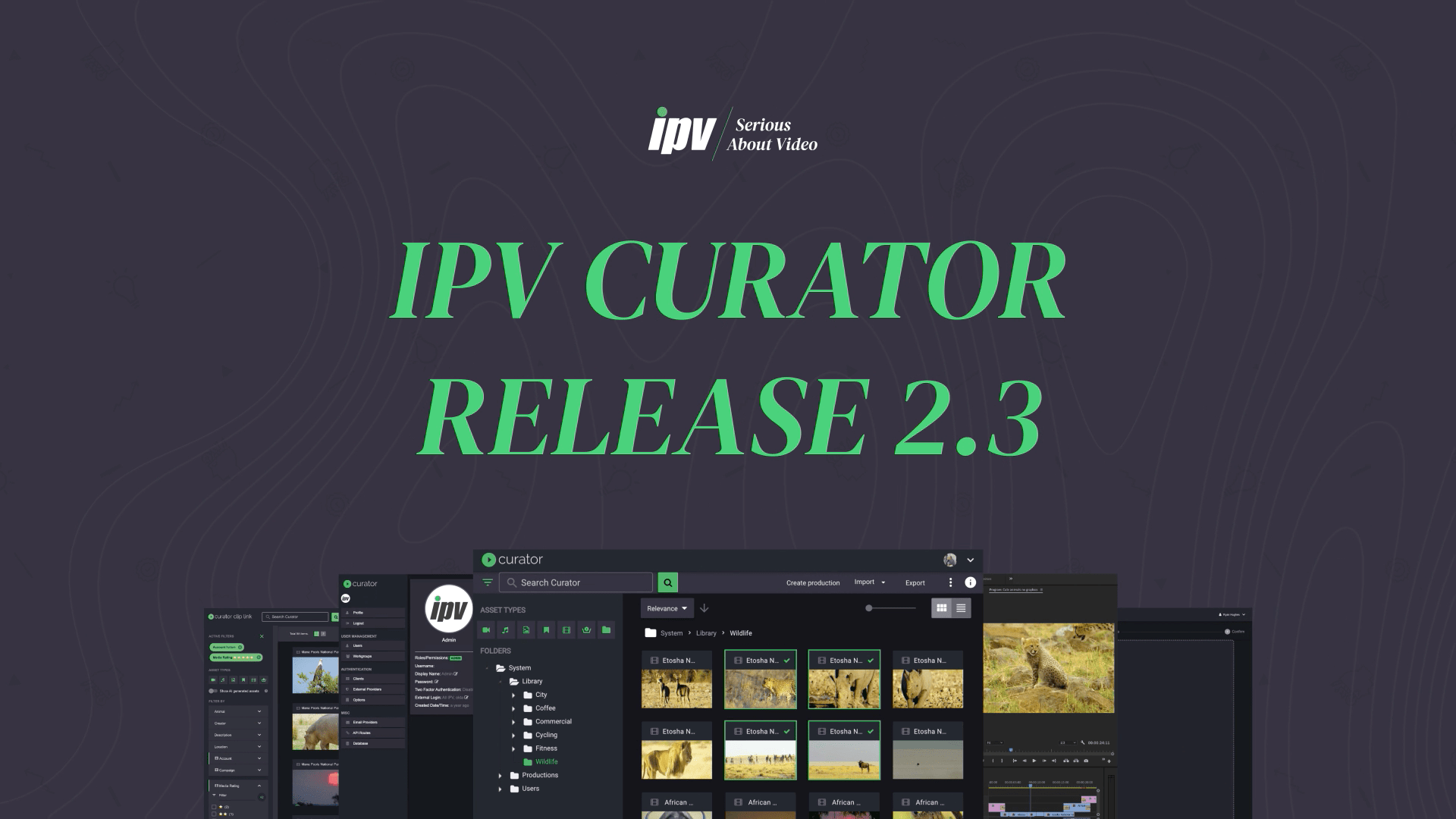 What's new in Curator 2.3: the highlights
We've overhauled the Curator Adobe Panel, making it faster to find content and giving creative editors new ways to collaborate. See it in action in our Curator for Adobe demo video.
Curator Connect now makes it easier for Media Managers to register assets in bulk and offers support for Sony FS7 camera cards, adding to the Canon C300, Panasonic P2, and RED camera cards already supported. See it in action in our Curator Connect demo video
Curator 2.3 brings the first iteration of Curator Gateway, providing System Administrators with increased security during the Curator deployment process and simplifying the setup of system administration access
Curator Server now boasts security protocols that meet NASA's stringent requirements, and multiple performance enhancements
We're always listening to customer feedback and feature/enhancement requests; if you have an idea on how to make Curator even better, please let us know on our Feature Request and Suggestions page!
Curator 2.3's updates in detail
Editors can now do more in fewer clicks with Curator's brand-new Adobe Panel
The Product Team at IPV has been busy working with creative editors to further improve the functionality and UX of the Curator for Adobe Panel. The result is a brand-new Panel that more closely mimics Curator Clip Link, providing a slicker user experience and including the top 5 user enhancement requests (plus many more less common requests):
Faceted search filtering makes your media assets quicker and easier to find
Enhanced productions workflow makes new user onboarding faster and easier
Video assets can now be previewed before they're imported into the Premiere Pro project bin, saving editors a significant amount of time
Editors can now bulk import up to 100 assets at a time and can drag-select and Shift-click-select multiple assets at once
Asset metadata can now be imported into the Premiere Pro project bin
You can see the new Adobe Panel in action in our Curator for Adobe demo video.

The Panel update is such a big deal we've created a separate blog post and accompanying video (below) for it!
Even more ingest options with an updated Curator Connect
Curator 2.3 brings an updated Curator Connect, with functionality and performance enhancements including:
Folder import, allowing bulk asset registration, making it easier for Media Managers to ingest and manage even more media in Curator
Saving to multiple destinations with custom metadata fields for each destination, giving Media Managers more control over where their files land and the metadata they're ingested with
Support for Sony FS7 camera cards, adding to the Canon C300, Panasonic P2, and RED camera cards already supported. Curator Connect stores camera card recordings as single assets while intelligently recognising and maintaining the complex folder structure of the camera cards. This makes it easier for Media Managers to register the assets while maintaining the integrity of the original folder structure
3x faster file copies, saving significant time on the ingest process
You can see Curator Connect in action in our Curator Connect demo video!

Curator Gateway brings easier system administration and better security
Curator 2.3 brings the first iteration of Curator Gateway, designed to:
Provide System Administrators with increased security during the Curator deployment process
Simplify the setup of system administration access
Future versions of Curator Gateway will bring additional security and system administration functionality.

Performance and security improvements to Curator Server
Curator 2.3 brings several updates to Curator Server, including:
Support for OpenJDK, providing an alternative Java option which does not require licensing from Oracle
NASA-grade security for storing user passwords
Improved performance when reading metadata names & using JSON facets
---
Upgrading is easy - here's how
Upgrading is easy for existing users - just click here to contact your Account Manager.
---
What's next for Curator?
Curator 3.0 will arrive in Summer 2020 and will bring even more feature and feature enhancements, security and performance improvements, and upgrades to Curator's user experience. Keep your eyes peeled for the next release email and blog post! If you haven't already, be sure to subscribe to our updates so you can be the first to know when it's available!
---
Not using Curator yet?!
Not a Curator user yet? You're missing out! Join Hearst, Altitude Sports, AMPAS, NASA, Home Depot, and many other leading companies who understand the benefits of proper video asset management - book your demo below to see how Curator can help you take control of your video assets and produce quality video content faster than ever!