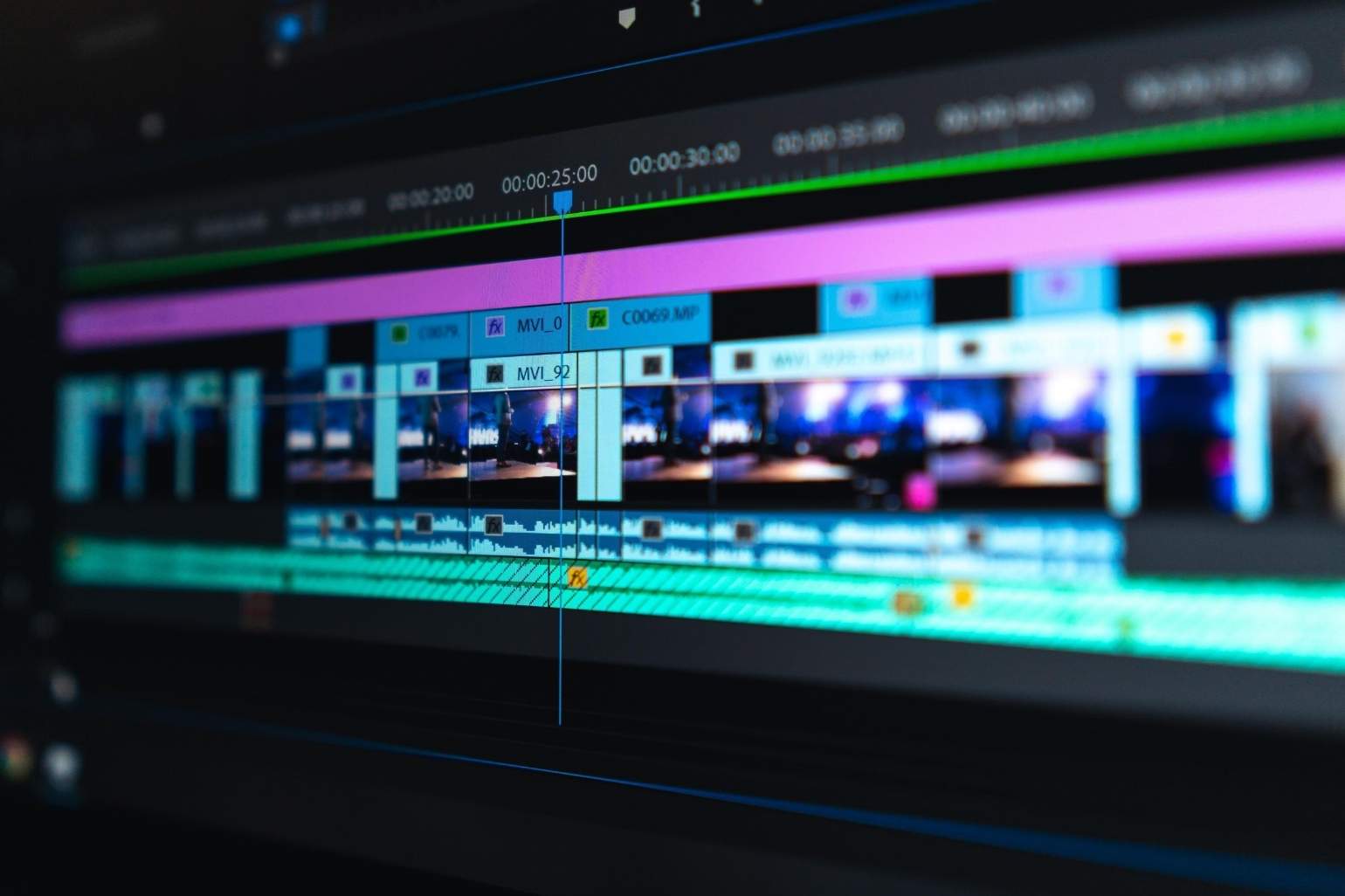 Perfecting your own Adobe Premiere panel workflow is an ongoing process for editors. Although Adobe offers a wide range of sophisticated capabilities within their panel displays, getting assets in and out of Adobe — and editing on them remotely — isn't always that simple. That's where integrated support comes into play.

Here, we'll address how media asset management (MAM) software can augment Adobe panel workflows when fully integrated with the program. Full disclosure, Curator is our own product. It's not the only media asset management system able to deliver some of these outcomes. But you will need to check product specifications (starting with integration capabilities) before applying this information to another product.

Without further ado(be), let's get started!
Introducing the Curator for Adobe Panel
The Curator media asset management system system tightly integrates with the Adobe editing environment. One way in which this is done is through the Curator for Adobe Panel. This operates just like any other panel display, and can be docked within Premiere Pro (useful for small screens) or opened in a separate window.
The Curator panel provides direct access to the overarching Curator media asset management system system directly though Adobe — allowing for the streaming of high-resolution and/or streamed 2% proxies of all available assets. Curator helps you to edit remotely from anywhere in the world and stay in the creative flow, without ever needing to download any original assets.
It's important to note that the Curator for Adobe Panel is not the entire Curator system, or a "MAM" in its own right. It's simply one feature of Curator that adds specific value to Adobe workflows. The overarching media asset management system (Curator) works with any number of editing software, and provides value outside the specific contexts we will discuss here.
Customizing the Curator for Adobe Panel
Editors can switch between thumbnail Grid View and List View
Adjust the columns they see in List View
Change the size of thumbnails in Grid View
Switch between folder tree views and metadata facet view in the search column
Set either proxy or high-res as the default asset option (e.g. proxy if remote, high-res if always editing in the office)
Choose which metadata to import along with assets into the project bin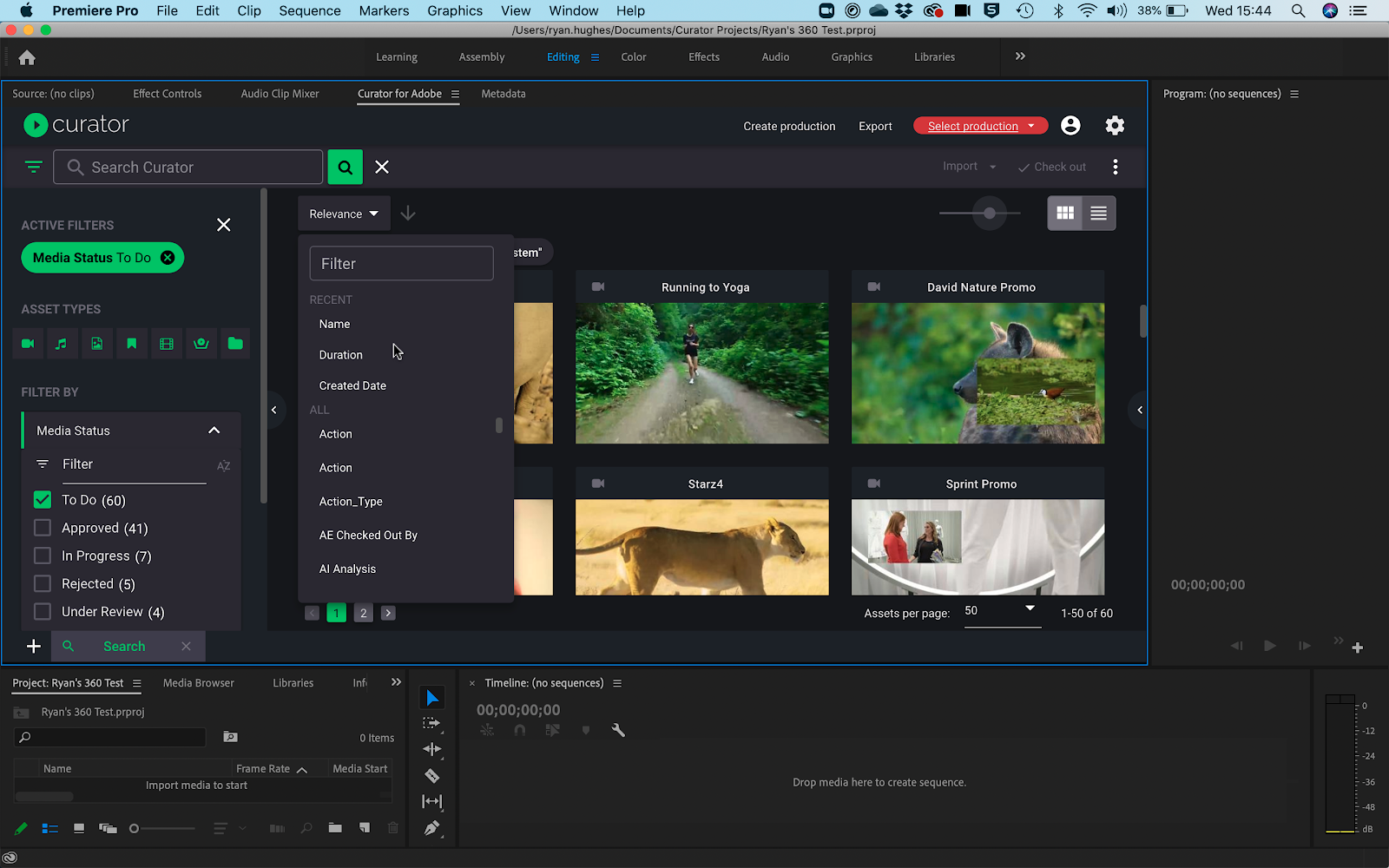 What the Curator for Adobe Panel allows you to do

The Curator for Adobe Panel's main value derives from its ability to enable search and discovery of assets — from anywhere in the world. The Panel's intuitive search functions provide a quick and easy way to locate assets and then import them directly into your workflow. On its own, this creates workflow improvements. However, this capability is augmented by two more features delivered by the Curator media asset management system system:
The creation of hyper-specific metadata through the use of object detection and speech recognition during ingest.
Remote access capabilities delivered by automated proxy creation/conform and permission setting.

Search and discovery: metadata, assets and more
1 in 10 hours spent at work by creatives is wasted looking for the things they need. The Curator for Adobe Panel can help you claim back this time for more creative pursuits. This is done through the use of object detection and voice recognition.

When assets are ingested using Curator, the system scans each file and separates out segmented clips that share similar visual characteristics. These then have descriptive metadata tags applied to them — e.g. "smiling man wearing a tie", or "zebra running". These suggestions are then reviewed and approved by a Media Manager. These functions are called the Curator Logger.
The outcome of this process is transparency. Archive and product footage ingested this way can be searched very similarly to how the "Ctrl + F" function allows you to search text documents. The Curator for Adobe Panel allows you to do this directly from your Adobe panel workflow. Search results can also be filtered by Asset Types — e.g. video, audio, Curator Production (Premiere Pro projects), clips and sub-clips. These are great features if starting an edit from scratch.

Assets can be previewed as frame-accurate streaming proxies directly in the Panel before importing them to the project bin. This is done by simply double-clicking on an asset to preview in the HTML5 video player, or by pressing the space bar if it's selected. The video can be manipulated using the on-screen controls or familiar keyboard shortcuts.
Remote editing: closing distances
Remote editing is a long-standing challenge in video production, especially when it comes to asset access. Current events have accelerated the need for change. Curator, and the Curator for Adobe Panel, can short-cut you to a solution.

Curator provides frame-accurate proxy streams at just 2% of their original files size, accessible on basic WiFi (<2Mbps) — if you can watch YouTube on your bandwidth connection, you will be able to stream proxies using Curator. Check out this blog post to discover why streaming proxies is so useful (compared to downloadable proxies).

Curator also provides a controlled interface for accessing archived and production assets. Permission settings allow you to provide everyone in your team with curated access to your entire system, but feel confident that individuals will only access the assets that they should.


Working with Curator Productions
Curator Productions are essentially Premiere Pro project files that are stored in the Curator system. They allow individual (or multiple) editors to collaborate on projects, from anywhere in the world — similar to Adobe's Team projects, but more sophisticated. Rather than simply offering cloud-based project sharing, they also include detailed metadata, are searchable using Curator's powerful search functions, can be made into templates, and offer remote conform/export when editing is complete.

We are going to look more closely at the various workflow options available when operating with Curator Productions.

Note: For simplicity and clarity, we'll use the term "Curator Productions" throughout this article in place of the term "projects".
1. Creating new Curator Productions from scratch
You can either create a new Curator Production and start editing, or save a new or existing locally-stored Premiere Pro project as a Curator Production, using the Panel. This puts the production into the Curator system, and adds metadata to it so it can be easily found and shared by you and other editors.
2. Discovering and exploring existing Curator Productions, or project templates
Using the same metadata-enabled text and/or facet filter search and discovery functionality for finding assets, you can discover existing Curator Productions or make use of templated project files that are kept centralized and up-to-date with relevant branding and brand assets.

Using Curator's "Project Explore" functionality, you can look into existing Curator Productions to see what assets are in them without needing to import it or check it out of Curator.

Pro tip: Remember, all of the project search features described here can be augmented with permission settings — allowing creative directors to control who can access what, and what they are allowed to do with those files. This makes it far easier to manage a remote workforce, and provide archive access while still retaining control over IP and workflows.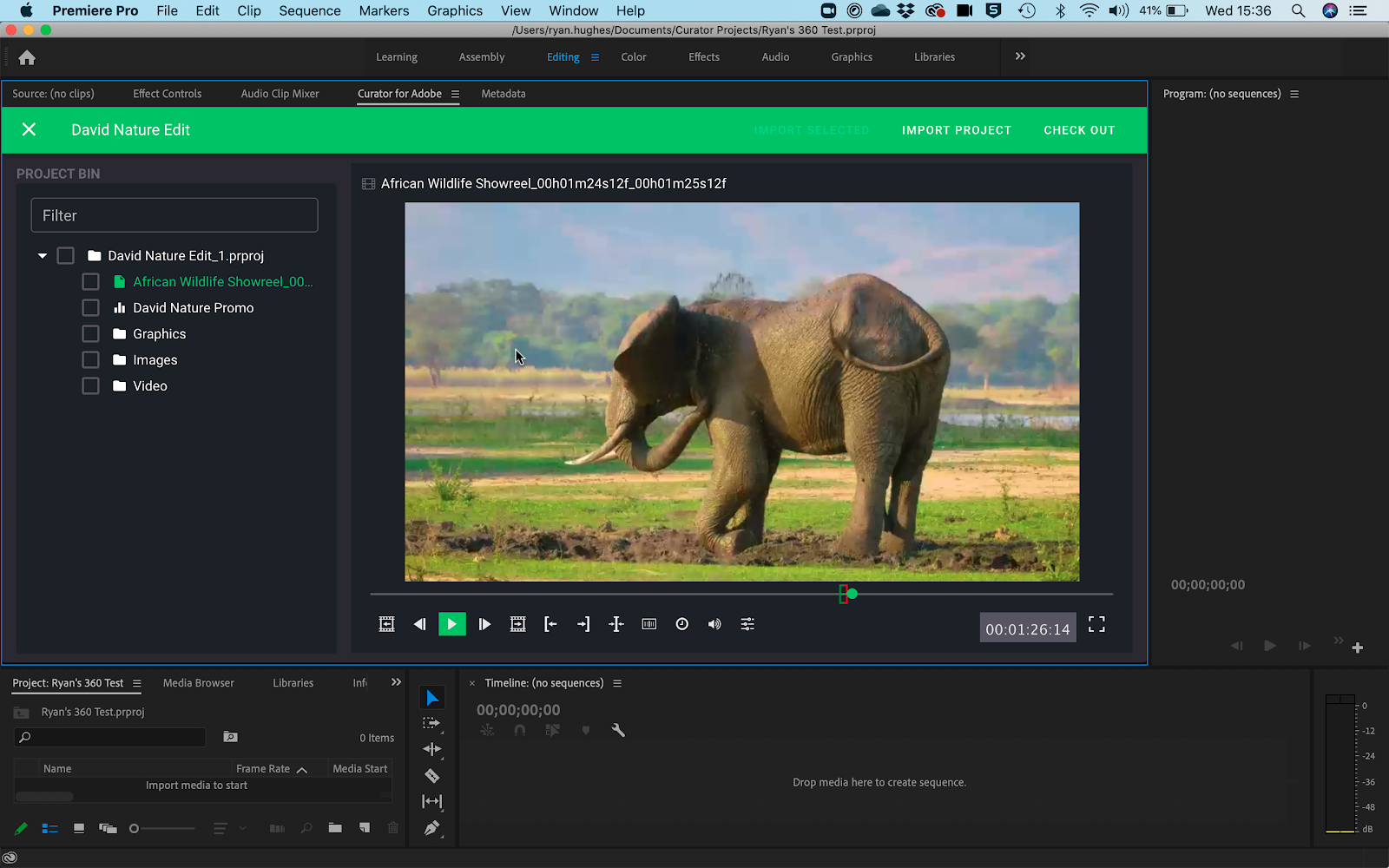 3. Checking Productions Out/In
Curator provides check out and check in for Productions, so your colleagues can know when a project is already being worked on. It also provides you with versioning and a comments box so you can remotely collaborate on projects and keep each other updated on what changes you've made in each version.


Working remotely with Curator Productions
As we have addressed, enabling remote collaboration and access is one of the key benefits of Curator and the Curator for Adobe Panel. The options detailed in the previous section can be applied to remote workflows, and vice-versa. However, some of the workflow options made available through Curator provide added value in a remote setting.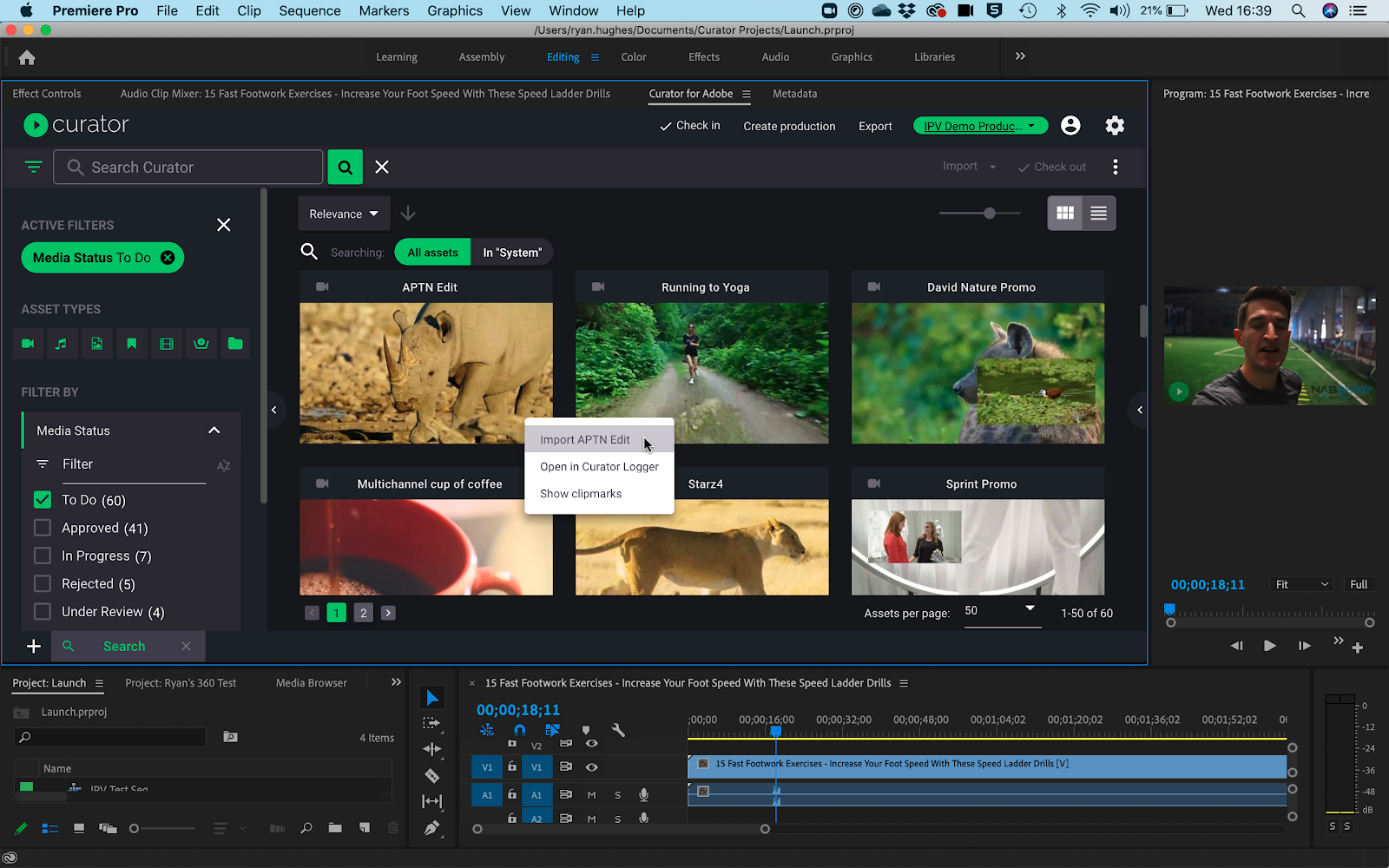 1. Importing content and metadata into your project bin
With the Curator Panel, importing proxy streamed assets into your project bin is as simple as pressing Enter/Return on your keyboard, or right-clicking the asset and selecting "Import". When you import assets, you also import the asset's metadata with it, making the project bin search function much more effective.
As explained above, finding new content to add to your project bin is as simple as performing a text search, using the "Saved Searches" icon for your common searches, or using the faceted search filters.
2. Simplifying your project bins
Without a media asset management system, it's common for editors to replicate the storage devices' folder tree structure within their project bin, potentially importing hundreds or thousands of assets in various folders, despite only needing a handful of them.

With Curator, your assets are managed for you in the Panel, making it much easier to find, preview, and import only the content you actually need into your project bin, rather than importing everything you could possibly need. Project bins remain smaller, reducing load times and making Premiere Pro run faster. You're also always looking at the most up-to-date repository, rather than the project bin folder based on what was available when you performed the import.
3. Finding and adding new content after editing starts
Simply an extension of the previous point, the Curator Panel allows you to continually add new content to a project at every stage of the edit. This could be a project, a clip, a proxy or high-res master. It could even be an image, audio file or animated asset — anything within your live or archive storage.
Pro tip: Remember, Curator not only allows you to locate, preview and import new content, it makes it far easier to find the right asset through the deployment of advanced metadata creation during ingest.

What this all allows you do:
The ability to search for projects and import them into a current project introduces agility into workflows. For example, if an assistant editor has collected video together or started a basic edit in a project, the lead editor can check out that project and continue the edit — making it easier to collaborate and delegate tasks.
The ability to check out/in projects is a key feature of effective remote collaboration. You can work with confidence within broader teams, knowing that everyone is on the same page — or project/production, in this case.
Accessing projects through the Curator Panel is all about speed and simplicity. It provides an intuitive interface for searching your project catalog directly from Adobe, reducing administrative tasks and accelerating workflows. The ability to be selective about what you add to the bin — and by using previewed proxies you can be confident that you're adding the right content and get started quicker.The ability to search for reusable templates only adds to this convenience.

Remote collaboration and advanced editing steps using the Curator for Adobe Panel
To this point, we've really covered the basics. These features offer robust improvements to workflows and creativity. However, the Curator for Adobe Panel offers a few more advanced features worth discussing separately. Overall, the Curator system is geared towards enabling a future defined by remote workflows and seamless collaboration.
Exporting and review workflow
Rather than having to export files repeatedly, Curator Productions can be shared with colleagues directly through the Curator Panel. You can also use the Panel to export low-res, watermarked assets for review by individuals not linked into your Curator ecosystem.
What this lets you do:
The ability to share project previews is one of several remote collaboration features built-in to Curator. Involving others early on is always a good idea — it can improve creativity and make sure that you hit project briefs, first time. Removing the need to export files frees up time and reduces delays that occur due to massive file sizes and strains on existing hardware.

Audio or mastering step (for high-end editing)
Using Curator, you can save and send a project to an audio and/or captioning team for them to craft the sound (e.g. dubbing additional languages, adding captions, etc.) — and then send it to be mastered. Rather than having to share your files (which itself creates size-related issues) and complex project data, you can simply provide access through Curator.
What this lets you do:
Dividing up workflows speeds implementation. Specialists can be working on one part of the workflow while you get on with another. No waiting for others to finish or unnecessary administrative burdens.

Conform and export (local or remote)
Once an edit is finished, you can perform a remote conform/export by sending the export job to a remote AME instance (back where the original high res files are), automatically swapping out the proxy files for the high-res files and exporting the new high-res asset. This is done seamlessly from the Curator Panel.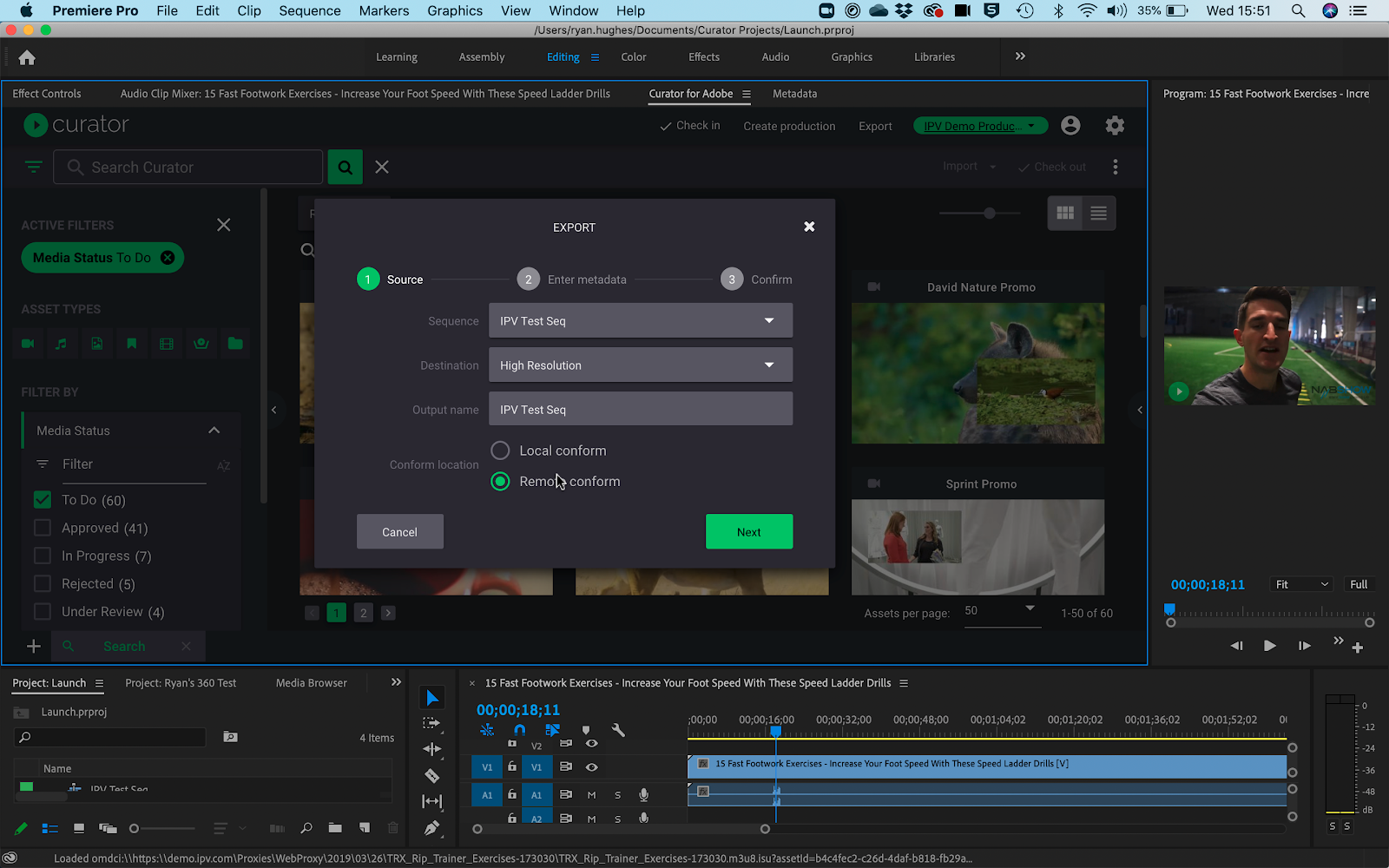 What this lets you do:
This feature is all about flexibility and simplicity. Automated access to remote conform makes it easier to embrace remote workflows. You also have more control of where and when you start encoding. Basically, the high-res data files can stay in one place while you and your team work faster remotely.
Ultimately, this feature (combined with the other aspects of Curator) is the "game-changer" when it comes to workflows. Permission setting (and other security features) allow for the embrace of remote editing within a flexible and customizable framework. Any asset needed can be found and put to use remotely with the Curator system.
What Curator allows you to avoid
Although there are plenty of active benefits to using the Curator Panel for Adobe Premiere Pro, it's application brings with it several passive benefits — allowing you to avoid cumbersome tasks and free up more time to be creative. These include:
1. No downloading proxies OR high-res files to your computer
Curator for Adobe Panel streams the proxy streams directly to your project timeline. This removes the need to download proxies, saving time and hard drive space, and creating more flexible workflows.

Curator also offers a downloadable proxy option if your users want (or need) to work offline. Discover more in our streaming vs. downloadable proxies blog post.
2. No watching the ProRes bar on the export
Remote conform means that you don't need to perform the conform/export job on a local machine, potentially saving hours just waiting for the export to finish.
3. No need for a HP Z8 workstation on your kitchen table
Editing with proxy streams greatly reduces the load on the editing machine. Particularly for remote workflows, this creates massive flexibility regarding the equipment you need to access. Bandwidth requirement reductions mean that it's possible to undertake any project on a standard laptop accessing regular commercial broadband internet.
4. No need to create huge project bins with complex folder trees with all possible assets
Curator organizes your media for you, so you don't have to. The flexibility of metadata searches (and improved metadata descriptions) reduces the need to create complex folder trees. Ready access to your archive material removes the need to duplicate file structures locally — simply allowing you to access (and then stream) 2% proxies of the original files.
5. No switching to a brand new browser-based editor (e.g. Blackbird) for remote editing
The need to accommodate remote video production workflows has seen an increased adoption of browser-based editing software. But this forces your editors to learn a new editing interface and slowly lose their Premiere Pro skills — along with operating using software that is (frankly) not as sophisticated as what Adobe has to offer.

Curator makes remote editing possible within Premiere Pro. Adobe is a main partner of ours, and the value of both of us working together means less UI learning and more effective results for you. You can learn more about how Curator and Adobe work together in our on-demand Adobe/Curator webinar on remote editing workflows.


Building on the power of API integrations
One of the biggest advantages of a modern media asset management system is the ability to combine and augment capabilities within a single system. The flexibility of APIs makes it (relatively) simple to deliver improved features across a wide range of workflow activities, and to integrate your existing applications and workflows into Curator.
For example, remote conform/export is made possible by API integration with Adobe Media Encoder. Integrations with various storage providers enables users to tell Curator to automatically restore high-res assets from archive when they're ready to perform the conform and export job. And integrations with OTT providers such as Vimeo enable editors or Media Managers to upload assets directly to your OTT platform.
What this lets you do:
Without Curator and this integration capability, you would need to request the asset(s) to be restored from archive by the IT Team or Media Manager. This is a major pain avoided. You might not know what's on an asset until you've seen it, so you would have to ask for many files to be restored just to find the one that's useful.

Quality API integration also means Curator fits into your existing workflows and systems rather than necessarily replacing them (unless you want it to)....

A quality media asset management system should be on your procurement list
A good media asset management system improves workflows in the office and online and solves a number of media production problems. Anyone attempting to produce video assets in a remote workflow environment will benefit from investing in a quality media asset management system tool.
Working remotely: providing seamless access to archive and production assets through streamable and downloadable proxies -- augmented by automated proxy creation and conform.
Archive transparency: delivered by advanced metadata creation, and accessible through intuitive search and discovery features -- assets can be rapidly found, previewed and imported directly into new or existing Adobe projects.
Control and security: All of this is done within a permission-based, watermarked and encrypted framework. You can control who accesses what and what they do with it. You can even track and attribute those changes -- improving collaboration and ensuring IP safety.

The number of possibilities for how these workflow transformations can be deployed are still being explored. It becomes easier to work with freelancers, provide workplace flexibility, monetize archived assets, and accelerate production.

The quicker you can deploy, the better. It's never been more important to manage remote workflows. Building a new normal in video production requires delivering high-quality technology where it's needed — and increasingly, that's at home.

Media asset management systems can bridge the gap and make remote access and collaboration easy. Curator can be deployed and ready-to-go in as little as 36-hours, and then bespoke tailored to your exact needs over time. If you're interested in learning more, check out any one of our industry specific eBooks, or get in touch and book a demo today.