IPV interviewed Barry Flanigan, COPA90's Chief Product Officer, about the challenges faced by content producers during Covid as part of The Future of Video Production report but the insight he had to offer deserved it's own article; so here it is in all of it's glory.
"Even though there's been no football, it doesn't mean that fans stop being fans"
Who is COPA90?
COPA90 is a media business focused on football, or soccer as you'd say in the U.S. We're headquartered in London, but we deliver our content to a global audience, having built a network that reaches about 100 million fans around the world. Pre-lockdown we were creating around two to three thousand pieces of content a month that tell stories of football and fan culture. A lot of our content is video centric with clips on a scale ranging from snackable feed-based content which goes on Instagram, Twitter or TikTok, to long-form films and everything between. We describe the brand as being how football ​feels​. What we mean by that is you go to traditional sports media to find out what's happening in the game of football itself - the scores, the line up, the stats - but you come to COPA90 to understand how you feel about it. It's the emotional connection with the game, that world of fan culture. And it matters so much to young fans in particular. That's where we focus the content that we create. It's the essence of COPA90.
How has lockdown impacted your business?
Although we do stream match content with some of our partners, our model is based around how to bring to life the whole world of football from a fan perspective. Even though sports are slowly starting to come back, because it is less based on actually showing matches, there's still a lot of fan stories and content that we've been able to create and share. Fans don't stop being a fan of the game just because the game is not actually taking place. But because the office is closed and we can't send crews on production it has been a challenge to make content through the whole lockdown period. One of the things that's been crucial to support our changing workflows is our cloud infrastructure.
Our initial move to the cloud started in 2018 to streamline our World Cup coverage and manage the archive assets, which up to that point were pretty fragmented. We have around 300TB of footage and IP that goes back to 2012.
Our archive content is evergreen and still resonates, because it's focused on the stories of the clubs and the players.
We wanted to manage that content more effectively. Fortunately this put us in a stronger position going into an unprecedented crisis like this pandemic. Even though we couldn't shoot a lot of fresh content, because we already had our footage in the cloud, tagged with metadata and all readily available to our editors for remote workflow, it meant we could repackage the archive content and provide an uninterrupted stream from our MAM to our partners, even though we're not in the office. This kept the volume of content flowing into our channels and helped us expand our commercial opportunities.
What workflow challenges have you encountered with regard to remote working, and which adaptations will you continue to implement as we phase out of lockdown?
Like others, we've been getting used to various workflows around Zoom and other tools that enable us to create new content remotely. So I'd say that the second big shift in the business has been how to create this sort of remote content. We haven't had to think like this before. Previously, we'd have sent a production crew to shoot on location. Now we're working out how to use remote tools like vision mixing in the cloud, etc. How do we bring it all together in a format that works? Some of these formats were created for our own content, but we've actually done a lot of interesting work with brand sponsors, which is a main revenue stream for us.
Can you give us an example?
A good example would be EA. We worked on a format with them called ​Stay at Home, Play at Home w​here we created an interview format hosted by player ambassador Rio Ferdinand. He hosted a FIFA tournament with other players, but the point of the format was less about the actual game of FIFA, and more a format that enabled us to see players interacting with each other, talking in general about their life, and this makes it more relevant to the fans.
Fortunately it has always been the COPA90 model that content doesn't just come from us, and we've built what we call a creator network that encourages fans around the world to tell their stories. We've had a flow of content from our fan network and our cloud infrastructure is key to making this available both to our creative team and our distribution channels. It's been interesting to see and hear what fans have to say, what they're feeling whilst the game isn't on. Linked to this, we've been doing a lot of strategy and insights work with brand partners, helping them understand how the fan community is feeling at the moment.
Hopefully we're not back in lockdown and there aren't subsequent waves, but you never know how this is going to play out. We made some smart decisions early on to move to the cloud which are paying dividends at a time like this. I think we'd be in a much more difficult position during this time if we'd not made those investments 18-24 months ago. Looking forward, we haven't moved fully to the cloud. We don't do end-to-end cloud workflow but that's definitely something we're interested in because that would make the process even more efficient and robust. Our editors are working from home, cutting on Adobe Premiere, pulling assets from the cloud. I'd love to take us to a place where we were actually going that one step further, and I know there are many media businesses that are looking at this at the moment, given that we may be coping with a situation where teams are working remotely for some time to come.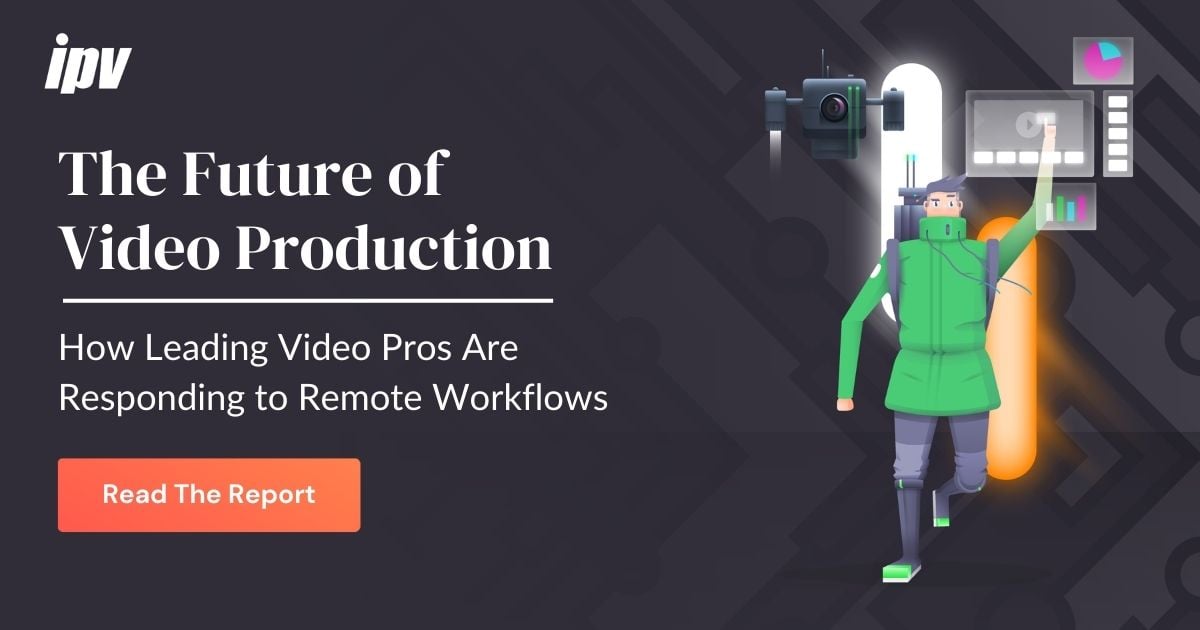 COPA90 was well set up for the challenge of lockdown production. Why was COPA90 so resilient and what were the challenges you experienced preparing your team to work remotely?
COPA90 doesn't have the luxuries of some of the big broadcasters in terms of budgets and technical resources etc., so we keep our model quite lean, honed through our experience of major tournaments like the World Cup and Euros where content needs to be created and distributed very quickly. Ironically, that experience of producing rapid content for major tournaments put us in a good place at a time when there aren't any major tournaments. That cloud infrastructure investment helped us cope with this current situation. We were able to adapt relatively quickly to the sudden changes in our way of working. That said, there's no getting away from the fact that in the first weeks of this, everybody was just trying to get their head around what was going on. That was the initial challenge. And you can have the best infrastructure in the world but there's still no getting away from the limitations of people's home broadband speeds at some part of the workflow chain.
We learned that back-to-back Zoom or Hangout calls from 9am to 6pm are quite tiring, and like the rest of the world we're still just trying to figure out when best to use Zoom or Slack. By March we had everything bedded in and everyone was able to work remotely, including the practical thing of making sure everyone was healthy and were able to look after their families. By April we had settled into the new reality. We're looking at it in phases. Phase one was "The football isn't on right now. How do we make sure we continue producing content, support our brand partners, and enable everyone to work remotely?" That was up until May. We're in phase two now, and the question is, now that football is starting to come back here in England, Germany and Spain, how do we create content when fans aren't in the stadium? Hopefully we get to stage three, which is later on in the year or going into 2021, when we're through this initial piece of the crisis, and planning for the gear change to the business as things come back to some form of normality.
But it raises interesting questions for many businesses, in that the pandemic has accelerated a lot of flexible and remote working practices and how much of the remote workflows that have been put in place do we actually continue with when the crisis has passed, when we're all able to go back to whatever form of working we did before? That's probably something we'll continue with in some form as it's been core to our model in that we don't need everyone in the office, but it's an interesting question for many businesses.
I've heard that a lot. Businesses are saying "well, now that we know we can work remotely, it's nice to have that option to do it once in a while."
There are benefits at a practical and technical level. There's certainly work that can be done remotely and doesn't need people in the office. And being a business with creative teams it's a good thing not to be forced into an office environment, to think creatively. And there's also just the practical benefits for people that have families. I've got three young kids and one of the benefits of this time, although it's been difficult for everybody, is being able to spend time with them at the same time as working.
For all businesses, it's an interesting way of thinking as we come out of this, to ask what have we actually learned and what improvements can we make to our way of working? From our perspective, being a business focused on football and sport, there's a whole load of technical and creative innovation, such as remote cloud-based working, that this period is really accelerating.
With games coming back behind closed doors without crowds in the stadium it will be fascinating to see how we continue to create the fan experience. We've already seen a lot of interesting experiments and technical tests around that, but again, it's always been something that's core to the way we've looked at football. There's the fans in the stadium, but there's also a much, much bigger audience for the game all around the world. The big clubs have a global fan base who may never have the opportunity to be in the stadium. So, it's interesting now we're all in the same boat where nobody can be at the game. How do you bring to life the atmosphere and emotion of the game for fans watching remotely? I think we'll see a lot of innovation around that space, and the technical vendors working on this are going to be in an interesting place coming out of this.
Do you have any tips, tricks or inspiration for other companies that perhaps struggled to make the move to lockdown workflow?
It's probably not the most inspirational message but I would just like to bang the drum for cloud based workflows. I know from my own experience in the industry and from my network that some companies are hesitant about moving activity to the cloud, and are still not convinced of the business case. As a content company we could see the benefits of moving to the cloud but I think this period has demonstrated that this isn't a luxury. Our cloud infrastructure has been essential to our resilience during the lockdown restrictions.
I'll maybe give you a more inspirational message for people, more in the field of sports, that echoes a point I've already mentioned earlier and demonstrates the importance of sports beyond the game itself. People don't stop being fans of the sport just because the sport isn't on. I think it was Jurgen Klopp who said recently that football is 'the most important of the least important things'. That sense of community that comes with being a fan of sport is more important than ever, when people need to share a connection to help get through these peculiar times we are living through. There are many creative and innovative ways to feed that fandom.
What we discovered when we listened to our user network is that at times like these fans crave and take comfort from belonging to a community. I think organisations involved with sport have a real role to play, beyond covering sports, to help foster and maintain that sense of connection for fans around the world. It's a thought provoking piece for any of us involved in sports at the moment.
What's Next?
You have questions, we have insights. For more information on how today's leading broadcast organizations are approaching workflows during and after the pandemic, check out our report, The Future of Video Production: How Leading Video Pros Are Responding to Remote Workflows.
Need to streamline your remote editing workflows?
Curator enables remote editing and collaboration for some of the world's leading sports organizations. It delivers incredible ROI for Altitude Sports, the NBA, and the Denver Nuggets. Still have questions on what it can do for you? Book time directly with Gabrielle below to see how Curator can help you take control of your video assets and produce quality video content faster than ever! 👇👇👇