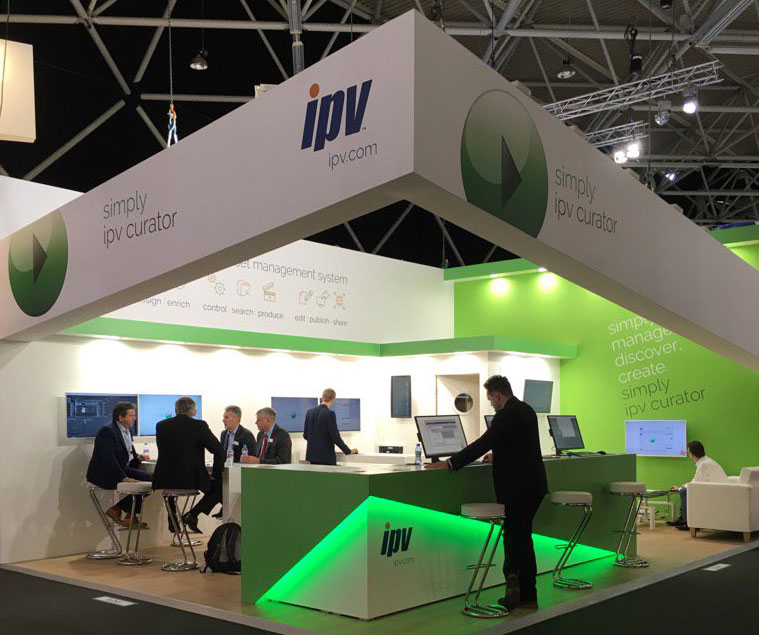 The use of cloud video workflows is becoming increasingly common in Media & Entertainment. In fact, Devoncroft has predicted a 58% increase in adoption over the next two years (according to the Devoncroft, The Media and Entertainment Cloud Adoption Index, December 2017). Users of our Curator platform are no exception. As many as 75% of our recent asset management solutions deployments include cloud technology.
So to make this adoption as easy as possible, our development team has been working hard on new features. The latest of these is Curator's new Process Engine Agent – or PEA as it's become affectionately known. PEA extends Curator's workflow capacity and brings several benefits when operating hybrid cloud video workflows. These include easier configuration across multiple sites, a smaller on-premise footprint and greater scalability.
What are hybrid cloud video workflows?
To clarify what we mean, hybrid cloud deployments are a popular model of asset management deployment. They give users the benefits of the cloud's accessibility and global reach. But they also recognize that shifting all your media files and video production workflows to the cloud overnight isn't realistic.
In hybrid cloud deployments, media asset management services and proxy storage is moved from on-premise servers to cloud instances. Ingest, archive and file movement services remain on-premise to avoid having to move large files to the cloud.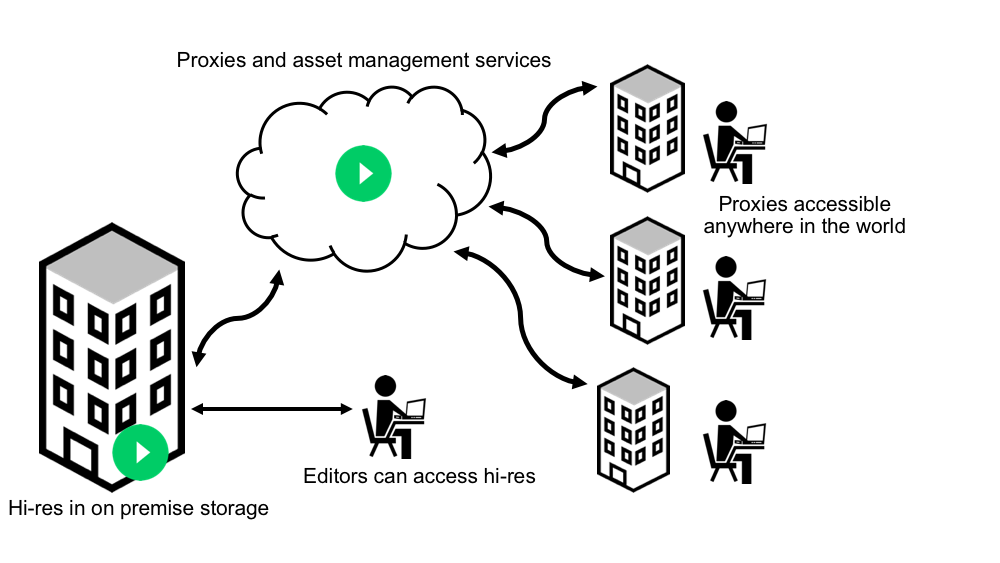 Curator Process Engine Agent
Within an asset management system, there needs to be an orchestrator of the workflow. This is a tool that manages several functions including ingesting content, exporting edited projects, archiving hi-res files and more. Typically this has been done in Curator by Process Engine. During content ingest there's often a need for the Process Engine to ingest more than 10,000 assets a week. This can lead to job queuing as typical server infrastructures limit the number of concurrent Process Engine ingest workflows to 50.
We've introduced the PEA to extend the capabilities of Process Engine specifically within hybrid cloud video workflows. It's scalable, easy to deploy, has a small on-premise footprint and offers new options for redundancy and disaster recovery.
The PEA takes the core workflow capabilities of the Process Engine and lets you to run them in any location creating cloud video workflows. Let's take a look at how it benefits a MAM infrastructure with multiple remote locations.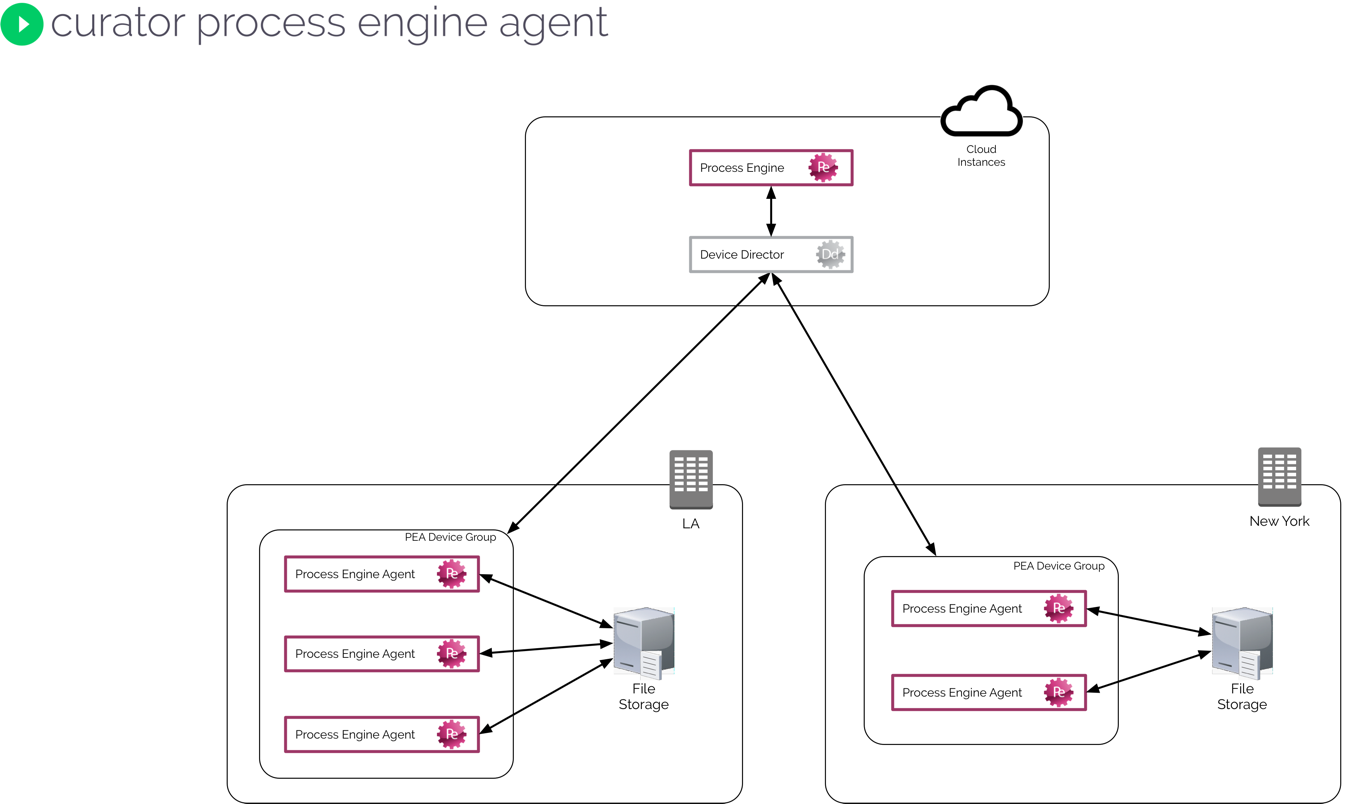 You can see that the PEA has been scaled with two instances in New York and three in LA. Not only does this demonstrate scalability, but also resilience. If one of the LA PEAs was to go offline then jobs would be sent to the remaining two. On top of this, overheads are greatly reduced because the controlling, cloud-based process engine can execute small workflow activities through the PEAs. This removes the need to deploy complete workflows in both New York and LA. And it makes it far easier to onboard new remote locations to your Curator system.
Managing agents
Agents are managed by the Curator Device Director. They can be grouped, jobs prioritized and all PEAs managed from a single user interface. This shows both online/offline statuses and a view of currently running jobs.
Overall, Process Engine Agent makes it far easier to deploy Curator in a hybrid cloud architecture. It also allows the easy addition of new locations to your existing Curator system and scale your workflow capacity considering peaks in demand and the need for redundancy.
James Luff, our senior technical operations engineer, said: "With the new Process Engine Agent we can design far better hybrid cloud architectures. Its integration with Device Director lets users benefit from better scalability, resilience and improved prioritization of workflows. The ultimate goal of this is to help you create and manage more content."
How do I get Process Engine Agent?
Curator Process Engine Agent will available from September 2018 and can be deployed as part of any new or existing Curator deployments.
To see a demo of Process Engine Agent or to talk to one of our experts about how you can benefit from a hybrid cloud media asset management solution, contact us here.
And if you'd like to hear more about IPV news, new features and upcoming events sign up to our mailing list here.
If you think PEA will be able to help you, we'd love to hear from you. Get in touch and book a demo.