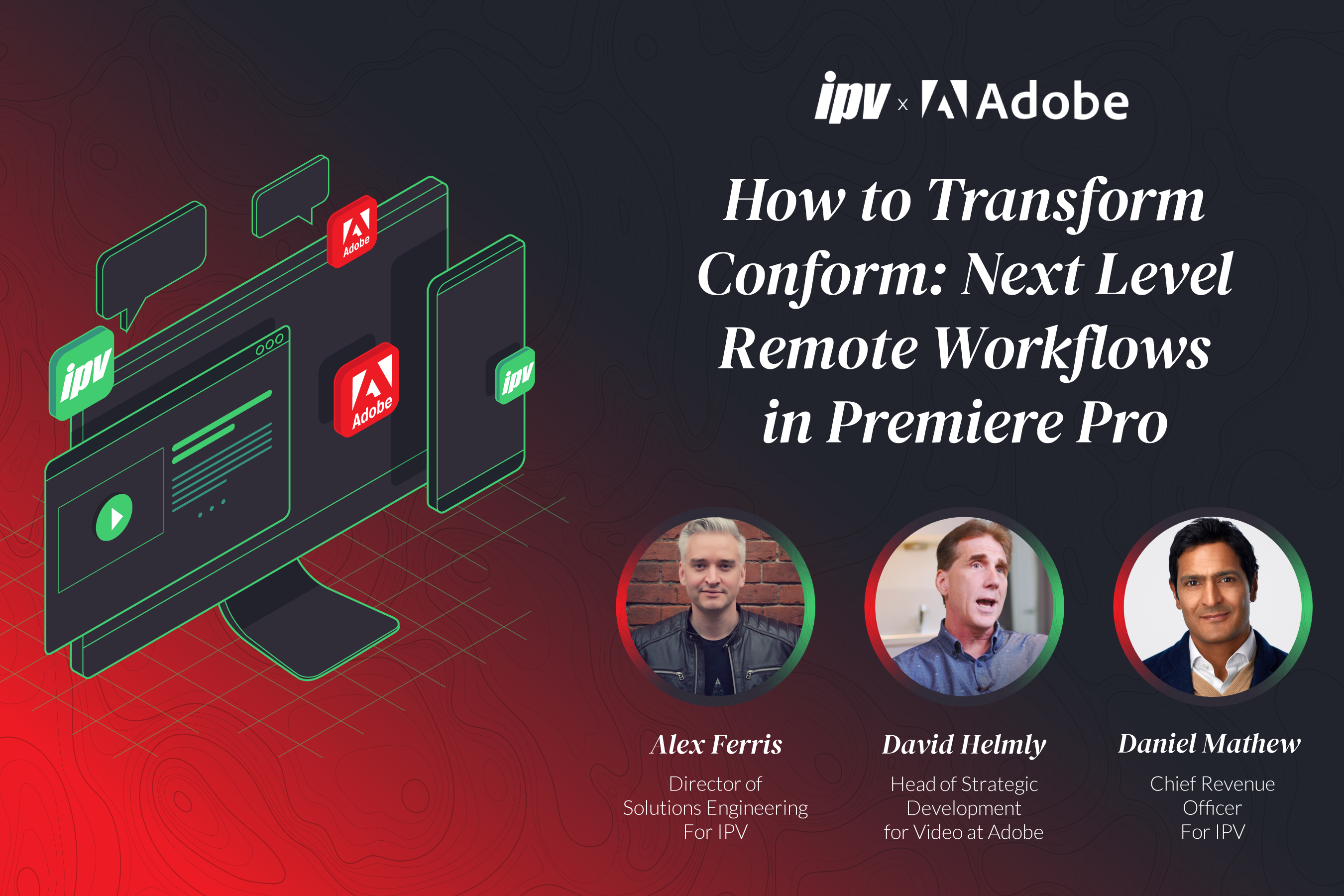 Streamlining remote workflows is critical to functional video production in 2020 and beyond. It's predicted that the average person will view 100 minutes of video footage a day by 2021, teams don't have the option to slow down on production despite the necessity to work-from-home. The right software with remote access, collaborative features and remote conform capabilities will allow you to do that.
We (IPV) are strategic partners of Adobe and are proud of our MAM software (Curator) that integrates seamlessly with Premiere Pro Panel workflows. This is what we call Curator for Adobe Panel, which upgrades Adobe's inbuilt features to bring you more possibilities in your video production workflows.
We produced an up-to-date webinar with Adobe to explore some of these key features to aid you in optimizing your remote video production. This blog will center on one element of that webinar — introducing you to our remote conform feature. This will help you produce the high-quality media you're looking for. We'll look at 4 key benefits delivered by using Adobe Premiere Pro and Curator together to conform your productions.
Don't forget: We only supply one of the MAM solutions on the market and we really believe outcomes are more important than products or brands. But by making this blog about our product and some of its distinctive features, we can bring you more comprehensive advice.
Benefit #1: Speed of conform
One of the biggest challenges when it comes to conforming, whether that be remote or otherwise, is the length of time it can take. In our recent webinar, Director of Solution Engineering, Alex Ferris, remembers how long it would take to conform content, so much so that "they'd put a post-it note on their monitor that said 'phone me in two hours when this render is finished" and go out for coffee instead of staring at the screen. When you're exporting media, you can't use your device or editing station while it's outputting, which bites into a lot of your precious time and productivity.
Remote conform with Curator for Adobe Panel solves that problem because it means you don't need to perform the conform job on a local machine that restricts the activity on your device. This saves you hours in waiting for the export to finish, allowing you and your team to immediately work on other tasks.
How does our remote conform option work?
When an editor renders a piece of media from the proxy in Curator for Adobe Panel, it begins an automated export that renders in a server in the cloud. This is a high-performance server that's connected to your media and it frees up your Adobe Premiere Pro display immediately. There's no need to transfer any media and it speeds up the conform process infinitely.
Benefit #2: Simplicity of conform
An inconvenient amount of time is also spent in the conforming process when the system is unnecessarily complicated. With Curator's integration with Premiere Pro — and specifically the remote conform feature — you can quickly and simply complete your rendering task thanks to Curator's automated remote conform feature.
Curator for Adobe Panel is designed to be "all about flexibility and simplicity" — Alex Ferris

How Curator simplifies conform remotely:
Guaranteed full function on home broadband:

Curator for Adobe Panel solves your challenges with remote conform because it ensures you can export quickly and easily even on home broadband and internet speeds as small as 20 megabytes. Alex Ferris assures that you can "edit millions of assets with just three megabytes per stream", meaning there's no complication with remote internet compatibility.

Curator does everything automatically:

When you export your production on standard and complicated editing systems, normally you would go to file, export media and choose your output, codec, format and destination, etc. But with remote conform with Curator for Adobe Panel, you don't have to think about all of that.
The reason you don't have to worry about those steps is because Curator does it for you automatically. It pulls out all of the sequences in your project bin and efficiently leads you to choose your already configured destinations.
This feature makes the conforming part of your edit simple and effortless without compromising the highest standard quality on your exported video production. You'll also have more time for creativity and productivity instead of pulling your hair out over complicated systems.
Benefit #3: Excellent and flexible security
Video assets are often the most valuable part of any video production company. That's why being concerned about the security implications of uploading important content into systems in the cloud is completely understandable. You need to be sure that the MAM system you choose for remote editing keeps your assets secure.
There's an added complication when, as Alex Ferris notes, your company "has infosec policies defined where high-res content cannot leave the on-premise infrastructure". This is especially difficult for remote workflows and requires flexibility in your remote conform and export features.
So, how can you use cloud-based production software and remote conform when you're security conscious and unable to release video content into the cloud?
How Curator guarantees secure and adaptable remote conform:
Content is conformed safely:

Curator now boasts security protocols that meet NASA's strict requirements, meaning that your content is extremely safe in the cloud as it's being rendered and exported.

Media is centralized:

Instead of conforming your content to be stored in all sorts of places — hard drives, desk drawers, laptops, personal cloud storage — it's actually more secure in one central location in the cloud.

Option to choose local conform:

Even though Curator's cloud system is incredibly safe, this is an imperative option for those companies with infosec policies. At the export stage, there's "an option there for local conform, which means you can conform the proxies locally if you want to. So, it is possible to initiate a local conform through the Adobe Media Encoder that's built into Adobe Premiere" - Alex Ferris. This means you don't actually have to use cloud storage in your conform process and can still efficiently render your productions with Curator for Adobe Panel.
"[One of the] cool things about local conform is there may be an instance where you've got what you need, and you're having better performance, maybe locally. You might just want to go ahead and deal with a local export rather than a remote. It's great to have that option." — David Helmly, Head of Strategic Development for Adobe Professional Video

Concerned about the safety of your valuable assets in the cloud? There's no need to be. If it's good enough for NASA, it's good enough for all of us!
Are you bound to infosec policies? You can still use Curator to conform while retaining confidentiality and still not compromising on availability (one of infosec's key principles).
Benefit #4: Multiple export options
Remote workflows and remote conform may seem like you have to compromise on how many export options you have at the conforming stage. But thankfully that's not the case with Curator for Adobe Premiere Pro.
At export in the Adobe Panel, Curator still provides you with multiple export options despite being however many miles away from your office, your normal editing suites and your colleagues. These options include:
Encode media into different video formats

— Curator for Premiere Pro utilizes Adobe Media Encoder (

AME

), which is the software responsible for rendering video files to the proper format. This ensures that your media will conform to suitably play on all of the different devices that video is watched on today.
"As an editor, you don't want to have to think about all those downstream steps. You just know you need to send it to the right location" — Alex Ferris

Automate through an Application Programming Interface (API)

— This allows you to conform your video production into a content delivery network or a social media platform. "Web and social, for example, might generate a proxy version from the proxies that are in the cloud and automate through API the registration of it into a content delivery network or a social platform" — Alex Ferris. Your remotely conformed content will automatically get to exactly where you need it to without any hassle because Curator can "leverage the Adobe Media Encoder via API integration, wherever the content actually is."

Numerous destination choices

— you can export your conformed assets to wherever you need. This includes a legal team or your archive platform (which, in turn, helps your monetization of archived material).

Conform multiple versions

at export.

Include watermarking

— editors can easily add watermarks and audio watermarks to any version of their remote conforms.
These options free editors from having to consider all of the downstream steps and get straight to sending their conformed production to their desired location or locations at the click of a button. Your conforming can be multifaceted even though your workflows are remote.
A high-quality solution for your remote conform needs
Curator's remote conform feature (used with its other tools) is a game-changer for remote video production workflows. Our remote conform feature creates high-res versions of your media assets with automatic conform and proxies. It will export the new high-res asset to your chosen destinations without you having to do anything other than click the "remote conform" button at export in the Curator Panel. The conformed version that Curator produces matches exactly and frame accurately with the project in your Premiere Pro timeline.
Automated access to remote conform augments your remote workflows and gives you more control of where and when you start rendering your video content. Your high-res files stay securely in one place while you move about and work from wherever you need.
Our remote conform option is designed to be "super simple and is a massive value to your workflows" - Alex Ferris. Curator enables teams to remotely conform without sacrificing productivity and can all be achieved on home broadband from just one place — all inside Adobe Premiere Pro.