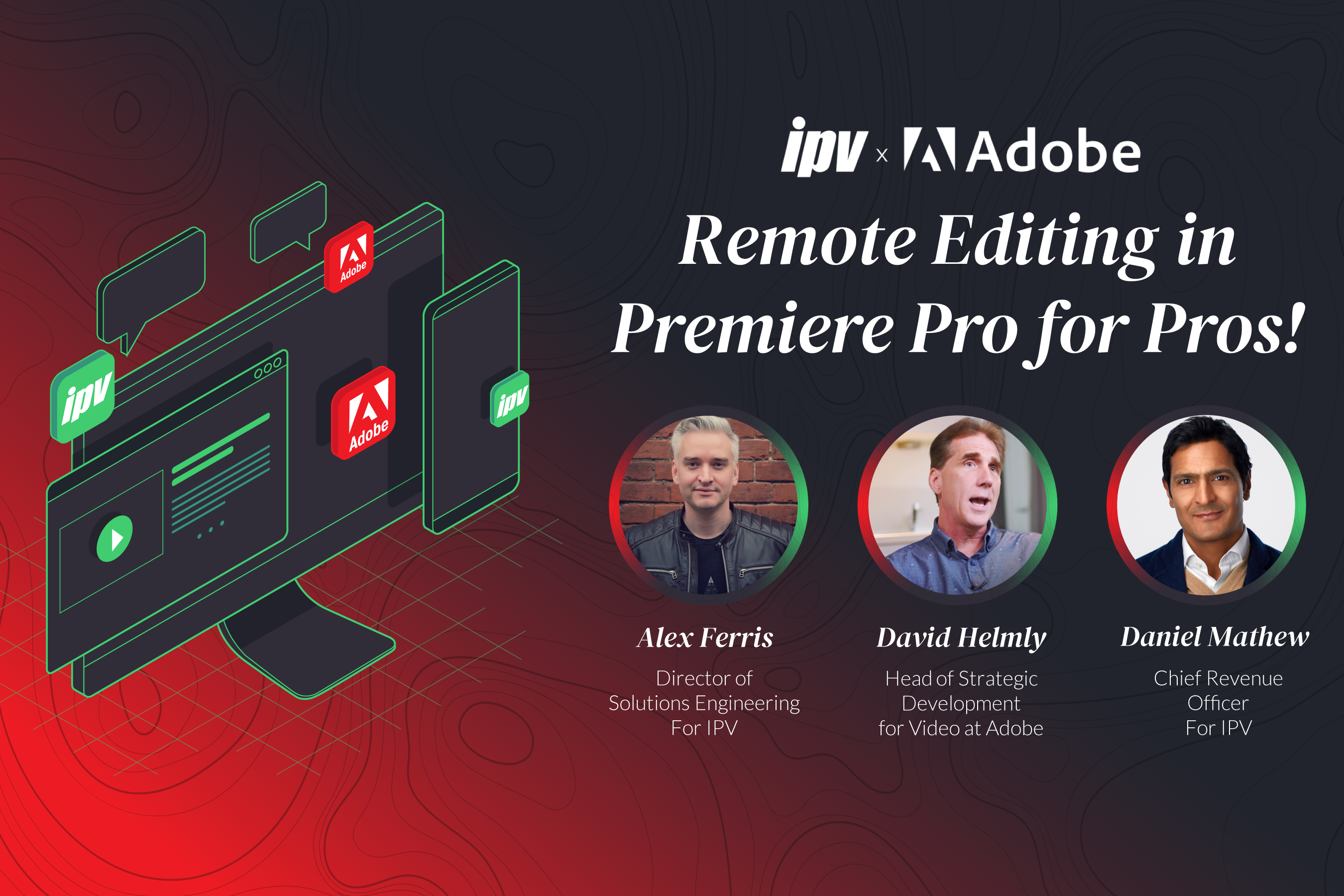 Managing remote workflows is a new challenge for creative professionals. Building sophisticated solutions to remote access and editing is key to a functional new normal in video production.
We (IPV) are strategic partners of Adobe. Our MAM software (Curator) integrates directly with Adobe Premiere Pro panel and augments many native features of Adobe to deliver more manageable remote editing.
We recently hosted a webinar with Adobe to explain these key features, and help you optimize your remote workflows in Premiere Pro. This blog will focus on one element of that webinar — helping you edit remotely in more effective ways. We'll address the 4 most common problems with remote editing and present the specific solutions that the Curator for Adobe Panel offers.
Remember: Outcomes are more important than products. We don't supply the only MAM on the market. But several of our Adobe integration features are unique, and by making this about a specific product, we can provide more detailed advice.


Problem 1: Difficulty accessing files remotely, quickly and securely

One of the hardest challenges of remote editing is providing efficient and secure access to files. Our Director of Solution Engineering, Alex Ferris, warns that "if you don't get the right content, you can't start working quickly".
Too much time is being spent trying to gain access to files remotely before teams can even get started on the editing. At the same time, there are "massive security implications to just letting content out of the door." It's imperative that you secure your content as it's your most valuable asset.

How Curator offers speedy and secure file access:
Curator integrates with Premiere Pro to offer innovative and fast solutions to the process of obtaining video assets. The Curator for Adobe Panel provides an integrated "search and discovery" function that allows you to find production and archive assets with ease. This is transformed from a simple "text search" feature into a powerful remote access solution by two features delivered by the Curator MAM:
Permission controlled access:

An advanced MAM will hook together your entire archive and production environment within a permission controlled framework. Different users can be provided access to different files, and what they are allowed to do with those files can be specified.

When partnered with security features such as watermarks and encryptions, permission controls allow for creative directors to provide their entire team with access to the files they need, while retaining control over the brand's IP.



Advanced metadata:

Asset searchability is effectively limited by the metadata associated with those files. Curator deploys advanced object detection and speech recognition software during ingest to create

hyper-descriptive metadata tags

. This delivers near complete transparency of assets ingested this way, dramatically increasing the power of any search functions deployed to find particular assets.

In the webinar, Alex Ferris explains that with the Curator for Adobe Panel, you can find and view "every single frame of every single archived video instantly". Access to archived video content means you can achieve monetization of your archive footage, rather than it just sitting there.
Metadata-enabled text, search bar and filter search options allow you to easily and quickly locate any existing productions or footage that you're struggling to find in your file structure. By switching your view to a faceted view, it's even easier to find the content you're looking for.



Problem 2: Compromised video quality and high-res outputs
To accommodate the dramatic switch to work-from-home during lockdown, video teams had to rush to implement "band-aid solutions". Now, though, "they're looking to replace these temporary solutions with more comprehensive remote working platforms" — Daniel Mathew, CRO, IPV.
One issue that needs to be resolved in any permanent solution is retained high-res outputs. High-resolution video quality can lengthen and complicate the remote editing process. Manual processes that involve sending and consolidating media assets, and then swapping them out for high-res versions on a machine that's connected to on-premise storage, are inefficient and largely impractical. A better outcome is needed.


How Curator provides high quality video content creation solutions:
Curator for Adobe Panel solves these problems in two main ways: using proxy streaming and conform, and providing checkout options.
Proxy streaming and conform:

Curator automatically makes frame-accurate proxy copies of all your high-res media files as they're ingested into the system. This can reduce file size by up to 98%. These proxy files can be edited in the cloud and then automatic conform creates high-resolution edits using master files.





Proxies are

the

key to remote editing in a WFH environment. Curator allows for effective editing of "streamed proxies" on home Wi-Fi speeds as low as 2mbps. Without this, editors are stuck downloading files, or will need to invest in commercial-grade infrastructure at home.



Curator's proxy streams are highly configurable. You can change the resolution of your video content to match the source footage and choose to lock it to a specific resolution if needed. You can set your default for video assets as either proxy or high-res. You can view high-res versions of the footage in the office while also being able to use proxies remotely. Curator proxies are created upfront, meaning that you can archive high-res content to an offline storage platform.



Production checkout options:

Curator gives you the choice to choose your custom destination option when you get to checkout. For example, "high quality", "web and social", or "low bitrate". That means that you can choose which type of export fits with your preferred video quality and your high-res video production doesn't have to be compromised at the final stages of export. Those destination options can also be preformatted to the specific quality of setting for each type of export.
Curator for Adobe Panel also solves the issue of time-consuming exports that are especially associated with high-res video content. This is thanks to the "remote conform" option at the checkout stage because your production will be rendered quickly in the cloud.

Problem 3: Needing to download video assets before editing them
Proxy streaming with Curator for Adobe Panel helps to solve another time-consuming problem: downloading video assets to be stored on your personal computer before editing them. Instead, you can stream a frame accurate, low-res proxy version of the footage and edit it in real-time without wasting time downloading and re-uploading your media.
How Curator saves time and enhances creativity:
Importing proxy stream video content into the Premiere project bin is as simple as pressing enter — no time wasting on asset search and admin. You can leverage inbuilt Adobe features to improve ease of use and time.
For example: Hover scrub preview of all items in your timeline means you can jump to any point along it without needing to download or wait for the content to be sent. With proxy streaming, you can preview your video without the need for download — it's straight past logistics to creating.
Fundamentally, you can do everything you normally would in a full featured online edit. The only difference is that you're doing it thousands of miles away from the original content without you even knowing it.


Problem 4: Inability to complete complex editing demands remotely
Remote editing has historically required giving up some sophistication in exchange for online streaming. This is exactly what online browser-based video editors deliver, and is why they aren't exactly "best practice" when it comes to professional video production workflows.


How Curator supports elaborate editing and collaboration:
Integrating Curator with Adobe Premiere Pro means that you get all of the benefits of a sophisticated editing system remotely. This ensures that you don't have to compromise on editing features just because you're working from home. You can:
Preview

the scene change protection

Use

multiple audio files

Appreciate

full timeline features

Utilize

advanced transport controls

, like scene change movement, frame step, time codes and frames accurately matched to the high-res they were merged from

Add

multiple files

Add notes

to exported content


Fundamentally, in order to complete complex edits remotely, editors need access to the full suite of features offered by a program like Adobe. Curator for Adobe Panel automatically checks you out of your project when you're done. Other team members can access the video to collaborate with reviews, changes or feedback on your edit.


Remote editing made simple
Now that video production teams are looking for long-term remote editing solutions, it's critical that teams aren't limited by their editing software. We're proud of our seamless and well-equipped integration with Adobe Premiere Pro. It enables teams to remotely edit with no loss in productivity, no wasted time spent on accessing material and no need to compromise on complex editing features.
Curator's partnership with Adobe makes for a sophisticated and effective solution to complications around efficiency, creativity and quality — one that's even credible enough to be used at the Oscars and secure enough to be employed by NASA. If you want to learn more, check out the full webinar or speak with Gabrielle... you can book time right into her diary down here 👇👇👇