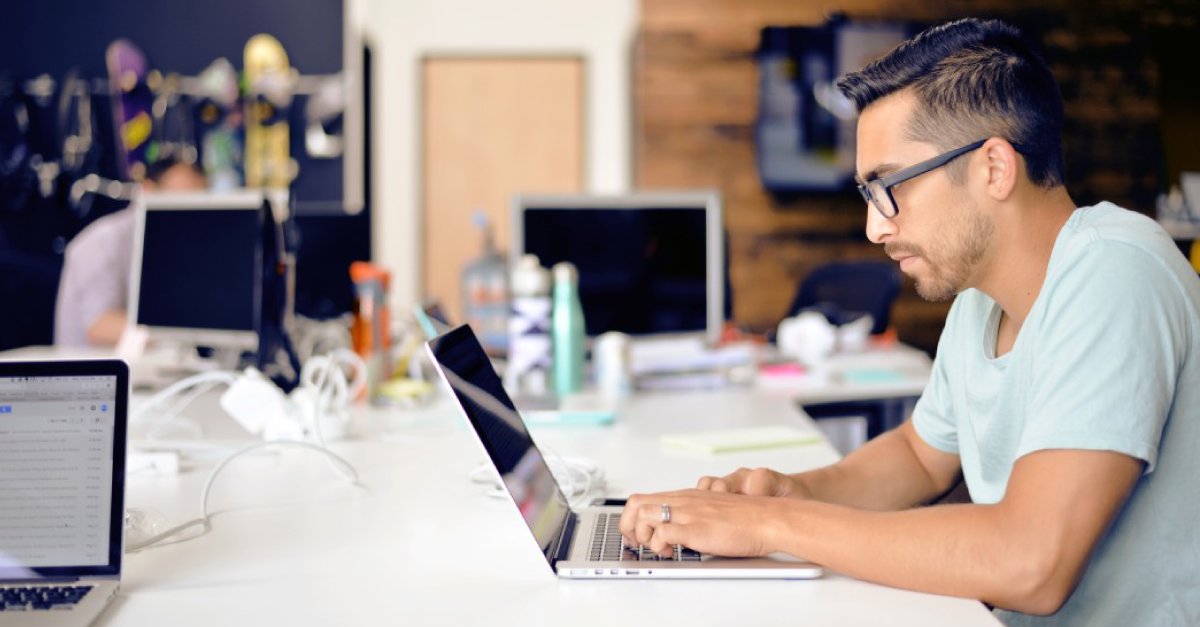 In our recently published report - The Future of Video for Creative Agencies (featuring Mustache, Wavemaker, FCB and GMR Marketing) - we learned how the leading agencies confronted lockdown, retained clients and continued to deliver video content campaigns from home. (You can read the full report here.)
One key takeaway is that the right tools are essential to be able to effectively function in a fully remote environment. Here, we have put together a list of the top collaboration tools for digital and creative agencies to try in 2020. This list is divided into the main categories that you need to focus on, with our top pick for each. Make sure to focus on the outcomes described as much as the specific tools.


1. Project management: AirTable
Maybe the most important category when it comes to virtual team collaboration is project management. Our pick for the best project management tool is AirTable. It's not the only tool on the block — Trello, asana and Basecamp are all respectable alternatives. However, we chose AirTable because of its flexibility.
Airtable provides standard Kanban views. However, data can also be presented as a spreadsheet, Gantt chart or calendar. Different data points can be extracted to create graphs, form fills and more. Fundamentally, AirTable embraces a database first approach to project management — allowing you to populate the systems with information and then extract exactly what you want to look at using multiple views.
AirTable's competitors provide some of these options, and if you want the pure simplicity of a Kanban focused solution, Trello might be a better option. But the options provided by AirTable make it our top pick for project management.
AirTable is web-based. It is also supported by iOS and Android.
It is great for small, medium, and enterprise-level businesses.
There is also online support for those with questions.
AirTable does have a free trial option. The starting price is $10 per user/per month if billed annually.

2. Team communication: Slack
Without team members being physically close to one another, regular and casual communication can be a challenge. Slack is a great communication tool for those who are working remotely. Some of the biggest benefits of Slack include:
Users can set statuses to quickly let their team members know whether or not they are available.
Slack can be used to provide both public and private channels, including those that face customers.
Slack can handle file sharing and video chat.
Ultimately, Slack revolutionized the way workplaces communicate. While there is a free trial version of Slack, there are additional benefits that come with a paid plan (such as Slack calls, shared channels, and guest accounts).
Google Chat and WhatsApp are functional alternatives to Slack. What makes Slack really stand out, however, is its channel-based approach to communication. You can send private messages, but when messages are sent to group chats (channels), notifications are only sent when specific individuals are tagged. This cuts down on notification fatigue, while also making it easy for anyone to get up to speed when needed.
The Slack standard plan starts at $6.67 per user per month, if billed on an annual basis. The monthly plan is $8 per user per month. Slack works on Mac (OS X 10.10 or above), Windows (7 or above), and Linux (Fedora 28 or above).


3.Video conferencing: Zoom
Zoom has gained a lot of recognition recently as one of the premier video conferencing options for remote communication. There are a number of benefits that come with Zoom. These include:
Zoom allows people to conduct a seamless video chat across vast distances.
Zoom provides users with meeting analytics.
Screen sharing is easy during Zoom calls, making meetings more efficient.
There is a feature to record meetings that can be shared with others who couldn't make it.
The 'gallery' view makes large conference calls feel more streamlined and natural.
Zoom can be used to hold brainstorming sessions with a convenient whiteboard app.
There is a basic version of Zoom that is free to use. The premium plans start at $14.99 per host per month — the main benefit here is unlimited meeting time. Zoom is compatible with Mac, Windows, and Linux. In the end, Zoom is one of the few all-in-one video conferencing solutions that provide HD calls with online meetings, webinars, and mobile capabilities in one convenient package.

4. File-sharing: Google Drive
Most people are familiar with some parts of Google Drive. It comes free with a Gmail account and is a popular cloud alternative to the Microsoft Office 365 solution. To be honest, this one was a tough call, with Office 365 arguably offering better applications — although the Word vs Docs argument could go on forever.
What tips this one for us is simplicity of access. Digital agencies need to share material with clients. Although you can (and should) get a business account with Google if you are going to use Drive as the main platform for your business, anyone can access your cloud-files — regardless of whether or not they have a Gmail account. Sharing Office 365 files is not so simple.
Side note: if you are deeply embedded in the Microsoft ecosystem — don't make the switch. Office 365 is a perfectly acceptable tool.
So, what does Google Drive offer? Some of the main features include:
Documents: Users can share nearly anything on Google Drive including word documents, spreadsheets, presentations, and more. This can be done using the Google applications. However, if someone sends you a Microsoft file, you can upload it straight into Google.
Cloud Storage: This is the most powerful element of Google Drive for remote teams, allowing users to create, upload, share, and work together on a variety of files.
Collaboration: The real-time collaboration on Google Doc, sheets, presentations and more is a real outstanding feature.
One of the major defining features is the Google Drive File Stream, which allows users to stream Drive files from the cloud directly to the user's Mac or PC. This frees up a tremendous amount of disk space and bandwidth. While Google Drive is free to use, there are options for business subscriptions that start at $6 per user per month.

5. Media asset management (MAM): CuratorNow
Media asset management (MAM) platforms are critical for any digital agency that creates a lot of visual content — graphic design, artwork, or (especially) video. MAM helps centralize access to archives, delivers a cloud-based editing and collaboration platform for even the largest video assets, and provides enhanced search functions and metadata creation.
Not every agency will need MAM. But any agency that is attempting to produce video assets in a remote workflow environment will dramatically benefit from investing in a quality MAM tool. A good MAM will go further, providing automation and collaboration benefits that improve workflows in the office and online.
Our top pick for MAM software is CuratorNow. Full disclosure, this is our product — so, we cannot be objective. A good competitor benchmark to compare us against is ReachEngine, although there are many quality MAM products. With that said, MAM is a legacy term that encompasses products that do not deliver the kind of functionality described here. Check out our eBook if you really want to dive into the subject.
The thing that really makes CuratorNow stand out is speed of deployment — it can get you up and running in the cloud in as little as 36 hours. We developed the tool specifically to help video production teams handle the current crisis. You can then transition to the bespoke Curator software when you have more time.
As an overview, there are five main things that Curator/CuratorNow delivers. You should look for these in any MAM tool.
You can streamline your creation of proxies within permission-based, traceable workflows that allow you to collaborate in real-time through the cloud.
Direct integration with editors (e.g. Adobe Premiere Pro) allow for multi-user access to single files within production environments.
You can provide remote access to archived material within the same permission-based framework, making it easy to incorporate archived footage within new projects.
You can leverage numerous advanced features including object detection and speech recognition to develop hyper-descriptive metadata of video assets.
You gain end-to-end centralization of your entire media creation process.
With end-to-end integration, OTT uploads, and analytics features, CuratorNow makes all of your media asset management needs simple, and facilitates real-time, cloud-based collaboration.



6. Photo Editing: Adobe Creative Cloud
If you don't have to do a lot of heavy lifting when it comes to videos, Adobe Creative Cloud is pretty functional and a good alternative to a full-blown MAM system. Admittedly, it was designed after the fact to allow for cloud-enabled access to standard Adobe software. However, if you are already using Adobe, you already have basic access to Adobe Creative Cloud and you should explore what it can do for your remote teams. Some of the benefits of using Adobe Creative Cloud include:
Adobe Creative Cloud has a built-in asset library.
There are illustrator and design tools that allow the user to publish elegant layouts for print and digital purposes while alsopublishing great vector art and illustrations.
Adobe Creative Cloud provides links to photoshop.
Lightroom is one of the unique features of Adobe Creative Cloud. This is a photo editing tool that leverages the power of the cloud. While there is a free trial version for Adobe Creative Cloud, the individual single app plans start at $20.99 per month.

7. Time tracking: Toggl
Task management is a critical part of working remotely, and it can be hard to work across multiple time zones. Toggl is one of the top time tracking apps available. The app works in the background while the person completes various tasks. This is great for freelancer billing, and it can also help maximize productivity and keep track of everyone's tasks for teams not used to remote workflows.
Again, there are other options in this category. Harvest, for example, has good team functions and expense sheets. What we like about Toggl is that it's free, and its free version is actually really good. Unless you have some extensive requirements, Toggl will get you over the line without impacting your budget.
Some of the Toggl top features include:
Time tracking to see how long tasks take to accomplish.
Boost profits to make sure that the prices match the work.
Reports that show how productive someone has been.
Toggl works on Windows, Mac, iOS, Android, Chrome, and Firefox.
As we said, there is a perfectly functional free version of Toggl. If you need more features, you can upgrade to the premium version starting at $18 per month per user.

8. Integrations: Zapier
Zapier isn't exactly a remote collaboration tool, but it can help your various remote collaboration tools collaborate more effectively. Zapier is an integration tool that helps multiple tools to work together to accomplish tasks. For example, you can get slack notifications about AirTable updates. Some of the benefits of using Zapier include:
Zapier can be used to automate certain actions between web apps.
Zapier can join multiple apps together without coding or developers.
Zapier works well with hundreds of apps.
There is a free trial version of Zapier, but the business version starts at $50 per month. It works across all operating systems, making it versatile.


9. Concentration: Serene
One of the biggest challenges of working remotely is concentrating. While it only works on Mac, Serene is a free productivity tool that is wonderful for remote workers and teams. This one might also be considered a 'cheat' — it's not really about collaboration — but it's certainly helpful for maximizing productivity while at home. Moreover, we think it's a creative idea.
Serene is designed to help individual team workers become more efficient by focusing on a single goal per day instead of multitasking. This is the key to how it works: it destroys the myth of multitasking and encourages people to focus on one task at a time. Some of the top features of Serene include:
Blocking websites that would otherwise present a distraction.
Blocking apps that serve as distractions.
Scheduling breaks to keep the mind sharp.
Providing a session timer to keep people focused.
Managing to-do lists to ensure everything is checked off.
In the end, there is nothing like Serene. It is one of the most creative tools out there.
Enhance digital collaboration
With the rise of remote working, it's essential for teams to collaborate effectively. These tools are essential for making this happen. You need to look at your current pain points, and then start experimenting with options. We suggest that you start with this list. But if you think we've missed something, we'd love to hear about it below.
Want to learn more about how some of the largest creative agencies in the world are coping with the new normal, how they're overcoming the challenges of remote work, and what they envision for the future of video for the creative industry?
Get the full report here or to learn more about Curator, you can book some time with Gabrielle below.