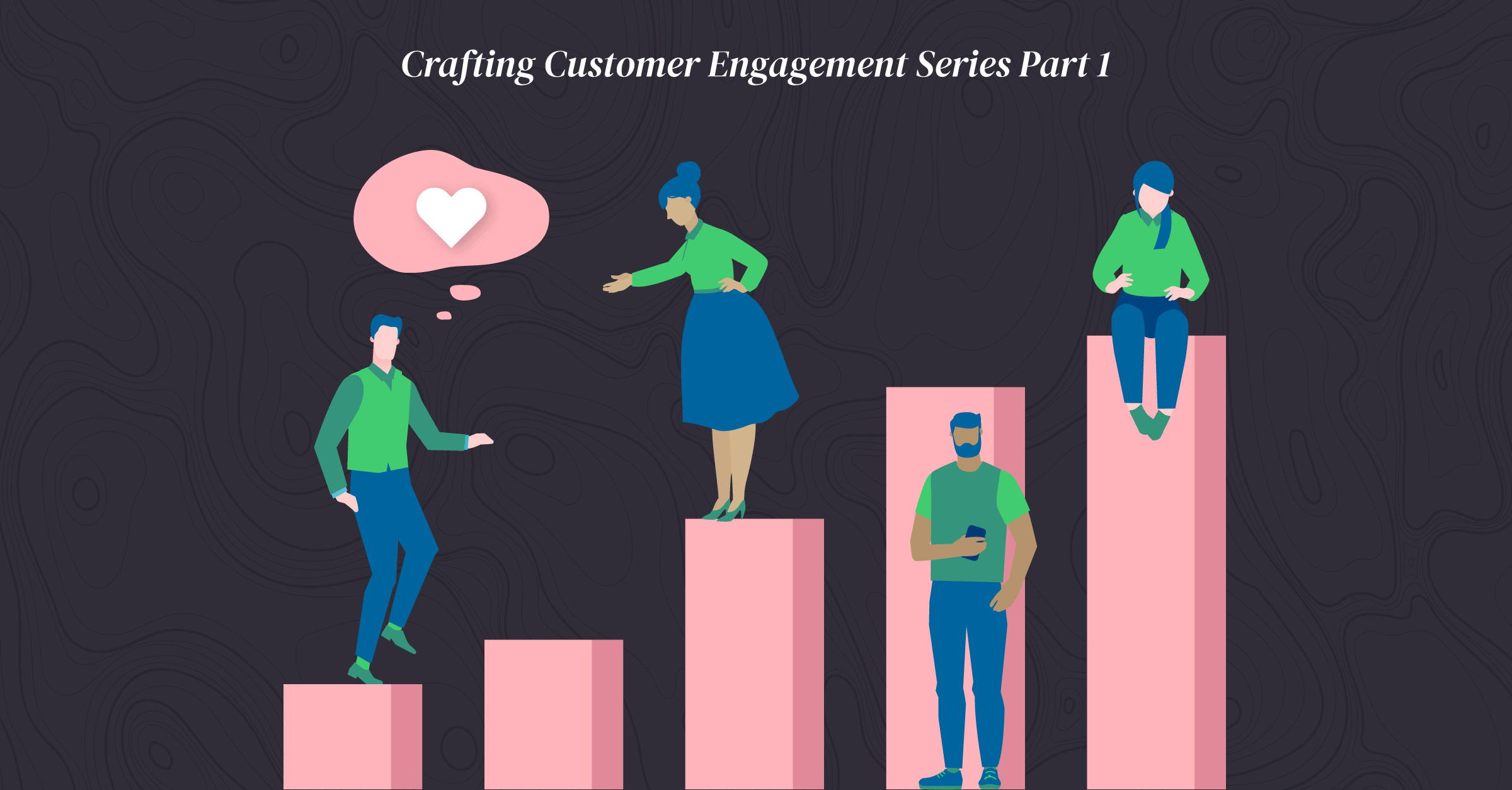 Crafting Customer Engagement Part One

Video is the modern storytelling medium of choice. There is a role for video at every stage of the buyer's journey, including customer support, loyalty programs and cross-selling campaigns. Digital and creative agencies need to be at the forefront of customer engagement trends. If you are going to use video to effectively engage customers, however, you need to understand what makes video so compelling in the first place.
Video commands multiple primary senses at once, and when witnessing actual people move and speak, the empathy and emotions of viewers are engaged far more than by static images or text. It's also very easy to consume. But if there is a stand out point regarding the value of video, it has to be 'engagement'.
The power of video to engage is clearly laid out in the stats. Social media posts with video get far more reach than those without video. Consumers themselves report a preference for video over every other type of content. A video can increase landing page conversions by more than 80%. Even blog posts are incorporating more videos, and those that do get over three times the traffic from web searches than posts without videos… which is why we've included some great videos of our favorite ads below! Companies that host video content on their websites experience a 41% increase in traffic.
And the popularity of video isn't limited to consumers. 59% of senior executives prefer to watch video than to read text. If you have B2B clients, this is something you need to consider when looking to connect with those key decision-makers. It's clear that people cannot get enough video, so read on to learn how you, too, can deliver.
Harnessing video to engage, retain, train, and scale!
Video is so engaging because it's a multifaceted communication tool. No matter what context in which video is deployed, it pulls together all of the resources of modern communication: attention-grabbing movement, affecting music, pictures, text, graphics, sounds, colors, and above all, the realistic portrayal of actual people.
Of all the resources available, video is the closest you have to mimic the power and persuasion of a personal, face-to-face meeting, which is particularly important right now. But unlike a meeting, that video can be delivered through an email, blog post, advertisement or landing page. Moreover, that same video can be seen again and again, by different people, at little resource cost to you. Video delivers the engagement of in-person communication, at scale. The value of this is effectively limitless, but has four main areas of significant importance:
1. Marketing and outreach
According to a 2015 Nielsen study, even less than 10 seconds of viewing a video increases lasting brand awareness and purchasing intent. By displaying actual humans with movement and sound, videos offer the chance to impart a much more personal sensibility than other media. When it comes to finding new customers and making a memorable impact, video is a key tool for growth.
Example: Old Spice | The Man Your Man Could Smell Like
With a falling market share and a decline in profits, Old Spice found itself in desperate times at the start of 2010, and so resorted to desperate measures. By July 2010 sales had increased 125%, up to an all-time high for the brand. The key to this growth? A 32-second video that successfully managed to reposition the brands' entire identity in a way that no other medium could.
2. Customer loyalty
New customers are great, but customer retention is equally important to real growth. A lot of elements obviously need to go into creating an effective customer loyalty program. But what almost every customer loyalty program has in common are persistent efforts to stay in contact.
For the same reasons that video is so great for outreach, it's an invaluable tool for keeping in touch with existing customers. What's more, 70% of Twitter users say they have shared a brands' video with friends. That 'shareability' is not only helpful for outreach but can also foster a sense of community among customers that will build loyalty when effectively executed. The opportunity to engage customers is out there: More than half a billion people watch a video on Facebook at least every day.
Example: Coca-Cola | Holidays Are Coming
Here's a question for you; why does Coke bother making videos? They're already the most popular drinks brand in the world. They have no need to increase their brand awareness, and they already dominate the market in terms of sales. So why invest the money into producing a constant stream of video marketing?
The goal isn't to entice new customers - it's to retain the old ones. You'll notice that Coca-Cola videos are less about promoting specific deals or selling points, and instead lean towards mood pieces, evoking a specific feel or sentiment. The concept behind this is less to convince you to drink Coke, seeing as you likely already do, but more to let you know that you made the right choice by picking Coke in the past, and you should continue to do so moving forward. You've hitched your consumer wagon to a good brand horse. In short, it makes them feel like a brand worthy of your loyalty.
---

---
3. Delivering a smooth customer experience
Critical to both customer loyalty and customer acquisition is a positive (and frictionless) customer experience. Video can help you do this simply because it's popular and easy to consume. A near-universal 98% of users say they have watched an explainer video to learn more about a product — and 74% of those people say they went on to buy that product.
Maybe even more relevant to CX, 68% of users say that they would prefer to watch a video that explains how to solve a problem over speaking with a support team. Increasingly, if you want to deliver the kind of customer experience that is expected, video needs to play a role.
Example: Home Depot | How-To Series
We can all admit, written instructions are just plain hard to follow sometimes. They lack context, visual clues, are prone to mislabeling, and operate on an assumed level of pre-knowledge.
Video solves a lot of these issues, primarily because you can see what is happening in step-by-step detail. Having the ability to see someone actually performing the steps allows you to understand and visualize what needs to be done, even if you don't understand all of the terminology being used. It's a closer experience to having an expert with you, talking you through it.
4. Training at scale
Video can also provide training material. This is only tangentially related to video's power to engage customers. However, professional and competent staff is directly related to the outcome of positive customer experiences and growth.
The challenge of remote-onboarding in the current climate may accelerate the adoption of video-based training material. 75% of employees prefer watching video over reading training material. It's very possible that clients will come to you looking for video-powered training resources — be prepared for this kind of project. It's also something worth suggesting, particularly if there is a repurposing opportunity based on footage you already have (like, as mentioned above, sharing that training with customers to increase product understanding and as a result, improve the customer experience).
When it comes to training, Video combines the personality and enjoyability of in-person training sessions with the on-demand reference ability provided by text. Video allows your employees to get the very best training every single time, while eliminating travel expenses for experts and trainers.
Lastly, video-based training is a good thing for creative agencies to consider using in-house. Even if this isn't first on your list, it's something to keep in the back of your mind.
Example: Home Depot | Grilled Dogs ft Snoop Dogg
Simply pointing a camera at an instructor is not enough to engage your employees and prompt them to retain that information. Fortunately, enterprises across industries have come to understand the same thing. They've realized that funny, inventive, or just generally creative videos can lead to a good (or hopefully great) employee training experience.
And if all else fails, you can always just hire Snoop Dogg. After all, if Snoopzilla can't hold your employee's attention, then what will?
Conclusion
The power of video is its ability to duplicate the emotional connection of face-to-face interaction at scale. However, even that understates the value from a branding perspective. A video allows you to go further — augmenting that human-to-human empathy with cuts, sound design, color grading and more. The subtleties and artistic choices available to editors are huge, and you need to focus your efforts on using them to communicate the 'feeling' of your client's brand.
If you want to learn more about how other creative agencies are using video in the new status quo, we recently sat down with four of the world's largest creative agencies - FCB, Wavemaker, GMR and Mustache - to learn how they've adapted to the new realities of producing video content. Thanks to the incredible insight each gave us into their remote video production workflows and customer successes, we've been able to create the go-to playbook and report for any creatives producing video right now;
The Future of Video for Creative Agencies, by the World's Largest Creative Agencies
Click here if you want to head back to the main hub and read the rest of our customer engagement series. Or book some time below with Gabrielle to find out how Curator can streamline your production workflow and increase your ability to move, manage, and monetize your assets, leaving you free to spend more time creating. 👇🏼👇🏼👇🏼