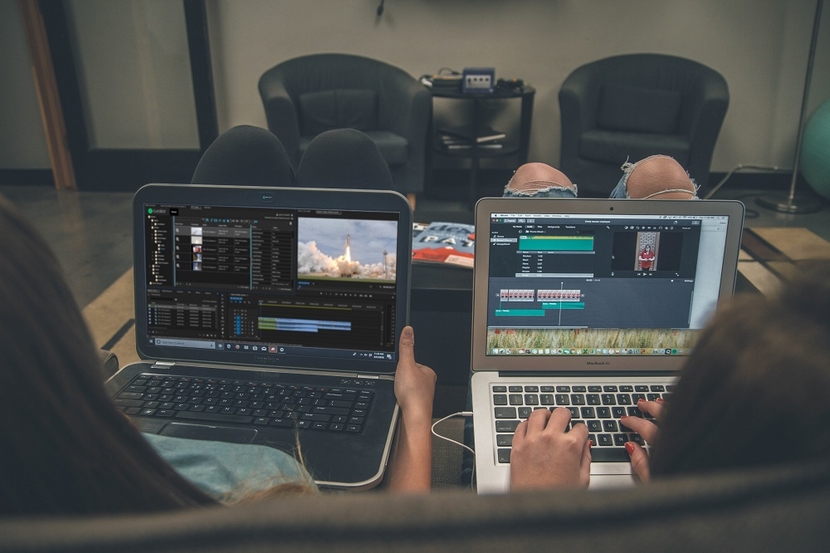 Any MAM worth considering needs to have remote working and collaboration at its core
The Shifting Broadcast Landscape During and After a Global Crisis
There's been a lot of debate in the broadcast industry about the long term implications of COVID-19 and ongoing need for social distancing. Most businesses and organizations have pivoted to remote working. This poses a unique challenge for broadcasters around the world who have already been dealing with the headwinds of seismic change for at least a decade. To cut to the chase: if you're not seriously thinking about your long-term remote workflow solutions, there is going to be a serious hole in your strategy.
With audiences around the world stuck at home - captive to and captivated by the screen - the demand for content has never been greater, and it's only going to increase. To stay relevant - and to stay in business, broadcasters must go head-to-head with OTT providers to earn their market share. No small feat considering Netflix is projected to spend $17 billion dollars creating content in 2020.
Though social distancing has only exacerbated the changing broadcast landscape, consumers' appetite for content and broadcasting organizations' zeal for using remote talent are likely here to stay. Content creation workflows need to embrace this change starting yesterday. To stay ahead of consumers' needs and tastes, broadcasters need to invest for a future that's probably going to look a lot like today. They need to look at high-quality, enterprise scale MAM systems to foster remote production with full collaboration and efficiently monetize assets - and maximize ROI. What's more, the right MAM will also improve the experience for creative professionals, allowing them to work faster and happier.
Can Your MAM Do This? Not All MAMs Are Created Equal!
While many MAM solutions claim to offer a seamless, remote editing experience - it's often smoke and mirrors, with remote collaboration that is either clunkily bolted on, or downgrades the user experience. Would you fly in a plane with its wings duct-taped on? Of course not, because wings are the very essence of flight. The same thinking must be applied to remote workflows - it needs to be so inextricably linked to your MAM's core that any other approach should raise a red flag. Often it comes down to proxy files and how users interact with them. Though fairly common, the use of proxy files usually means that users must download the proxy files to their individual systems to edit.
Truly Remote, Truly Cloud-Optimized
The problem with video files is that they are too massive for organizations to work with flexibly. The logistics are fundamentally different from working with "traditional" files like spreadsheets and Word documents. Sharing, storing and sending are expensive and slow without an intelligent MAM approach designed to mitigate this. Not all MAM is created equal and while many vendors claim to offer proxy workflows, their bolted-on approach does little to alleviate the inflexibility caused by the sheer bulk of the data. With Curator, proxy files are only 2% of the original file size and are streamed to the user's timeline with 100% timecode accuracy. Streaming proxy files, as opposed to downloading them, is the most efficient way to work with video in the cloud.
What exactly does "streaming proxy files" mean? There's no need to download any files whatsoever to a remote editor's computer. This saves time, improves productivity and leads to easier and more effective collaboration. With Curator's proxy files, editors anywhere in the world can work on projects with zero actual media transfer. Does your current MAM stream its proxies? It's unlikely.
Think of the difference between watching your favorite Netflix show while connected to the internet, versus downloading it to your computer before a long flight. Which is faster? It's the same idea when working with media. Added bonus: because content never needs to be stored locally on someone's desktop, it helps remote workers keep assets secure. Stolen laptops won't have a trace of the content.
Nimble Storage and Archive Management
High quality content leads to high end storage costs. How do you choose between inexpensive but inaccessible offline storage, and expensive online storage? You don't have to choose anymore! If you want to monetize existing content, intelligent archiving is a must. With proxy streaming, which removes the need for storing full resolution content online, that inexpensive, offline storage becomes cost-effective and even cost-saving. Users can still search and edit content easily.
Curator's built-in context-relevant archiving optimizes storage efficiency for cloud or on-premises storage setups. Content that was once not accessible can be intelligently retrieved and made available the moment you need it. Broadcasters still working with on-prem archives can't afford not to bring in this type of access. Even better, it doesn't require a complete system overhaul during an already trying time when the budget is incredibly tight. What's really going to put strain on the budget is ineffective workflows that haven't adapted to our new normal.
Turbo-Charged AI: Intelligent Search and Speech Recognition
Where Curator rises above the competition is when it comes to its search capabilities. Your content is only valuable if you can find it. If you can't, you're going to end up duplicating efforts and costing your organization time and money. When you're searching for that one frame out of hundreds of thousands, where do you even begin?
Curator has you covered. Employing the best in artificial intelligence technology, Curator automatically generates the metadata that will serve you most.
With the competitive advantage of AI in production tools like Curator, creatives can supercharge their workflows, letting the tech do all the heavy lifting and tedious, repetitive grunt work.
Leading Broadcasters Are Using Curator
Broadcasters like Altitude Sports, Hearst, and The Golf Channel are already successfully employing Curator to keep ahead of consumer demand.
Need More Info on How to Leverage MAM for Broadcast?
We've put together some essential reading on why a quality MAM is mission critical for broadcasters. Our e-books, A Broadcaster's Guide to Media Asset Management, A Sports Broadcaster's Guide to Media Asset Management, and The Essential Video Asset Management Handbook, are designed to equip you with all the information and business benefits of implementing a MAM solution and how to maximize ROI.
Questions? Let's chat!
We want to get to know you and your business needs. Book time directly with Gabrielle below to see how Curator can help you take control of your video assets and produce quality video content faster than ever! 👇👇👇