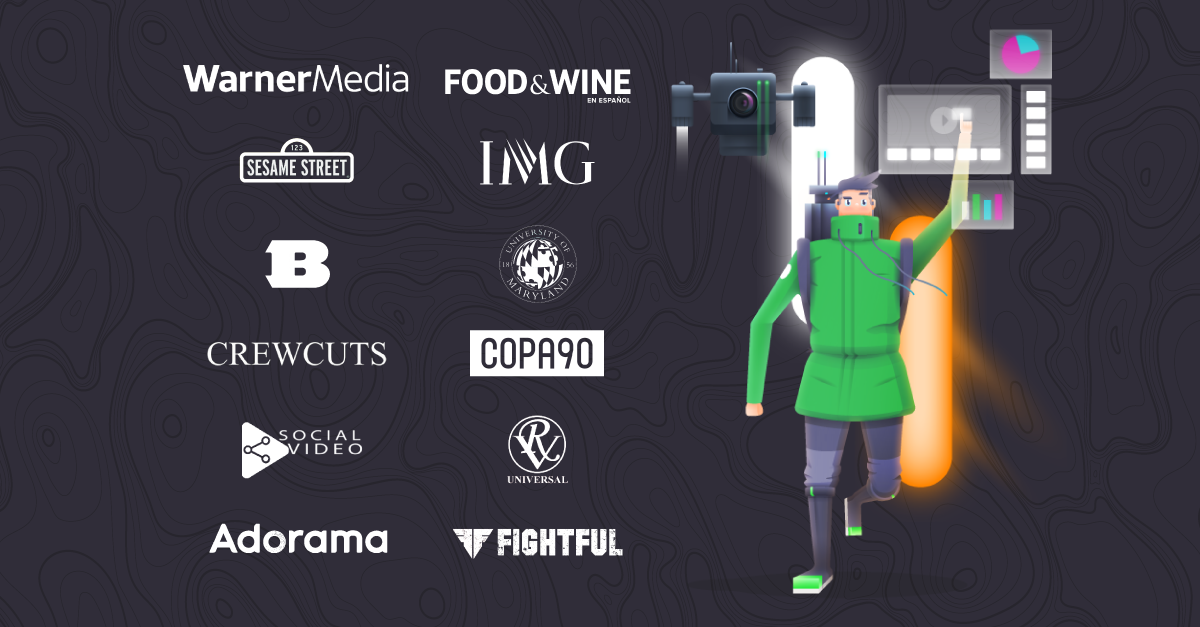 In our latest industry report, we asked the world's leading content creators, from sports broadcasters to publishers, about the future of video production workflows. What are the must-have technologies for a media company to thrive in the future?
While it's impossible to know in detail what's likely to happen in the future, one thing we do know is that video production is changing at a rate faster than ever before. Converging workflow technologies and a global move towards remote working brought on by the pandemic have accelerated the rate of change greatly.
In our all-new report, The Future of Video Production: How Leading Video Pros Are Responding to Remote Workflows, we sit down with industry leaders from Warner Media Studios, the Cincinnati Bengals, Sesame Street, IMG, and more. We sought out the answers to common workflow problems brought on by remote working. We've pulled out some key takeaways from the report below but encourage you to download it in its entirety here.
Challenge: Creating new, innovative content without traditional shoots
While archive footage is invaluable in times like these, sports fans remain hungry for new content. Forward-thinking teams and brands must rise to meet this demand for their fans — or someone else will. With football matches canceled, Barry Flanigan, chief product officer at Copa90, and his team faced this very challenge. While they were able to repurpose archive content to great success, they've also had to think creatively about ways to produce content remotely without the luxury of being able to go on a shoot. So how did they do it?
Solution: Positioning the audience front and center
Flanigan's team found success with their "Stay at Home, Play Together" partnership with EA. The campaign involved player ambassadors, who shot content remotely, and a FIFA tournament hosted by former player Rio Ferdinand.
Similarly, Sean Sapp, managing editor at Fightful.com, a news site dedicated to pro wrestling, MMA and boxing found that Zoom and Skype interviews provided new opportunities to dig deep. "I got a lot more time with subjects when I get to interview them at their convenience, as opposed to in a convention or event setting." Over at the Cincinnati Bengals, Seth Tanner, director of content, found success by taking a fan-centered approach. A lack of original footage saw his team focusing on analytics to build a strategic approach to content production.
Tanner's team leaned into their digital and social platforms, meeting fans looking for a distraction from current events. The team began producing fun hype videos based on the NFL draft and quarterback prospect Joe Burrow. This entertaining, fan-centered approach paid off — the team experienced noteworthy growth on all of their digital channels.
Challenge:
Generating useful metadata
Searchability is key when it comes to archive access. In the broadcast industry, this is infinitely true. Time is always of the essence. As Eric Lund, senior manager of post technology at Warner Media Studios says, "If I have to cut a 40-second piece for tonight, speed is of utmost need." This calls for a quick fix!
Solution:
Using a MAM that offers advanced metadata creation upon ingest
Advanced metadata creation means that all of your content is automatically logged for easy search and discovery. Speech recognition lets you search your video files via dialogue — words, phrases, and sentences. Object and facial recognition allows you to search your archive footage for exactly the right clip: 'Elvis', 'airplane', or girl with balloon.' Combining emerging technologies like speech-to-text and object recognition with established methods of non-linear editing creates opportunities to revolutionize best practices — perfect for innovative broadcasters.
Challenge:
Coping with variable home internet speeds
Home internet speeds can really slow down a remote workflow — and for most broadcast teams, often constrained by tight deadlines, such delays are simply unacceptable. In the early days of the pandemic, as Memo Salazar, editor at Sesame Street, puts it, "It really was all about the internet bandwidth. That just slows you down." Kevin Maude, CEO at Social Video agrees, "Our internet bandwidth definitely became a challenge."
Solution:
Deploying a MAM with proxy-editing capabilities
We hear it all the time: slow internet speeds disrupt workflows. Fortunately, one of the most cutting-edge features of our MAM, Curator, is its streaming proxy-editing function, which eliminates the need for massive file uploads and downloads. Most MAMs offer this functionality. However, Curator's frame-accurate proxies are created automatically, and reduce file sizes by up to 98%. That means it's possible to stream and edit those proxies on as little as 2Mbps bandwidth — easily achievable for a typical home connection, even if someone else in the house is watching Netflix.
Automated conform means that users can work on smaller, frame-accurate versions of the master file, with their edits automatically synced to the larger version. This process bypasses the issue of sluggish at-home internet — no slowing down here.
Intrigued? Here's what comes next…
The above is just the tip of the iceberg when it comes to workflow challenges. We discuss these and many more at length in our all new report, The Future of Video Production: How Leading Video Pros Are Responding to Remote Workflows, available for download here.
Want to learn more about Curator specifically? All of the challenges discussed in the report can be mitigated with our media asset management system; we want to get to know you and your business needs. Book time directly with Gabrielle below to see how Curator can help you take control of your video assets and produce quality video content faster than ever! 👇👇👇