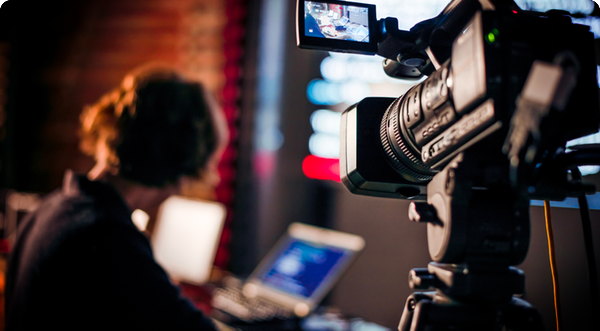 With election activity at fever pitch, what can broadcasters and media organizations learn from today's tech that will shape future election coverage?
The news moves fast, that's always been true. But that statement alone could never have prepared anyone for the news cycle in 2020. Global crises, scandals, and to top it off, an election year - a perfect storm for the most chaotic news cycle… possibly ever.
We've never seen anything like this before: a global pandemic that fundamentally and likely permanently altered the global working from home culture by forcing remote work around the world; two of the most polarizing political candidates in modern history; and a seemingly endless stream of recordings, scandals, and "alternative" facts.
Broadcasters have had their work cut out for them this election cycle; it's an entirely new political landscape. Broadcasters must keep their finger on the pulse of the action more diligently than ever before. The world pivots, shifts, changes and reacts minute to minute based on what each candidate says and doesn't say - in some ways this has always been true. Now it's just amplified across a near infinite number of channels, and if you're a broadcaster, it can be hard to keep up, especially when you need to consider what the competing network is saying. So what will the state of broadcast look like during the 2024 election? Here are our predictions based on what media professionals can take away from this election, and how changing technology will impact the industry.
The demise of alternative facts: real-time fact-checking will be paramount
The rise of "fake news" and "alternative facts" presents broadcasters with an entirely new set of challenges. They need the tools to reinforce the legitimacy of their reporting while simultaneously refuting false claims and providing context to combat misinformation. With the right tools, like Curator MAM, in place, broadcasters are in a unique position to establish the facts with proof in near real time.
Media organizations by nature have vast stores of archive footage that can be used to illustrate a point and quash the he-said, she-said conundrum by showing viewers the candidates' stances on a given issue in their own words, on camera. To actually achieve this, broadcasters need to have easy access to archive material that is properly tagged with relevant metadata. A high-end media asset management system allows users to easily search tagged archive material. To do this, tagging content quickly and accurately upon ingest is vital for speedy and smooth access. The right MAM tool will emphasize accuracy, with loggers set up for success from the get-go, enabling your team to tag content quickly and accurately.
Another way broadcasters can enhance the searchability of metadata in a MAM is by deploying AI-driven object detection, facial recognition, and speech detection software, to generate hyper-specific metadata and then categorize clips within a searchable framework. These capabilities are automatically applied to the metadata creation process during ingest, delivering near "Ctrl+F" search functionality to video assets. For instance search "given candidate's name + stock market" and find every clip in your archive that meets that criteria. It makes for great broadcasting to instantly refute an erroneous claim by quickly leveraging existing footage.
Ethical but fast-paced commentary will win viewers
Although audiences have little appetite for political ads, they definitely have an insatiable hunger for campaign coverage - TV News viewership is up 23% compared to September 2019. They also have an incredible variety of places to consume this content. Not just TV channels but social media as well. To compete, broadcasters need to deliver timely, fast-paced commentary; while accuracy and authenticity cannot be sacrificed, broadcasters will need more than ethical coverage to get viewers' attention.
What does this look like? It will likely mean broadcasters need to strike a balance between traditional and non-traditional broadcast outlets, with a stronger emphasis on social and OTT (and there will probably even be new social media platforms to compete with!), pushing out content that viewers aren't getting from other channels. This could include live fact-checking candidates' speeches or showing real-time side by side comparisons of the candidates' contradictions on certain platforms. The main driver of these innovations in election coverage will come down to how easily production teams can search their vast troves of archival footage.
AI becomes the politics reporter
Artificial intelligence (AI) is going to have a ton of influence in news broadcasting, regardless of what the medium is. As of 2020, the AI industry, in general, is expected to increase 54% year over year. We anticipate that AI will optimize media management, write at least some news stories that can be harvested from public records, and find video and images for instant playout on air. In terms of post-production, an AI system will read transcripts and base rough edits on spoken words and automatically re-edit to fill longer or shorter slots.
What does this mean? It means journalists can spend less time on the minutiae of each and every story to focus on the hard-hitting investigative journalism that's become vital to informing constituents. On the extreme end, we may even see AI-generated journalists reporting the news - not unlike AI-generated influencers we're beginning to see today.
Second and third screen voter interaction
Interactive news reporting isn't a new or upcoming idea - it's one that's already being implemented. Broadcast had been traditionally a one-way street where the anchor spoke to the audience and the audience received the message. Now, the audience is part of the content strategy by being invited to participate in the coverage via polls, live Q-and-A, etc. Another way this manifests is through multi-screen experiences where broadcasters make a point to use user-generated content as part of the news in addition to pulling in social media commentary from viewers. This will likely continue to evolve to become more of a real-time experience for viewers, where viewer poll results could be reported live or reporters could pull in viewer commentary from social while on the air; perhaps even "dialing in" viewers on the fly to share thoughts and concerns surrounding a given topic (in this scenario - the election).
Overcoming politics fatigue
Perhaps most importantly is the fact that broadcasters will need to combat some measure of viewer fatigue. Just as we remember with clarity the debacle that was the 2016 election, and the weeks leading up to it, we will remember 2020 for all the chaos that was tied to the election. Will viewers simply be burned out on election coverage? There will always be those on either side of the spectrum - the ones who crave the coverage and the ones who are completely burned out. It will be up to broadcasters to engage those in the middle. The question remains if that's something that can be done in four years.
Remote broadcast fully matures
Broadly speaking, traditional broadcast news will still be around but it will build on today's formats with more interaction through social media and whatever other distribution channels there might be. At a point in time when elected officials are sharing important messages/updates primarily over Twitter - whether it's diligently planned or on-the-fly - nothing is off the table.
There will be vastly more video sources - by 2022 video will make up 82% of global internet traffic (up from 60% in 2019). This means an increase in overall video content and competition. It also means that this additional content will need to be orchestrated alongside traditional broadcast channels to keep coverage dynamic and flexible.
It will be much easier to quickly set up broadcast-quality remote productions with less time spent on logistics. The evolution of smartphones partnered with the pervasiveness of 5G means that reporters in the field will have access to low-latency, high bandwidth wireless comms from their phones or remote cameras that can be operated over huge distances, and remote controlled with very low latency. This effectively eliminates the need for satellite trucks. Further, if reporters in the field find they need equipment beyond what they have on them, perhaps we can even expect driverless cars to bring equipment to them.
Live production will move to the cloud, including studio switchers. Everything in the studio will be accessible from a web browser for the ultimate seamless remote experience. To that point, at some point - sooner than you might think, and probably because of an ongoing pandemic - we will adopt virtual lives and exist socially inside a metaverse. This will ultimately become the new broadcast medium and we will have content fed into our space in the metaverse directly based on our preferences and real-time needs.
Embracing new tech to enrich election coverage
Technology was already moving fast, but has leaped forward during the pandemic. We can expect this to continue. There's no way back to the old way of doing things. We can expect incredibly rich, sophisticated, and spontaneous political coverage, aided by new tech and AI. There will be new revenue opportunities through data driven microservices based on knowledge of viewers and derived from context (a bit like Google does today). All of this will be orchestrated by massively sophisticated cloud-based MAM.
This rapid change is existential. Whatever happens, we can expect still more change. Sticking with the status quo and avoiding change is not an option; to do so is to become obsolete. Investments must be made but they must be calculated by looking at the trends. What are the important ones? When you've identified them, invest to embrace them. Doing so enables you to turn threats into opportunities by not looking for the light at the end of the tunnel but by being the light at the end of the tunnel.
What's next?
Unfortunately, we don't have a clairvoyant on staff at IPV so we can't say these are the definitive realities of broadcast in 2024. We're simply hypothesizing on what that future could look like based on the trends we see now. Our media asset management solution, Curator, is leveraging the latest technology to address some of the most important workflow trends right now (streaming proxy workflows for seamless remote collaboration, AI-powered object recognition, AI-powered speech-to-text, smart logging with automated metadata to name a few). It can't predict the future either, but it's a good place to start when looking to modernize your workflows for what's next.
Want to learn more about Curator specifically? We want to get to know you and your business needs. Book time directly with Gabrielle below to see how Curator can help you take control of your video assets and produce quality video content faster than ever! 👇👇👇