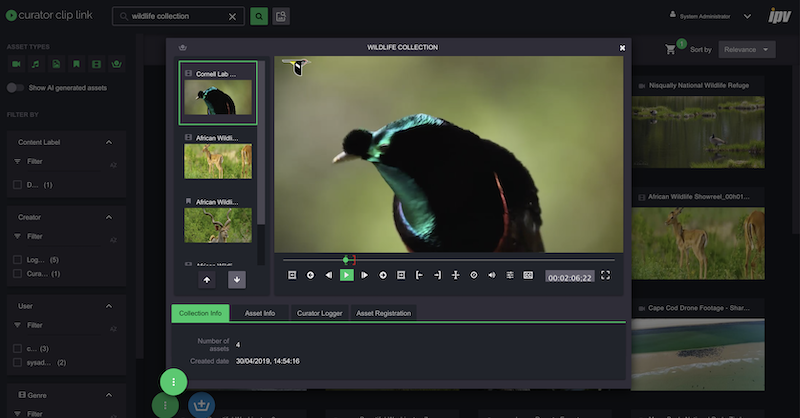 Curator 2.2 brings new possibilities for creative teams everywhere with huge UX improvements and new ways to monetize content.
Curator 2.2 is our most exciting release yet, bringing transformative features across all parts of the product. Highlights include a whole new Clip Link experience, new ways to monetize your content with Curator Logger and the incredibly simple Curator Connect ingest app. Read more about it below.
Even more reasons to use Clip Link
Clip Link has always been designed to give non-technical users simple access to the content they need. With the new features we've introduced, content access will be even quicker and easier. Enhancements include drag-select and keyboard combinations so that Clip Link is even more intuitive to use and a new context menu to ensure you consistently see the most relevant options for your asset. There's also a new collection viewer that presents both assets and metadata much more clearly.
Search and browse functionality has also got even speedier, with faster load speed and auto-suggestions to help you drill down to the right content as quickly as possible.
An Eye for AI
Everyone's been talking about AI for a while now, including us in our Eye for AI video. But are you realising its full potential? Curator 2.2 makes AI accessible and useful, with clear money and time savings.
Studies have shown that speech-to-text has repeatedly been voted the most useful and accurate type of AI right now, so we've integrated Curator with Amazon Transcribe and Azure Media Services to help you capitalize on this. Using these integrations you can bring automation to your captioning workflow, this can help you to meet legal requirements for captioning content to make it accessible. Curator will even underline captions with a lower confidence rating and they can be edited directly in the logger. We've calculated that, if you're captioning more than 3.5 hours of content per week, you can save money by using Curator in captioning.
But it's not just captioning that our speech-to-text integration is useful for. The text created is a mine of automatically generated and searchable metadata that can help make your content even more useful. Worried about being deluged with data? A new switch in Clip Link allows you to turn AI-generated results on and off.
Want to know more about this? Read our IPV- AWS partner blog.

Better content monetization
Logging is useful because it helps you to find the right content later and our new logger duration feature makes it useful to your sponsors too. You can now see the total amount of time your sponsors' logos stay on screen throughout a game, a feature which should help you to stand out from the crowd when looking for sponsorship. If you can tell your sponsor that they're on screen for 70% of the game, you'll be able to justify their investment in you much more easily. The same goes for product placement – the total duration of all the points where the product appears will be shown.
Curator Connect
Curator Connect is our groundbreaking new ingest app, aimed at making it easy for everyone to get content into Curator. You can simply drag and drop files into the app – even from your laptop - add some simple metadata to make sure that you can find it later, and it's ready to go. Curator Connect makes it quicker to get content from remote workers as well as making sure that it's easy to ingest camera cards while keeping all parts of the file together. Watch Curator Connect in action here.
Vimeo OTT
Want your own OTT channel but don't have the resource or time? We've made it easy with our new Vimeo OTT integration. You can simply push content to Vimeo OTT straight from Curator.
We hope that you're as excited about the new release as we are! If you'd like any more information get in touch here.