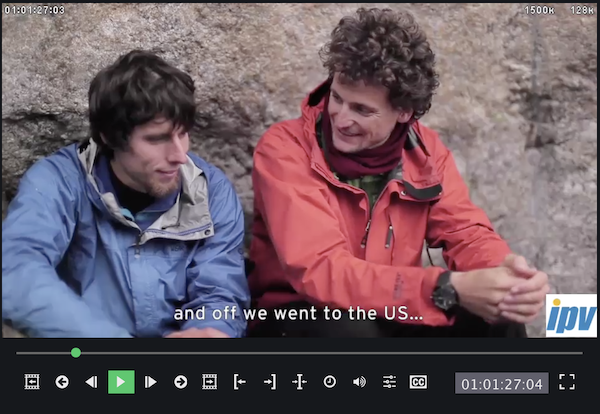 If you've been following IPV for a while you'll know we have a history of creating great video streaming and playback technology. Examples of this include IPV's nSpectre, SpectreView and XStream/ProPlayer. And, in line with this trend, we've recently launched the latest version of the Curator Advanced Video Player.
In today's video landscape a great video performance is crucial. Users rely on advanced video features to do their jobs and also expect fast, responsive performance. In fact, research from Akamai and the University of Massachusetts shows that video viewers start to abandon a video if it takes longer than 2 seconds to load. We see slightly higher tolerance levels amongst professional users – especially if the wait results in higher quality – but after 5 seconds everyone is starting to look at their watch.
Curator's Advanced Video player solves these problems and provides the service you need as a professional media user. Our advanced features include live video playback, frame step, scene change detection, slow-mo and high-speed playback. On top of this, we offer secure streams and no reliance on legacy technology.
Technology Choices
The video player technology sector is fast-moving and easily influenced by external factors. For example, the impact of browser and device manufacturers can make it difficult to understand the impact of your choice of video player. A video player is often just one component of the overall product you're buying, making the decision even harder. This is especially true in media and production products.
To help your decision-making process, this table highlights some of the video player problems we see in the enterprise media industry:

Curator Advanced Video Player
Unlike the player technologies above, Curator's Advanced Video Player is built on HLS technology. HLS comes with none of the problems faced by legacy player technologies, so you can buy with confidence. Your users won't be limited to specific browsers or devices and your technology choice has longevity.
Curator's Advanced Video video player also offers all of the features professional media users need, including:
Live playback – don't settle for waiting until recordings have completed. Live playback lets you start working with your media immediately.
Frame accuracy – often overlooked by other players, leaving users with a poor experience. Whether you're editing, tagging or searching for media, you rely on frame accuracy to make sure you're seeing the right frames. A difference of 1 frame can mean the difference between seeing the last frame of the previous scene, or the first frame of the correct scene. When you're searching for content that's hugely important.
Variable speed playback – playing back in slow-motion and at high speed helps you to easily find the scene you're looking for.
Support for multiple audio and multiple caption tracks – this gives users access to the full extent of the media they're working with. You can even search captions and use our integration with new AI technologies for speech-to-text analysis.
Keyboard shortcuts – limiting users to mouse control only is a sure-fire way to lose their engagement.
Secure streaming – support for secure streaming over HTTPS keeps your content safe.
All of these features (and more) are included for all Curator users.
Who uses the Curator Advanced Video Player?
Many of our customers turned to Curator to provide the professional video tools that their existing system was lacking. For example, a large brand marketing team began to use Curator when they realised that their DAM system no longer met their needs. Digital asset management was great for documents and images, but not for the video that was increasingly important to them. They needed to accurately tag clips in their archive of video content so that they could easily reuse and monetize it. But that level of accuracy wasn't possible without the control the Curator Advanced Video Player offered.
It's not only traditional content creators who need professional playback tools. There are now creative teams in almost every large organization that rely heavily on video for marketing. This new wave of content creators often finds that their creative teams aren't happy with the limited tools their organization's systems provide. Curator comes in here – integrating a professional video player into the workflow an organization already has can bring huge benefits. Once teams are working with the right type of tool they'll be more productive, too. We've seen users create 50% more content with Curator.
How can I get Curator's Advanced Video Player?
Curator's Advanced Video Player is available now as part of all new or existing Curator deployments. To see a demo or to talk to one of our experts about how you can benefit, contact us here.