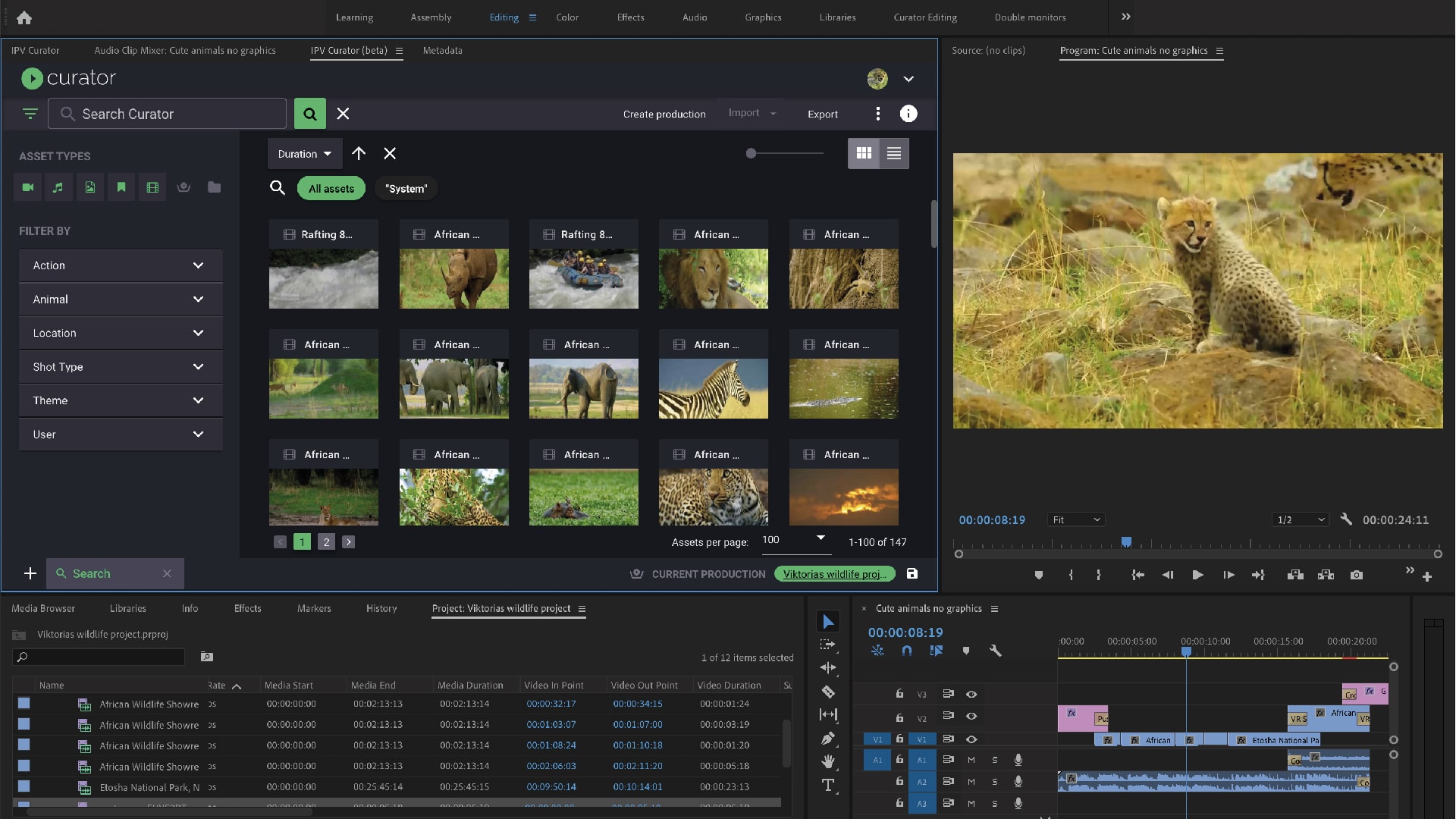 Firstly - what is the Curator for Adobe Panel?
Curator for Adobe is an Adobe Extension Panel that brings Curator's search and discover and remote editing power directly into Premiere Pro and After Effects. The Panel gives editors direct access to all their available video and graphic assets, metadata, Markers, comments, etc., regardless of where they (or the assets) are in the world. Editors can connect directly to their on-site storage to access the original hi-res assets (e.g. if they're working in dedicated edit bays where the assets are stored), or they can access 2% streamed proxies of the assets from anywhere in the world. When they're finished editing, editors can choose from local or remote conform, with Curator intelligently switching out any 2% streamed proxies for the original hi-res assets.
You asked - we listened: Why we redesigned the Curator for Adobe Panel
The Curator Product Team are constantly working with Curator users to develop new features and functionality, but also to get feedback on where the software isn't as intuitive as it could be or where we could improve the user journey. Led by our lead UX Designer, Viktoria, we then turn this feedback into actionable changes with new functionality and user journeys, followed by lots of user testing; the result is this newly-designed Adobe Panel!
New features in the Curator for Adobe Panel
AI-enabled search filters and new View options
The Curator for Adobe Panel now closely mimics the intuitive layout and design of Curator Clip Link, our powerful search and discover module. Providing AI-enabled search filters, users can quickly drill down to the exact assets they need. The search filters are contextual, providing an eCommerce-style method for narrowing down your search, where only the relevant filters are displayed.
We've improved the existing List View by adding a Column Picker, and we've added a brand-new Grid View which offers scalable thumbnails with hover scrub, making it much easier to see what each asset contains before previewing it. We've also added the ability to vary how many assets display per page - 10, 25, 50, or 100.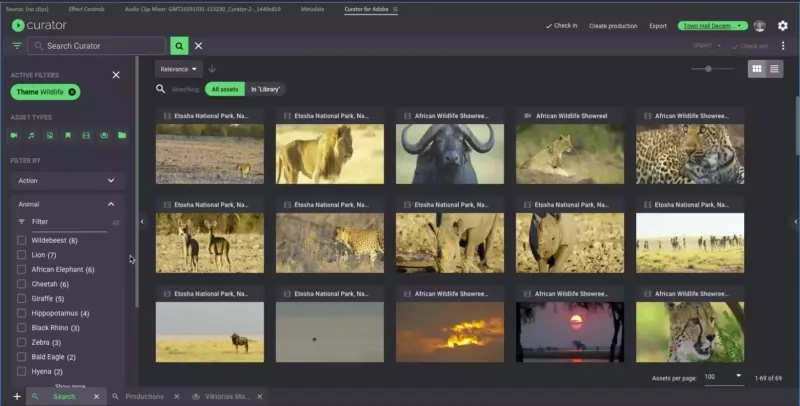 Video previews before import
Users can now double-click an asset or press the spacebar when it's highlighted to preview the video assets before importing them into the project bin. We found that some users had resorted to using their Mac's Finder to locate footage because of the simple spacebar quick preview option it offers - so we incorporated that directly into Curator! No need to switch from your Adobe program to Finder, or to import footage into the project bin to preview it anymore.
The videos are previewed using Curator's built-in video player, providing professional-grade frame-accurate playback, including scene change, frame step, hover scrub, fast-forward and rewind at 0.1x-400x, and multiple subtitle and audio tracks.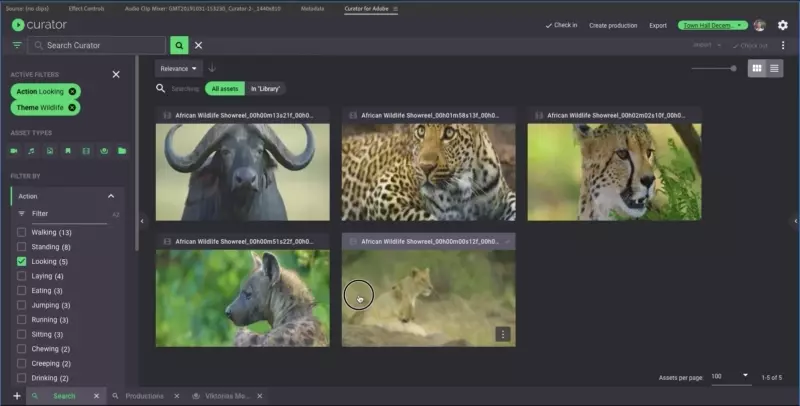 Enhanced user workflows, new Productions tab, and tabbed browsing
We've made it easier for new and existing users to use the Curator for Adobe Panel by streamlining common user journeys and putting procedures in place to help users avoid getting stuck or losing work. Some examples include:
Adding a Productions tab to the top right of the Curator for Adobe Panel. The tab is red when no Production is loaded and green when one is loaded - a simple but effective reminder for editors! The tab also lists recent Productions the user has opened

Letting users link their Premiere Pro/After Effects project file with an existing Curator Production (in case the user forgot to Check Out the Production before they start editing)

Improving Curator's Project Explore feature, adding the ability to preview other user's Curator Productions without needing to Check Out the Production

Adding a "Check In After Export" tickbox during the Export process
To help editors multitask, Curator for Adobe now supports tabbed browsing in a similar way to Mac Finder or web browsers. Users can open multiple search and Production views - perfect when you want to explore new searches or look at other Productions without losing your current search.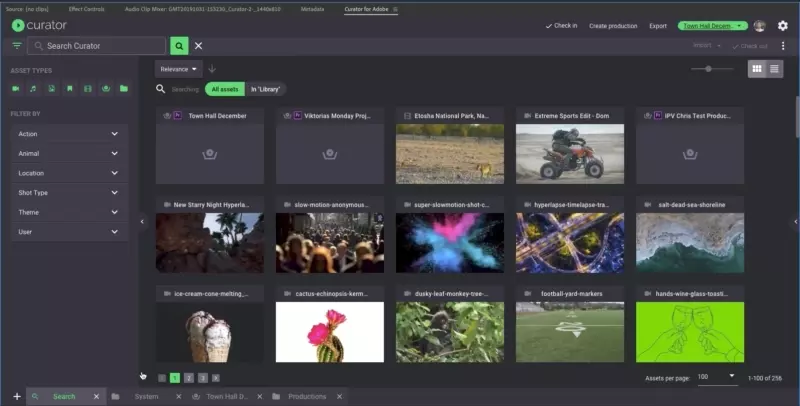 Bulk import and various Select options
Users can now import up to 100 assets at a time into the project bin. Assets can be selected in bulk by using familiar Windows/Mac shortcuts, such as:
Click-dragging (to select a grouped range of assets)

Ctrl/Cmd + A (to select every available asset in the view)

Ctrl/Cmd + Click (to select many individual assets in the view)

Shift + Click (to select a range of assets from the first one clicked to the last one clicked)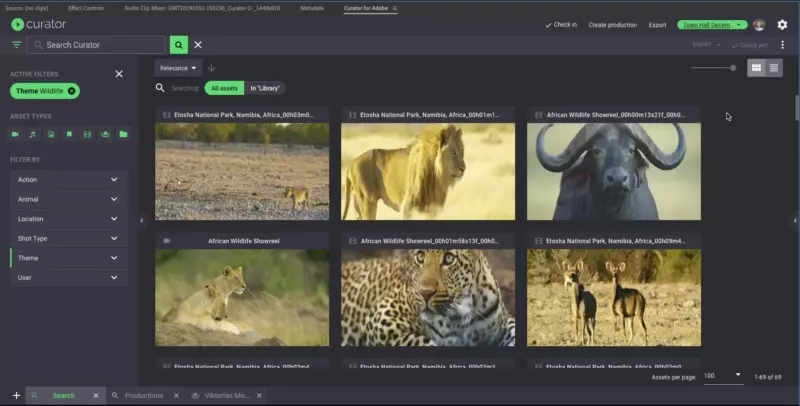 Metadata import
Users can now choose to import any of Curator's metadata fields directly into their Premiere Pro or After Effects project bin, enabling users to find the clip(s) they want to add to their sequence by using the search function in the project bin. This is particularly useful for when the project bin becomes quite large, and was one of our most common feature requests!
New "Swap To" and Export options
Users can now choose which individual assets they want to swap to hi-res before exporting - or swapping to proxy if they're leaving the office and intend to continue the edit remotely. This can save a significant amount of time if the project bin has lots of assets in as it avoids swapping all of them.
We've also added a "Check In After Export" function, and users can now choose which particular sequence they want to export.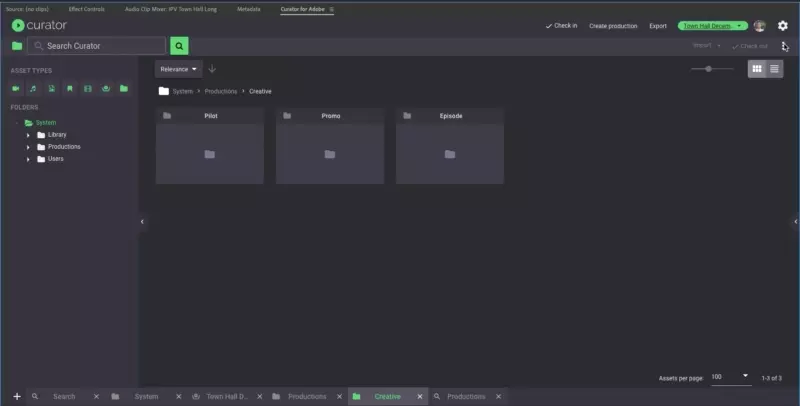 ---
That's a wrap!
The updated Curator for Adobe Panel has been released along with the wider Curator 2.3 update. You can read about the other Curator updates in this Curator 2.3 Release blog post!
We hope you're as excited for the new Curator for Adobe Panel (and Curator 2.3 overall) as we are! Upgrading is easy for existing users - just click here to contact your Account Manager.
---
Not using Curator yet?!
Not a Curator user yet? You're missing out! Join Hearst, Altitude Sports, AMPAS, NASA, Home Depot, and many other leading companies who understand the benefits of proper video asset management - book your demo below to see how Curator can help you take control of your video assets and produce quality video content faster than ever!