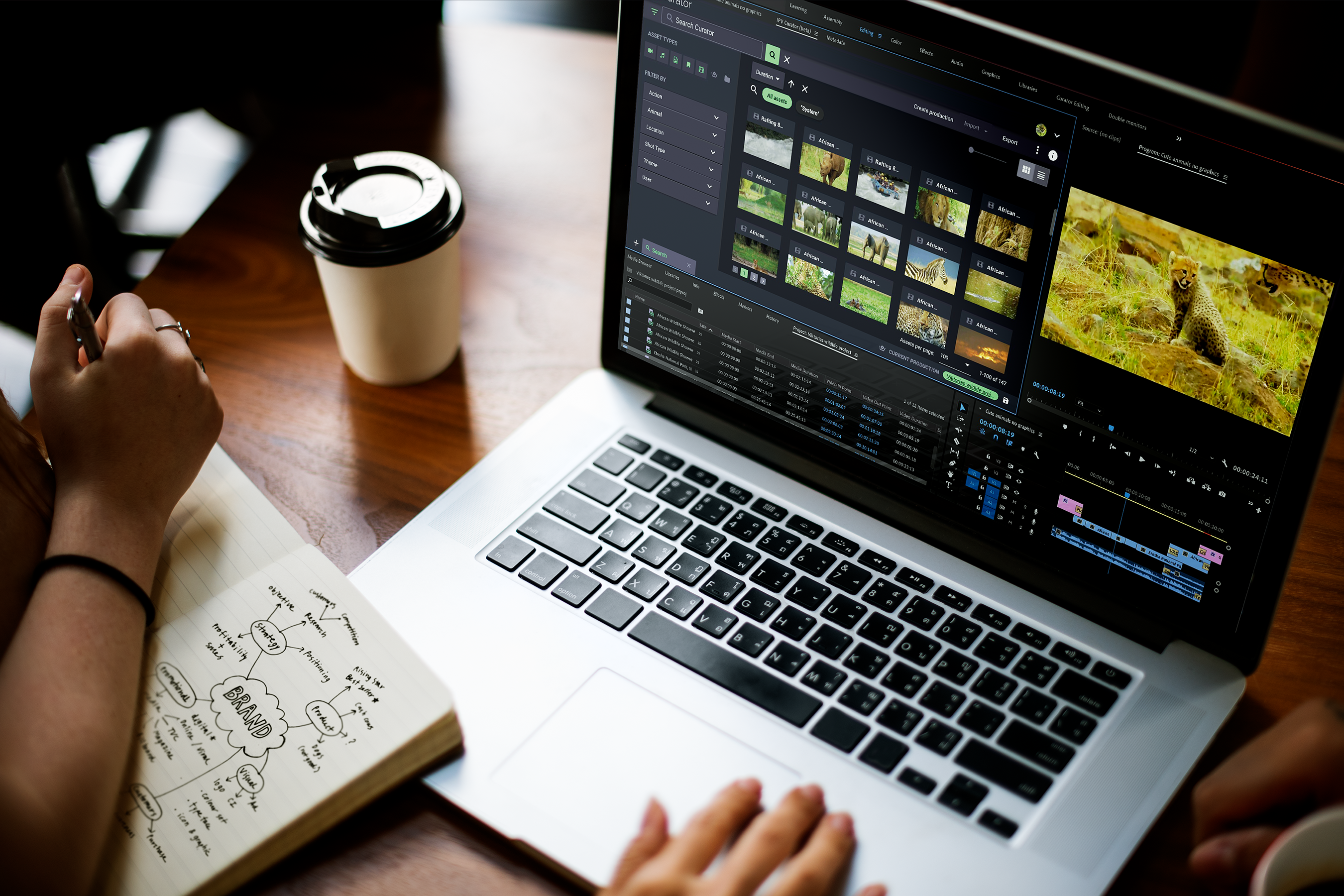 Say hello to Curator Arrival 3.0
The brand new version of the Curator media asset management system has "arrived" - say hello to Curator Arrival 3.0!
Working/editing remotely, productively
Given the current global COVID-19 pandemic crisis, our focus for this update has been around enabling you to be as productive as possible while working remotely.
Curator was more than capable of offering remote editing pre-pandemic, but Curator Arrival 3.0 refines the remote edit capability, helping you edit and manage your media better than ever, from anywhere you need to be.
What's new in Curator Arrival 3.0: the highlights
We've introduced search highlighting - our most user-requested feature - in Curator Clip Link and the Curator for Adobe Panel to help you better understand your search results
We've developed tool-tip walkthroughs to help new users learn the product and for upgrading users to learn what's changed. Very useful for getting new and existing users onboarded to a Curator system, especially when working remotely. Some people love walkthroughs, some hate them, so we've made the skippable, don't worry 😎
Proxy streaming directly from Amazon's AWS S3 is now possible, saving Curator customers up to 80% in cloud costs
The Curator for Adobe Panel now offers a cool sub-clip import function for when you only want to import a section of an asset and not the whole thing, shaving even more time off your edit time
An even better Curator Clip Link experience with search highlighting and List View
Easier user account management, including self-service account creation and management
Speed, performance, and user experience enhancements in Curator Connect, making asset ingest even easier, especially for home workers
Oh, and the fact it's got the word "Arrival" in the name (we explain further down...👇)


So... why is it called Curator Arrival 3.0?
Ah, the fascinating (?) world of software naming conventions, eh?
We've previously released our major updates as point numbers - our two previous releases were Curator 2.2.1 and Curator 2.3, for example - but we felt that the point numbers just weren't doing justice to our updates, and that they were getting difficult for our customers are Partners to keep track of.
So we decided that each major update deserves its own whole number AND be named after Oscar-nominated films, going in alphabetical order starting with "Arrival".
An even better Curator for Adobe Premiere Pro and After Effects experience
Curator 2.3 saw the release of a brand new Curator for Adobe Panel, and we've only gone and made it even better haven't we?! Curator Arrival 3.0 brings a host of new features and functionality to make your editing experience faster and easier, particularly when working remotely.
Search highlighting (and why it's awesome)
Search highlighting was our most user-requested feature; you asked, we listened!
When you perform a search in the Curator for Adobe Panel (and Curator Clip Link), you can now hover over each search result to see which of the asset's metadata has matched your search, without having to preview the asset to understand.
Sometimes it's obvious why specific assets have appeared in your search results - e.g. you searched for a Zebra and you get results with Zebras in the thumbnails - but the power of search highlighting really comes in when you get search results that are less obvious (but just as valid). For example, you might get results because a colleague has added notes to an asset that include your search term, or from AI-generated metadata from AI speech-to-text and/or object recognition services.
Search highlighting includes highlighting for direct matches where the search has matched directly with the asset's metadata and indirect matches where the search has matched with parent metadata for a subclip. Watch the short video below to see it in action!
Sub-clip import
Until now, you would import a clip into your project bin and mark its in- and out-points in Premiere Pro. With the new sub-clip import feature, you can now mark in and out points in clips in the Panel to just import the section you need, rather than the whole thing. The rest of the asset is still available to you in your project if you change your mind further into the edit - you just need to adjust the markers again!
Watch the quick video below to see it in action!
Improved graphics workflow functionality
As part of our move towards even better graphics workflows in Curator, we've introduced a new graphics importer into Curator for Adobe, allowing editors to easily include cloud-hosted graphics in their edit projects directly from Curator, without needing to import them from other storage locations.
New "Swap-to" options
Curator for Adobe now enables you to choose which hi-res you want to swap to when multiple renditions are available (eg. HD, 4K, original camera card etc.).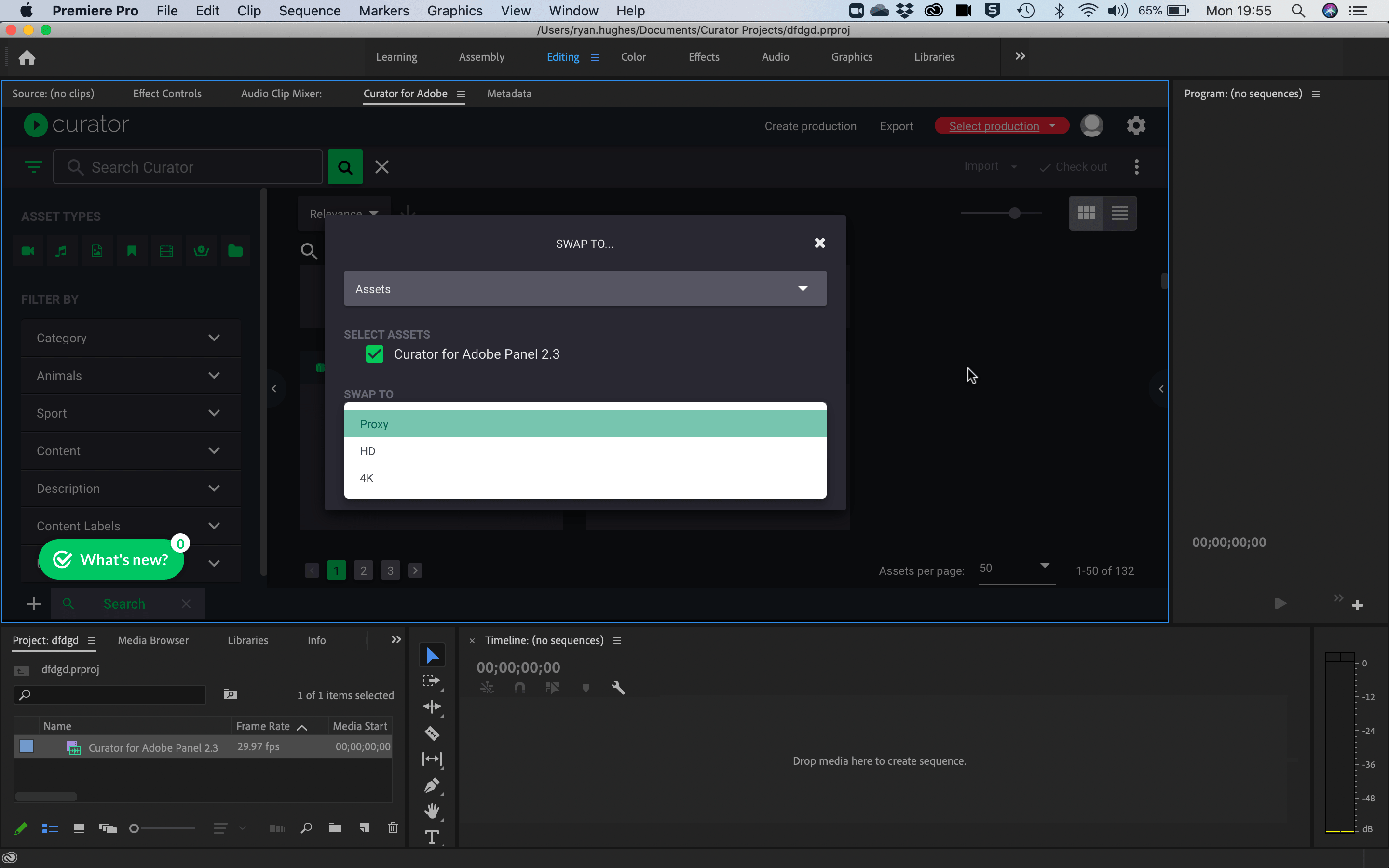 Proxy streaming directly from Amazon S3 storage
We've now made it possible to store Curator proxies in Amazon's cost-effective S3 cloud object storage instead of the more expensive cloud block storage. For one customer, this has already saved over 80% in monthly cloud storage costs! Check out this blog post for more details!
User walkthroughs for easier onboarding and upgrades
Our lead UX Designer, Viktoria, is dedicated to ensuring that Curator is as intuitive and easy to use as possible thanks to regular feedback from users. That being said, Curator is an incredibly feature-rich application which could be overwhelming for new or inexperienced users, especially when working from home (and not easily being able to ask your colleague "how do I do this, again?").
With that in mind, Curator Arrival 3.0 introduces short user walkthroughs for new and experienced users; either walking you through the main functions of the system if you're a new user or guiding you through the recent changes if you're an experienced user.
These walkthroughs should help increase user adoption of Curator, reduce support queries, improve the user experience, and overall help provide better ROI as users will be making better use of the Curator system. Check out the short video below to learn more!
Easier search and discover in Curator Clip Link
Curator Clip Link is getting the same awesome search highlighting feature as the Curator for Adobe Panel
We've introduced List View as an additional view option, with customizable columns for a more custom view. List View is great for when you want to focus more on the asset's additional metadata than the thumbnails, e.g. metadata generated by AI speech-to-text and/or object recognition service
Easier user (self) management and account/system security
The Curator Gateway is now available to all users (not just system administrators), providing new account management tools and login security options. Curator is moving to a self-service set-up where possible, increasing user independence and reducing strain on IT Teams and Curator System Administrators, and making remote working just that little bit smoother.
Users can now create their own user accounts (which can be locked down to specific email domains to increase security)
Single-sign-on (SSO) is now supported for quicker sign-in
Built in user authentication, plus integrations with various authentication providers, including Okta, Microsoft Active Directory, Microsoft AD FS, Google Auth, and importantly, any OpenID Connect authentication provider
System administrators can deactivate and reactivate user accounts without actually deleting them - perfect for recurring freelancer projects, for example - and monitor user analytics such as login/logout times and IP addresses, and account application use
An Applications screen within Curator Gateway now provides convenient links to all your available Curator applications
API routing through the Curator Gateway now allows Curator's services to be protected inside a private subnet with only the authenticated Gateway endpoint exposed publicly, improving cloud and hybrid cloud deployment security
Improved ingest (especially for remote workers)
As more and more editors and media managers are working from home, we've made significant efforts to improve the asset ingest process in Curator Connect for this release:
Curator Connect now performs its file validation checksum server-side, rather than uploading the assets and then downloading them back to the computer to run the checksum. This gives you a quicker ingest experience, reduces cloud egress costs (if using cloud storage), and puts less strain on home broadband connections

You can now see the status of your uploads and the checksum status of each in the "My Assets" tab
We've removed the need for a VPN when using Curator Connect remotely - wonderful news for home workers!

In response to a significant rise in Adobe template files, we've developed a new Adobe Template Project ingest option in Curator Connect, making it easier for you to upload and use template project files. Templates are incredibly useful for remote teams who need consistency, they save time by avoiding the repetitive setup process for new projects, and they make onboarding new staff and freelancers much easier.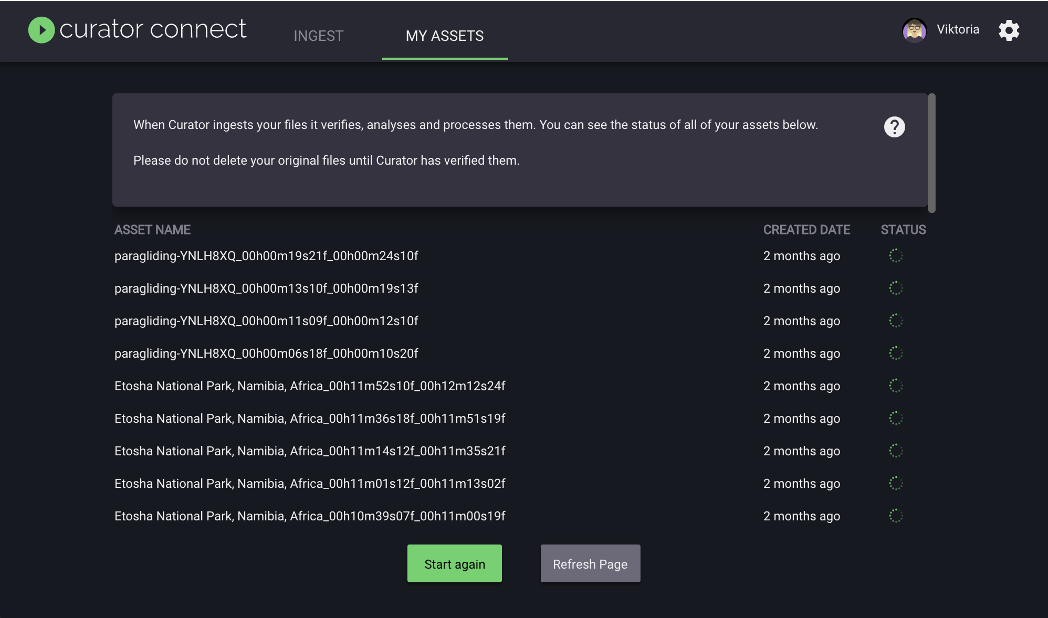 Upgrading is easy - here's how
Upgrading is easy (and free for subscription customers) - just click here to contact your Account Manager.
Not using Curator yet?!
Not a Curator user yet? You're missing out! Join Hearst, Altitude Sports, AMPAS, NASA, Home Depot, and many other leading companies who understand the benefits of proper video asset management - book time directly with Gabrielle below to see how Curator can help you take control of your video assets and produce quality video content faster than ever! 👇👇👇