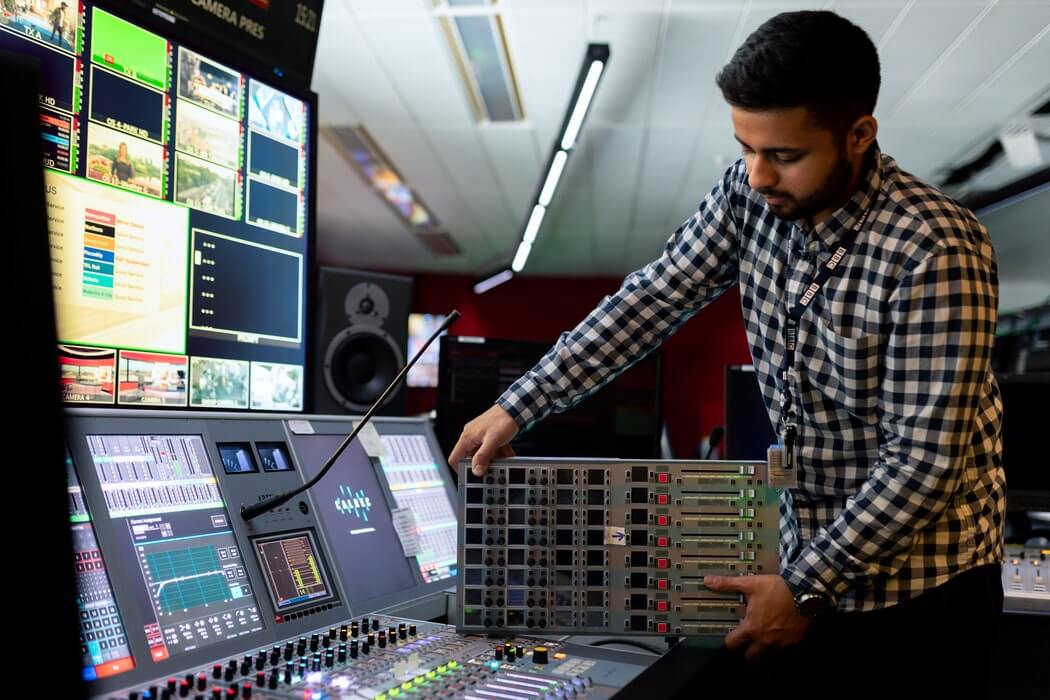 The broadcasting industry is a remarkable fusion of technology and talent. Somehow, often 24 hours per day, countless channels stay on air, on time, with content that attracts audiences and advertisers. It's a high pressure industry, operating within tight financial constraints, and whose output is visible to billions of viewers.
Technology, which never stands still, can be a challenge and an opportunity. It's a challenge because it imposes change at times when the industry would prefer stability. It's an opportunity because, correctly implemented, it can remove barriers and solve new as well as long standing problems.
The rate of change today, both in terms of technological progress, and in the need for technology to dramatically intervene to solve new problems, is off the scale. Ten years ago, who would have thought you could shoot 4K video on a telephone? And one year ago, who would have expected "Stay Safe" to replace "Best regards"?
Used intelligently, new broadcast technology can make it easier to produce more with less. Big studios can be repurposed for remote operation and social distancing. With the right set-up, editing and post production can be done from home.
If there's one technology that's needed to enable and underpin all of this, it's a Media Asset Management system (MAM). If you can track your media and access it from anywhere, then it becomes an active, productive asset rather than a passive one. If you can give editors the power to search and retrieve media instantly, wherever they are, you have the basis for improved efficiency, even in the middle of a pandemic. Essentially, your MAM becomes your workflow.
If you can do this without disruption, and within a familiar user experience, then you will have found the shortest possible path towards stability, productivity and profitability.
With that said, let's take a look at six problems the broadcast industry is currently facing - and what to do about them.
Problem # 1: lower ad revenues & budgets
This isn't a new phenomenon, but there are new pressures on broadcasting business models. Advertisers have become increasingly hard to please as brands look to reign in spending; not to mention, many brands are beginning to shift away from TV advertising in favor of more measurable digital advertising. Broadcasters need to reduce operating budgets to ensure their survival and future viability and any tools they do spend money on will need to deliver a near immediate sizeable ROI. The only sure formula for attracting advertising is high quality content. Turbocharging your productions with a high quality MAM solution means that you'll save time on ingesting, logging and searching for media. This will release time for your creative professionals to keep the quality up and try out new ideas without impinging on the day-to-day flow of content.
It's not just about the cost of the right tools though, it's specifically about what these tools deliver in ROI. Broadcasters need to be cognizant of the fact that every single dollar spent on infrastructure is being watched and weighed in terms of how well it brings money back into the organization's pocket (or keeps it from leaving in the first place). With editors spending an average of 1 in 10 hours searching for content, reducing that down to mere minutes or seconds with your MAM demonstrates a significant cost/time saving. Easily monetizing archives means easier re-use of content and money saved in shooting new content, while automated metadata logging gives you the ability to find the right assets with the right terms.
Problem # 2: more platforms to support
More channels, more social media, streamed content and even square or vertical video are just a few of the many elements to consider when creating content. Broadcasters used to set the rules: now the users set the rules for them.
The technology is out there to support user demand, but it takes careful planning when a single production could find itself distributing dozens of different content versions. For example, Hearst, who serves 26 US DMAs (Designated Market Areas) and reaches one in five U.S. households with a mix of local and national news, weather, information, sports and entertainment programming.
A good MAM can be configured to track multiple versions, making sure that the right content is delivered in the right format, with the right compliance checks, to the right regions. While this can sound quite simple, the reality is quite different in a high-pressure production environment if you don't have an intelligent system managing your media assets.
Problem # 3: competition from OTT
The pressure is on. The monopoly enjoyed by broadcasters over our small screens is now a faded memory. Netflix and its cohort of over-the-top (OTT) providers have the budgets and the motivation to dominate viewing habits.
To fight back, broadcasters will have to exploit what they're already pretty good at, but they need to do it more. More timely content: news; sports; reality TV; hyper-relevant documentaries; local coverage.
Broadcast producers need to be like organic grocery shops: full of fresh and engaging content that you can't find in warehouse-like mass outlets.
This means being efficient, timely, and on-point. It also means being agile. And it means having a MAM system that can fulfill the demands of rapid access to not just a media archive, but incoming material as well.
Take it from Télévision Francophone de l'Ontario (TFO), one of the oldest French-language television channels in Canada. Faced with the increasing pace of broadcast journalism and a multitude of distribution channels, they needed a way to provide the entire team access to assets whether they're in-house or freelance directors, producers or journalists. By implementing the Curator media asset management solution TFO has been able to benefit from new ways of working with seamless content movement and interchange across the whole infrastructure. The result is a freelance bill that was reduced by 40% while the amount of content produced and distributed was increased by 50%.
Problem # 4: attention spans
Long gone are the days when a family would settle in front of the TV for an evening of viewing, passively absorbing the stolid diet of TV schedules. Now, a combination of active searching across multiple devices, and an increasingly tempting menu of AI-generated suggestions, means that attention spans are shorter than ever. Viewers are conditioned to discard web pages that take more than a few seconds to load, and to move on quickly from any content that doesn't engage them within minutes.
So to counter this, broadcasters need to step up levels of engagement from the earliest opportunity, with trailers and promotions, and then with super relevant and timely content. Something Sesame Street did with ease and grace to help keep families with children entertained and engaged during the pandemic; they deployed 20 full-length episodes across multiple platforms: HBO, YouTube, PBS, and others to help parents with at-home activities for kids.
A high quality MAM will be able to assist content creators by finding and retrieving new and archive content within seconds. Trailers that might have taken hours to assemble can now be completed within minutes. Live programs can illustrate current topics by searching archives in real time for material that can be retrieved and shown during the transmission.
Problem # 5: locked in archives
Not long ago archives were storage rooms with shelves lined with videotapes. The "address" for a particular piece of content used to include the room and shelf number. Retrieving content for a a project would inevitably involve sending someone to physically grab a tape. Putting together trailers or promos could take hours, just to get the media into the right place.
And of course it was unhelpful that in order to know anything about what was on a specific tape, the only information you'd see was the label on the side of it. The idea of rich metadata was science fiction.
Today, with effective modern media asset management, there's no searching for tapes. Powerful tools - including AI - help users to input rich, useful information, not just about the clips themselves, but exactly where in the clips certain events take place. Search spoken word to find events. Look for clips with people or animals or inanimate objects. Be immediately aware of any legal or rights issues with a clip.
Most importantly:
Know exactly what valuable content you have in your archive
If you don't know, browse, search and find relevant and possibly more ideal content for your project
Actually use that found content near instantaneously in your projects
This last point is that this is where the biggest savings can be made. With a quality MAM you can preview - and edit on - 2% frame-accurate proxy copies of archive assets without actually retrieving them first, making the entire archive available to you as if it was on live storage. The original assets are only retrieved - automatically - when you need to conform your edit to high-res. Think about that trailer situation again: with a good MAM, you'll be able to put promotions that need archive data together orders of magnitude faster. It is literally transformative.
Bonus Problem! # 6: WFH productivity
Until recently, the lived experience for editors working remotely was more like being in a cantankerous science experiment than their familiar on-premise environment. Massive and rapid changes in remote production topologies have changed all of this, and with the right MAM, remote working is no longer a problem. In fact, it's as good and as productive as being on premises. This is something Sky affirms - not only can they cast a wider net when searching for talent but they can even mail new team members pre-configured laptops with instructions to get them up and running with ease.
Be wary of remote solutions that seem credible on the surface but in reality consist of older technology that's lashed together. Look for a supplier that can give you the assurance that remote working is built into the core of the MAM. Look for a system that doesn't degrade the working experience. Look for one that's totally secure.
Is Curator right for you?
We've discussed the foremost problems facing the broadcast industry and how a quality MAM solution can help maximize ROI while eliminating historical bottlenecks. Curator possesses the capabilities broadcasters need at its core. From intelligent metadata tagging, easy and intuitive retrieval of archive assets to innate remote workflow capabilities, Curator is a powerful tool for the current state of broadcast and the future.
Book time directly with Gabrielle below to see how Curator can help you take control of your video assets and produce quality video content faster than ever! 👇👇👇