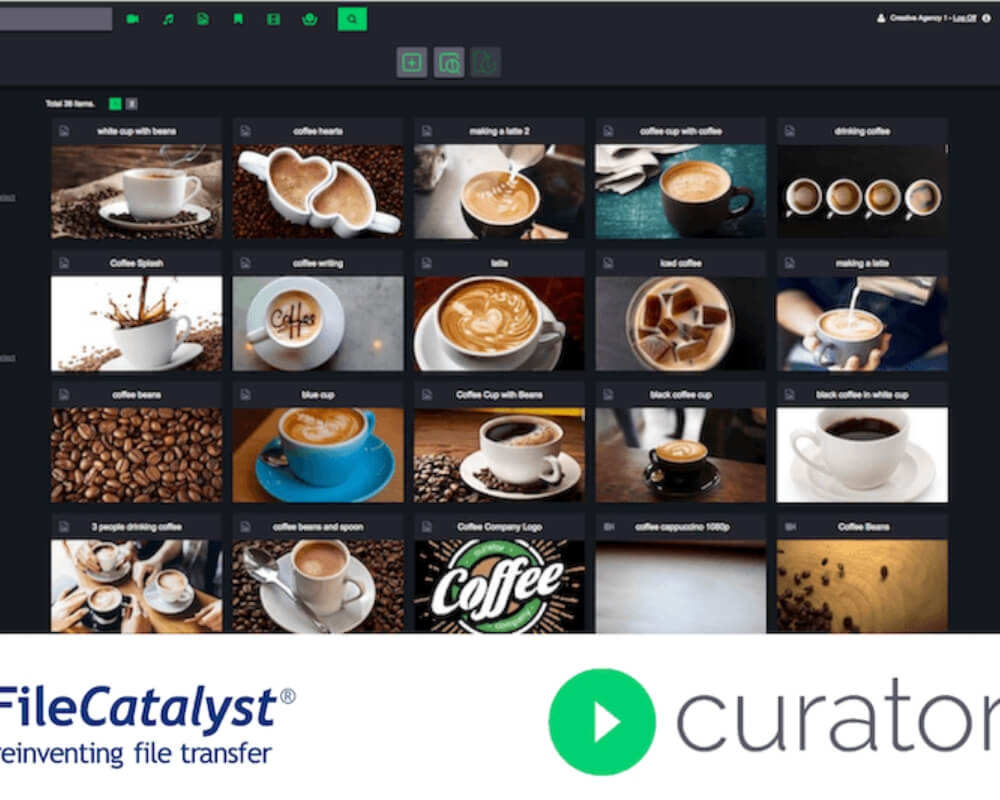 A major broadcasting network becomes the first customer to benefit from new joint solution
Cambridge, UK, 19 March 2019. Media technology specialist IPV and FileCatalyst, the pioneer in managed file transfers, today announce a technical partnership that integrates FileCatalyst's accelerated media transport technology with IPV's Curator system. Together, this creates an offering that provides improved remote asset management workflows for location-agnostic operations. Users of the integrated solution can ingest media files from anywhere in the world and transport them quickly and easily between locations.
The first user to benefit from the partnership's offering is a major broadcasting network. More than ever, content producers like this need to be able to operate from multiple locations. A FileCatalyst-integrated Curator system lets users work on post-production processes without needing to wait around for long media transfers to take place.
Traditional transfer methods like the use of http or FTPs cause latency issues and don't provide progress updates to users. To address this, IPV has integrated the API for FileCatalyst Direct – FileCatalyst's file transfer solution which accelerates transfer operations up to a speed of 10Gbps. The API of the FileCatalyst Control management and monitoring system has also been integrated with Curator. Deploying these tools provides users with faster media transport and second-by-second status updates throughout.
"Video content is the most valuable asset of any media organization, so we need to provide the operational efficiency for them to make the most of it," said a FileCatalyst representative. "The remote asset management that our integrated APIs allow lets users work more effectively no matter their operators' location."
Curator Clip Link helps editors to find files transferred by FileCatalyst easily.
It's important to use metadata to understand what's in your video files without having to watch them all the way through. IPV-FileCatalyst partnership helps you to put your metadata to even better use. Metadata added through Curator can be used to prioritise files for transfer by FileCatalyst. For example, if you need a particular file for a show that's being broadcast in two hours, having the right metadata will ensure that your file is prioritised and arrives on time.
The technical partnership between IPV and FileCatalyst also lets users better protect assets, make use of improved search and discovery functionality and even access a wider talent pool of operators. Attaching metadata during ingest – even if operating remotely – enables users to easily find assets to make the most of their valuable media. And with Curator's ability to restrict or allow access to media as needed, that content is kept safe, even if operators are working remotely.
Remote asset management workflows lets users choose editors based on preferred experience and creative skills rather than just location. At the same time, location-agnostic workflows allow for a longer working day. Editors in different locations can more easily hand off projects between them, to effectively create a 24-hour workflow.
"The industry is experiencing an increased need for access to media, wherever operators are. It's for this reason that remote asset management functionality is increasingly becoming one of the most important features of modern production processes," said James Varndell, Product Manager at IPV. "The reason we form these technical partnerships is to provide our users with the most effective way to create the best possible content – regardless of location."
The IPV-File Catalyst integration is available now. Contact us here to find out more.