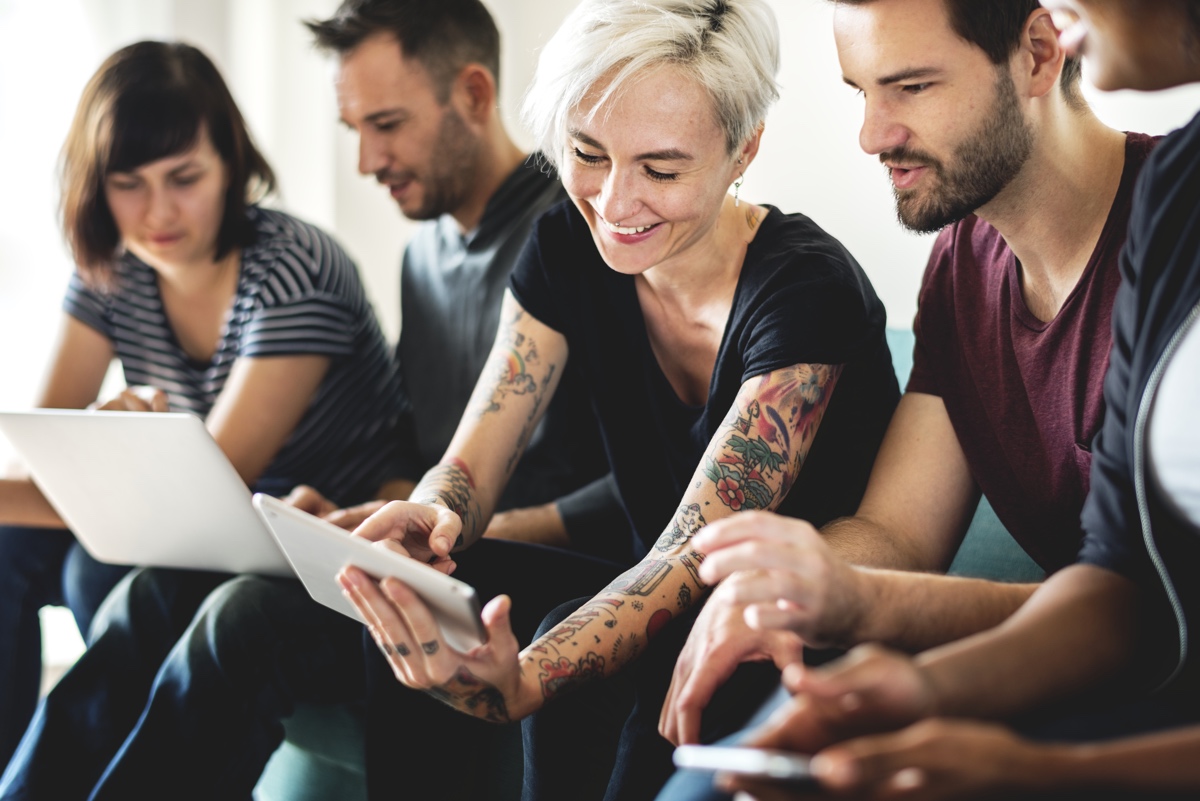 When it comes to enterprise customer experience, video matters. In fact, it might just be the single most important channel to deliver your message. If you want your employees to pay attention, retain the information, and apply what they learn in their daily customer experience interactions, those media assets are an absolute must.
A number of factors have proven the importance of using video in building your employee training efforts:
Cost savings, particularly given that you can use a one-time produced videos for countless employees.
Better engagement. In fact, Forrester Research has found that your employees are 75% more likely to watch training videos over reading the same material in a more static format.
Information retention, which increases significantly when using video in both short and long-term memory.
Versatility, as you can use it in any training efforts from onboarding to professional development, new product training, or customer service skill enhancement.
Measurability, thanks to metrics like video views, average duration, and exit points when your audience stops watching.
Interactivity, allowing your employees to choose their own adventure or answer quiz questions in the course of the training.
Content consistency. Everyone gets the same information, creating a more consistent information flow.
Scalability, from 10 employees in a single enterprise team or location all the way to thousands of workers across the enterprise.
Of course, you have to get it right. Simply pointing a camera is not enough to engage your employees and prompt them to retain that information. Fortunately, enterprises across industries have realized the same thing. Drawing from their videos can lead to inspiration on what makes a good (and great) customer experience video.
These 10 staff training videos, of course, are only the beginning. Use them to seek out what makes them unique, then build your own concept to enhance your training.


1) Snoop Dogg gives Burger King some Gangsta Luv


In less than 90 seconds, Snoop Dogg shows food workers at Burger King how it's done. He dominates this video, and has just a little bit to say about the process of grilling Burger King's new hot dog. So who better than Snoopzilla to introduce the new menu item?
What makes this video undeniably effective is its self awareness. The looks of the employees as Snoop Dogg prepares that dog is priceless. Add some basic instructions, and it's difficult to forget just what happened here.


2) IBM Stands Up for Productive Meetings


Changing old habits can be difficult. We might be used to hour-long meetings where little gets accomplished. That doesn't have to be that way, and this training video helps IBM communicate with its staff just what the alternative might be: 15 minute stand-up meetings.
There is no unexpected twist in this 2-minute clip. Instead, it's a series of relatable characters, including the remote member of the team and the person who doesn't like to talk, explaining what makes these types of short meetings so effective. The information is conveyed particularly because it's so relevant to anyone in this type of working situation.


3) EY Puts a Twist on Digital Workplace Safety
The global professional services firm Ernst & Young might not be known as an innovative powerhouse for most unsuspecting consumers. Ask its employees, though, and you might get a different story. The training video introduced here is a perfect reason why.
For the first three quarters of the video, you might not even realize it's a staff training video. Then, it becomes obvious: what's being acted out is a security risk, and a caution to all who watch to keep company data safe. It's conscious differentiation from typical training videos is what makes it so effective in delivering its core premise.


4) The Church of the Latter Day Saints is in the Clouds


Not a single mention of the church. This is clearly an internal video, serving not to build culture or send an obvious branding message but simply to educate its audience about something very important. And yet, boring as that might sound in writing, the video is something to behold.
Here, the LDS Church informs its members about lightning safety. But it does so not by sharing a bunch of scary facts or figures. Instead, it turns the perspective around - and speaks, literally, from the cloud's perspective. What follows is a fun, self-effacing, memorable bit that leaves you casually learning more about the dangers of thunderstorms.


5) Tesco Turns its Employees into Superheros


It's not always about hard skills. Especially in customer experience-related jobs like retail sales, your teams have to know how to put on a good face and represent the company well. That requires soft skills, and those soft skills aren't always easy to communicate. Video, Tesco here demonstrates, can do the job.
You know the phrase the customer is king? Here, by putting the customer first, the protagonist in the mini-story actually becomes the hero. Solving relationship troubles, helping a dad shop with his daughter, even giving health advice is all punctuated by punchy graphics. Who wouldn't want to be more like this Tesco guy?


6) Nintendo Plays it Straight and Narrow


Your customer experience reps need to know as much about new products as your most enthusiastic customers. And, just as importantly, they need to be excited about it. That's why, in its latest promotional video for the Switch Lite, Nintendo decided to take a commercial feel even in a video designed for internal audiences.
A straightforward intro serves as the positioning of the new product in the existing product line. What follows are more flowery descriptions of the Switch, which employees can easily take and make their own. The key here is a bunch of information, communicated in a way that's both straightforward and engaging enough to keep watching.


7) Ben and Jerry's Cares About its Employees


To be a lactose-intolerant employee at a major ice cream brand must be a tough one. Meet Leena, who has been frustrated by the deliciousness around her and the team building exercises for years. She may or may not be fictional - but her story nonetheless resonates when looking to build an inclusive culture.
The 30-second video is more commercial than training video. It brings the point home nonetheless. A mini story, complete with story arc and supporting actors, plays out over the course of the clip. By the end of it, employees get the feeling that the brand really cares about their needs - even if it's done with a (major) twinkle in the eye.


8) Home Depot Helps Employees DIY Customer Service


40,000 items in a Home Depot store is admittedly enough. And yet, your customers expect you to know everything about each of them. What do you do? In this training video, the home improvement chain builds employee confidence by bridging that information gap.
As it turns out, the signs in each aisle are not just for customers. Listen carefully to the customer question, then go on the knowledge hunt. This video might be 6 minute long, but every second of it matters to the average overwhelmed employee. Effective visuals showcase the power of video, allowing sales associates to see situations they might find themselves in. The fact that some humor is inserted lightly between each lines only helps build viewer attention and retention.


9) Wistia Builds a DIY Video Studio


Wistia's business model is all about videos. So it's only natural that the brand encourages its audiences to create their own, professional clips. Of course, not everyone has professional equipment or a studio. In 2 1/2 minutes, this clip shows how an average conference room can become a studio to film great videos.
The visuals are key here. What makes the clip so effective is the ability to show exactly what steps need to be taken, then show the results of the backdrop, video, and audio improvements. The result is a great example of customer experience maximization, packed with engaging footage and helpful info.


10) Qualtrics Preps Its Audiences for CX Week

"Always greet your customers with a smile" seems obvious. But we have to admit: we've never seen it packaged quite like this. A 20-second clip, a gruffy chef, and a half-hearted smile that belies the core of the message. Chances are you won't forget about this one anytime soon.
The beauty of this clip is its versatility. It likely won't be part of a larger training module. Instead, it can be used effectively on social media, YouTube, and even in an email. Training videos don't have to be long to be effective - sometimes, even a 20-second clip can do the trick if it's done just right.

The Impact of Video on CX Training
Combine these ten clips, and a clear takeaway emerges: customer experience and training efforts have to be visual. They can't always be self-serious, and the visuals have to be powerful. Length does not determine quality, but you better make sure that in longer videos, every second is packed with helpful info and avoids getting boring or repetitive.
Of course, these are just some of the many examples you can find. They all share one thing: they find innovative and engaging way to get crucial information across. That's what makes video such a powerful tool for customer experience. Of course, you have to manage your video assets the right way. Browse our website to learn more.