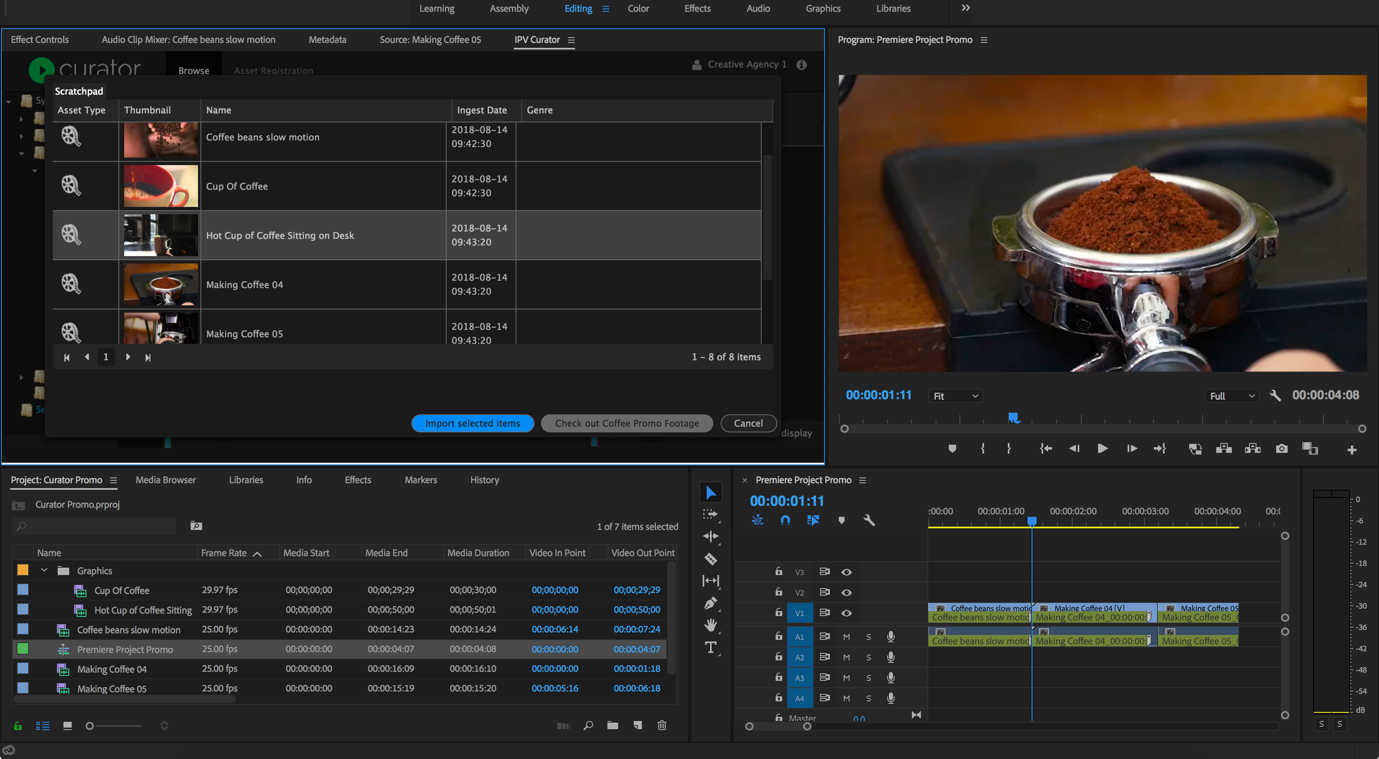 Making a change to your creative workflow or infrastructure can be a daunting prospect. And with IBM estimating that change management causes 53% of software projects to fail, you need to make it as easy as possible for your team to start using new systems. This is where workflow automation tools come in.
To help our users manage change, we're always developing new features that make it easy for creative teams to improve their workflows. The latest of these is Curator Project Connect, a workflow automation tool that automates the registration of Adobe Premiere Pro project files into Curator. In the process, it automatically captures metadata and identifies unused media files. And if you're migrating to a new storage infrastructure, the tool also enables the migration of entire projects.
The challenge of storing projects
Creative teams are commonly faced with ever-increasing demand for better storage workflows. But they don't always have a way of determining where media files are used and which can be removed to free up space. Curator solves that problem by managing all new projects. In doing so, we've been able to help significantly reduce storage demands. But what about all the projects that you've already created?
When working to a deadline, creative teams often need to prioritize their time. This means that processes like storage can take a back seat. Then, without the time to go back and cleanup media files that were created but didn't make the final cut, thousands of unused media files can occupy valuable storage space.
This is especially the case as more creative teams adopt new applications like cloud or object storage. This movement of media files often results in missing file location references within projects. After a storage migration, editors shouldn't need to spend valuable time manually relinking files.
Curator Project Connect
To make it easier for users to begin managing their storage we've created Curator Project Connect. This new workflow automation feature lets Adobe Premiere Pro projects be easily registered from existing file storage into Curator. Removing the need for manual processes, Project Connect automatically registers all of a project's files and metadata.
The metadata element of this is especially important because it tends to be far more valuable than just a media file's name. No information can be gleaned from a file called B001_C073_0902Q0_001 if it's named so by a camera card.
Whereas, a project called "Winter Latte Promo 2018 v1" gives us much more detail about what files are likely being used. And we can assume that using "winter" and "coffee" metadata tags will help us find these related files at a later date if needed.
Once Curator Project Connect has ingested your projects and media, the workflow automation tool shows you which files you're storing but not using in any Adobe projects. These are candidates for archiving or deleting – a simple one-click process thanks to Curator's archive connectors.
If you're migrating to an entirely new storage environment, Curator Project Connect can automatically migrate media files used in your Adobe Premiere Pro projects to your new storage location. Crucially, it also updates all media references in project files. This means you don't have to manually relink all of a project's media when you open the project file after migrating to your new storage.
Overall, Curator Project Connect is a workflow automation tool that helps you take control of your storage. It lets you see which files aren't being used and easily migrate Adobe projects to new storage infrastructures without lengthy manual processes. We've designed the system in order to help you save time and create more content.
How can I get Curator Project Connect?
The Curator Project Connect workflow automation tool is available now and can be deployed as part of any new or existing Curator deployment. To see a demo or to talk to one of our experts about how you can benefit from a production management solution, contact us below.