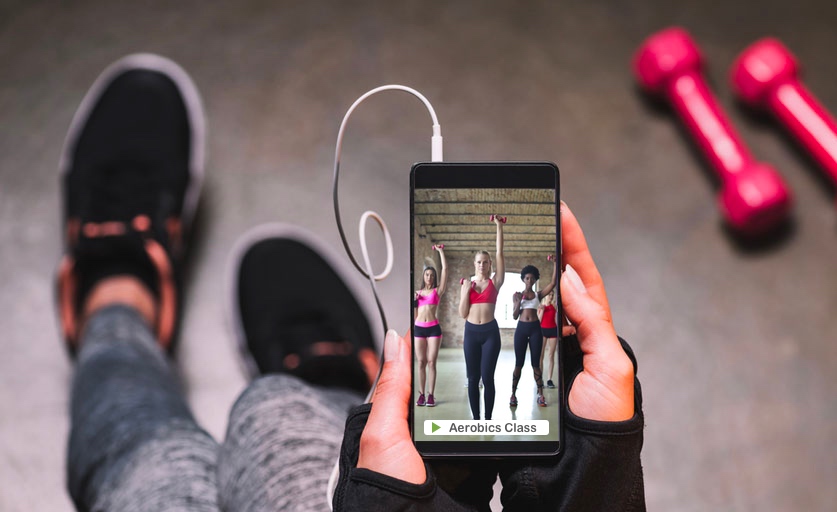 Video is critical for scaling engagement and connecting with consumers; with New Year's Resolutions in full effect, here's how the top wellness apps are supporting their users' goals with outstanding video strategies, and how others can avoid media misfortune!
As we dive into January 2021, people around the world are once again united by a common goal: new year, new me. Every year, people take this time to reinvent themselves with a New Year's Resolution and, in that respect, 2021 is no different, with 55% of Americans claiming to have set one for this year (that's roughly 141.1 million people!).
Resolutions are now firmly underway as we attempt to become fitter, invest time in personal development by learning new things, or find peace of mind using relaxation aids to deal with the stress of the last year. But with a new wave of lockdowns sweeping the globe it feels like we're back at square one at a time most inopportune for resolutioners. While businesses remain closed and stay-at-home orders in place, people need solutions a little closer to home to meet their goals - and stick to them through the year. Video has proven to be a differentiating factor when it comes to staying engaged; we'll explore how the top wellness apps are leveraging video to meet demand.
Perhaps more than any other year, this January is the perfect time for apps to make the most of this increasing demand for content. Throughout the last year, we have seen a direct correlation between lockdown restrictions and app downloads and revenue. Overall global app spending reached nearly $111 billion on in-app purchases, subscriptions, and premium apps - a 30.2% year-over-year growth from 2019. For health and wellness apps in particular, Q2 of 2020 alone saw global downloads of health and fitness apps up a record 47% year-over-year for the quarter.
Considering this response to the initial wave of the pandemic, the traditional increase seen in January app downloads, and the fact that many of us are still confined to our homes, we can certainly expect the start of 2021 to follow a similar trajectory.
Fitness apps that use video have 65% more downloads than ones without, and show a greater retention rate with 40% more daily users and reported 15% higher revenue

In particular, there is a specific branch of health apps that have attracted a greater number of users during the pandemic: fitness apps that include video-based workouts. In fact, in 2020 fitness apps that contained videos had 65% more downloads than ones without, and in turn showed a great retention rate with 40% more daily users and reported 15% higher revenue. Easily accessible to all mobile phone users from the comfort of home and each promising an extensive library of content to help us reach our fitness and wellness goals, it is no surprise that these apps are the perfect New Year's resolution solution during a lockdown.
With this January's expected surge of wellness enthusiasts, companies need to ensure that their video production and post workflow is as fast and smooth as possible to retain engagement for longer than just a month. As consumers' insatiable demand for video content grows, the biggest issue for companies is whether or not they have the capabilities to support this increase. Without an agile and flexible solution in place, health-tech organizations face severe business risks.
It's not just about supporting an increase in video production, though. It's about delivering high quality video content to users and all the back end complexities that go along with that. Today's wellness apps are contending with difficulties associated with:
Video file size -

4k footage is the norm and a must-have to ensure high quality content, this makes for heavy file sizes that are difficult to work on remotely.

Tricky aspect ratios - Content must be optimized for mobile and is typically shot in a 3:16 aspect ratio, usually lasting 3-10 mins in duration.
Remote collaboration - Many apps are working with many different creative partners and freelancers around the world who all need varying levels of access to assets.
Decentralized assets - Shuttling footage between editors, producers and offices amounts to serious bottlenecks and security issues associated with physically sending hard drives to the next phase of production.
Siloed archives - Many apps have a large archive legacy content but no single source of truth. Storage is fractured and unworkable across various freemium storage providers making effective reuse of archive content impossible.
Unsearchable content - Reusing existing assets is the #1 way these organizations can maximize ROI; if the content isn't easily searchable it has little value.
Existing infrastructure - Video needs to play nice alongside other areas of business that leverage other internal systems. Video tools need to be highly interoperable and storage agnostic to avoid compatibility issues and downtime associated with onboarding.
Inflexible tools - More subscribers/users means more content needed. Video tools must be agile and flexible to accommodate an influx of users and the content needed to retain them.
Mission-critical metadata - As users define their own fitness regimes, they need to be able to search for and find the relevant content.
Let's add some context and take a look at which apps are set to support remote New Year's Resolutions, and how their video strategies will support and sustain their growing communities.
1. adidas Runtastic

With over 300 million app store downloads and 170 million registered users, the adidas Runtastic app is motivating an incredible number of people around the world with their expert training plans and workout videos. As well as the traditional New Year health kick, Runtastic also typically sees an increase in downloads during the spring and summer months when large sporting events take place around the world, inspiring us all to take on a new challenge. As this traffic continues to increase year on year, Runtastic's main aims are to ensure scalability and continuously improve speed and efficiency of their teams' workflows in order to keep up with this demand.
By investing in remote and collaborative video tools, the Runtastic creative studio team are able to keep up with user demand, providing brand-consistent content that helps them meet their athletic fitness goals - no matter where they're achieving them. Full disclosure, adidas Runtastic are one of our awesome customers!
2. Headspace

Headspace has certainly been climbing up the app store charts - reaching 65 million downloads in 2020 and set to hit 100 million by 2022 - as we begin to really understand the importance of mental health and equate its value to that of physical health and fitness. The company recently added to their already significant collection of guided meditations, animations, articles and videos it is renowned for, with a mini-series called Mindful Earth, produced in collaboration with the BBC.
With video content ranging from instructional guidance for the novice to a variety of categorized series on their highly popular YouTube channel, Headspace's brilliant video strategy garners them more than 650k views per day. As their archive grows, keeping it organized will be key to their success. This type of current and projected level of growth requires a company like Headspace to rely on video tools that are capable of expanding rapidly with them rather than limiting their potential development. The peace of mind a strong, scalable and intelligent media asset management system can deliver should not be underestimated…
3. Peloton

You only need to look at Peloton's latest numbers to see the surge in demand for such apps during these uncertain times, and the necessity of being able to support such growth behind the scenes. Peloton saw new installs of their mobile app increase by 77% YoY at the start of the pandemic in March 2020, and they finished the fourth fiscal quarter with a revenue of more than 24% above their original projection for the year.
With up to 14 classes broadcast live each day - which are then added to their ever-growing library of 3,000+ classes for on-demand use, as well as re-broadcast as live encore classes - Peloton certainly has enough content to be overwhelming (in a good way) to the user, let alone the post production team if they are not equipped with an effective video asset management system. With the right tools in place, Peloton is able to quickly publish live classes for on-demand use, properly indexed within their user-friendly filtering system across a wide variety of exercise categories (everything from bike and tread, to strength, yoga and the recently added prenatal classes). Keeping up with the ballooning amount of fresh content is no easy feat - but it's what keeps the Peloton fitness fanatics coming back!
4. Tasty

Well known for bringing their step-by-step recipes to life with helpful, short instructional videos, Tasty is the cooking coach we need to help us find something other than banana bread to cook during the next stretch of the pandemic. Tasty currently boasts over 4,000 recipes, which means a significant amount of content that needs to be sorted quickly by categories such as cuisine, dietary requirements, and cooking time.
With an efficient MAM system, detail-rich metadata tags could be created automatically as content is uploaded, meaning that it can be easily found again for future use. With an organized archive such as this, production teams can easily search the metadata for clips of frying off oil, onion, garlic (the staple for almost any good meal), and repurpose it within a warming tomato soup recipe, without having to reshoot the content. While at-home cooking became a necessity over the past year, reports show this is a trend that is likely to stick around - a survey found 73% of Americans were enjoying cooking more and that more than half planned to continue to do so even after shelter-in-place orders end. The time truly is ripe for food-industry companies to get on the Tasty train and make video a main ingredient in their consumer engagement strategy.
5. Zwift

A relative newcomer, Zwift is a community-based app for cyclists, runners, and triathletes that makes indoor training fun through gamification and an emphasis on the social aspect of training. Zwift blends the fun of video games with the intensity of serious training, helping users get faster in virtual worlds designed to motivate. Users pair treadmills and/or stationary bikes to the app via laptop, tablet or mobile device to train in the virtual worlds.
In 2020 the company noted that they were up to 2.4 million active accounts with steady YoY growth since launching in 2014, demonstrating the appetite consumers have for community-based training. With over 1,000 workouts and 10 virtual worlds with 130+ different routes for cyclists and runners to explore, there's no shortage of ways for users to get fit. With this number of options to choose from, it's absolutely essential that metadata is easily searchable for both users and internal production teams. With classes and training programs classified by ability, goals, time, strengths, weaknesses and even long term strategies for races and events, Zwift has to keep their metadata tight so users can easily find what they're looking for and the creatives behind the scenes can build workouts by leveraging existing content. On both sides of the metadata equation, the content will have little to no value if it's not easily searchable.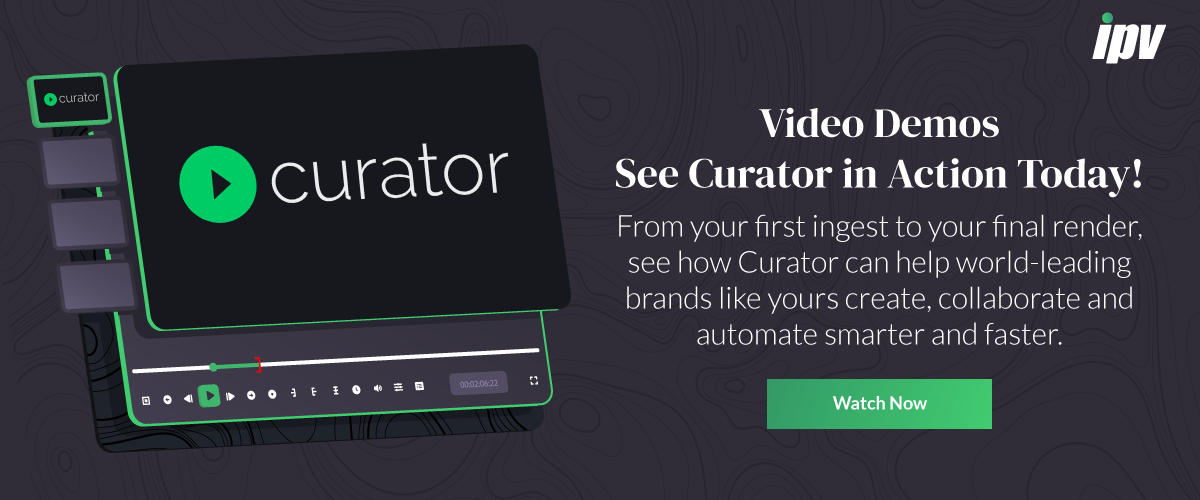 How to avoid the risks, realize the latent value of your video content and improve customer success


The risks and rewards of good video management are common among all brands that leverage video as a key engagement channel. If your current video management process or tools are limited, then so is your business and its potential video ROI. Not investing now will cost time, money and customers further down the road. A modern MAM with an efficient metadata tagging system and organized archive management that makes content easily accessible for repurposing solves all the pitfalls mentioned above and even potential production issues such as unnecessary spending on reshooting existing content. Having inefficient metadata complicates UI, makes the process of editing and publishing video lengthier, and ultimately risks the loss of customers as result.
Unlike on-prem infrastructure, cloud-based services such as Curator offer on-demand scalability, expanding to meet the increasing needs of clients in real time. With this in mind, now is the perfect time to get ahead and upgrade to the infrastructure needed to support your growth, rather than waiting for your current systems to hit a brick wall as your video content reaches critical mass.
Customers aren't the only ones staying home right now, with remote workflows being the new norm for many teams. It is imperative that businesses don't let a traditional MAM system that is unsupportive of this new structure affect the productivity of your team's editing workflow and ultimately your business' ad revenue. Curator allows all members of your team to access the entire content archive and edit videos easily, even if they are only using their own home broadband. Curator does this by automatically generating streamed proxy versions of all ingested media, so spin classes can be recorded and streamed to editors' timelines in real time for near instant turnaround. Once finished, the edits can be conformed, replacing the proxy versions with the high-resolution originals for final export.
Isn't This Just a Temporary Measure?

The short answer is no. While we can all hope that with vaccines being rolled out we might be able to return to a semblance of normalcy soon, certain new routines and ways of life are set to stay. If offices whose transition to remote or hybrid working is set to become a permanent solution, surely we should expect a similar outcome within other areas of our lives. Moreover, according to recent research by TD Ameritrade, 59% of Americans already have no intention of renewing their gym memberships once the worst of the pandemic is over. In fact, it is unsurprising that after months of finding alternative at-home workouts, many are happy to continue with this solution. Or for those keen to return to a physical gym setting, apps, such as Runtastic or Peloton, are still considered necessary and continue to play an important role supporting workouts. Mindfulness, healthy eating and personal development are also wonderful habits that digital apps continue to make easier and easier to transform into lifestyles.
Provide people with an app that they cannot live without and they will continue to incorporate it as the social situation changes. Fail to keep up with your customers' demand for content and they will quickly return to the app store looking for a better solution.
It's not just individual customers that are making New Year's resolutions; companies need to be making them too. Now is the time to get organized and prepared for changing demands. Businesses must ensure that they have a sustainable, modern MAM system in place to support their content and revenue goals, rather than trying to play catch-up next new year, having missed out on maximizing ROI. Don't just take advantage of demand caused by New Year's resolutions - invest and you will inspire customers to see them through fully. Leave slow, out-dated MAM systems in 2020!
Is Curator right for you?
Book time directly with Gabrielle below to see how Curator can help you take control of your video assets and produce quality video content faster than ever! 👇👇👇