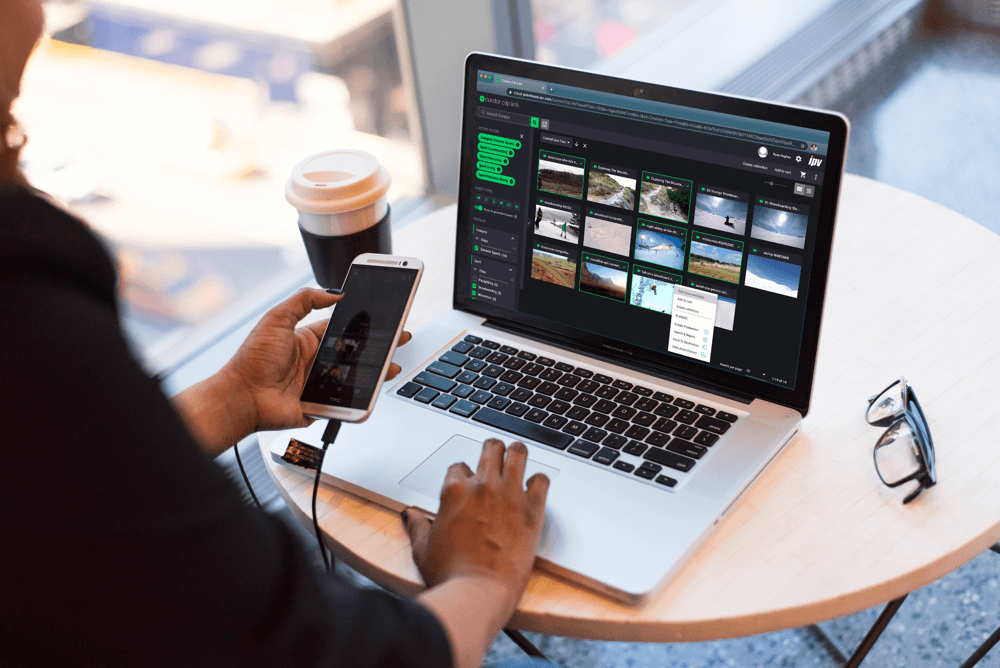 IPV caught up with Warner Media Studios' Eric Lund and Jacob Anderson to hear about the company's huge shift from traditional to virtual video production workflows.

Senior Manager for Post Technology, Eric Lund, and Manager of Asset Management and Media Services, Jacob Anderson, discuss how previously laying the groundwork with IPV infrastructure helped to assist with the transition to more modern, hybrid methods of working and how the one of the world's largest broadcasters didn't let that slow down their production.
To set the scene, what were you doing prior to COVID and how did you adjust to being in lockdown?

Jacob Anderson. We were in the middle of full 'on prem' edit sessions, sound design work and graphics work. We were building up for March Madness for the NCAA. We'd just wrapped on All Star and started to build up for the NBA playoffs, and we watched both of those events just fall to pieces. It was a bit of a relief that, as we were transitioning very quickly to work from home, sports just went 'caput' for a little bit. The focus was on getting all the creative artists able to do at least 80-95% of their work from home.
So, some of it started off with hard drives being sent out as we slowly built up the license and the servers to get them outside of our firewall for Splashtop, which is a PCU/IP/remote desktop hybrid. We also did some PCU/IP with Amulet. We did VDI using the HP Z Central desktop. Our comp artists really love that. We invested in laptops and building out infrastructure.
But the good news is, we were laying all of this groundwork for about a year and a half. We'd been spending a couple of years with you building up the IPV infrastructure for streaming proxies, which greatly improved the new VPN (which we fortunately installed two months before COVID hit). That greatly improved our overall experience with everything.
How did everyone at Warner Media Studios adapt to these changes?

Eric Lund. Something I always say is that Warner Media Studios responds well to emergencies. We ramped up very quickly, and we were able to get essentially everyone back to work. Again, sports had slowed down to a standstill, but everyone just kept working. I don't think we had much downtime at all. I think it was, "all right, here is the new reality, let's do it." I think we accomplished that, and then built on that in the last couple of months as well, to get everyone better workflows.
Were any technical challenges associated with that or was it a smooth transition?

Jacob Anderson. There's a lot of handholding. I can't imagine the number of personal conversations Eric has had with artists as he's helping get each one going. Telling many of them, "Sorry, we can't send you hard drives any more. You have to get onto the solution."
This whole transition reminds me of everything that happened back in 2012 with the tsunami that hit Japan. It's the exact same analogy. Everyone was like, "Yeah, we're going to digital, kind of, sort of." Then the entire tape stock disappeared from Sony, because their one plant that made tapes got wiped out by the tsunami. Everyone ran to digital file management very quickly. This is the same. It was at the beginning of my career when it happened, so it sticks in my head as a huge shift. Then this pandemic happened and again it's a huge shift from traditional to virtual workflows. But no one has a choice. It's like, we can't ship hard drives around ad nauseum. It's not safe, and it's not practical.
Do you think a major global event like this steered remote users to modern systems?

Eric Lund. Yes, we have two distinct groups in our studios. That's the entertainment group and the sports group. The entertainment group adopted most of our IPV workflows right from the beginning but Sports have been reluctant in some ways. That's the world I came from, because it's so easy to search and find clips. If I have to cut a 40-second segment for tonight, speed is of utmost need. I think IPV is really, really good, but they've been very slow to adopt that because they want to keep their workflows.
Jacob Anderson. It's also about change.
Eric Lund. Yes. Naturally there has been some anti-change, and I'm guilty of this too. There isn't a lot of downtime in sports to re-train. But right now, we're seeing more of an adoption because the product that Jacob and IPV have created is more useful for us. Not that it wasn't usable, it's just that group is set on their original workflows.
Jacob Anderson. As Eric said, they were very comfortable with how they worked, and they worked quickly. Learning a new piece of technology slows down the process. So as much as you try to make it smooth and as similar to what it was before, it is different. As soon as they don't get the results or speed they expect, they bail on it and go back to what they're used to, because they have to deliver something in 30 minutes - it's, "I don't have time, I'm off."
Sports have always been tricky in that way. It's a whole different training exercise. They're being forced into it now, because the producers used to be able to take their laptops, plug it into an ethernet cable, mount to storage and browse it that way. They can't do that at all. They can't get to the storage, and we don't have workstations for them to work remotely. They now use IPV and that's helping a lot there. Transitioning them from an Old Man product to a New Man product is taking some time but we're starting to see a pickup in adoption there as well. Part of that is just by forcing them into it.
Eric Lund. When the NBA season ended, sports was behind getting melts clipped. A melt is all the shots from the basketball game put in a sequence, re-labeled, and tagged so that they're easy to find if you want to cut something later. When the season started back up, we set them up with IPV and they were able to work remotely from home through the panel. They would do their clipping, and then they would save the project, log in via VPN, up-res it, and do the export. That really helped us out a lot. We had five editors that were able to go through 80 or 90 melts from home. Their workflow was always doing it on-prem but IPV was able to make it happen at home.
What success stories would you like to share?

Eric Lund. The fact that we've been able just to continue. We might have had a week or two dip but then we were back up and running, essentially at 100%. For a company like ours that has 100 edit rooms constantly working, the fact that we were able to ramp back up and get going at the same level - and more than we were before COVID - is a victory for all of us. Like I said, Warner Media Studios really reacts to emergencies well. I really think we've done an amazing job of that. I'm sorry, I'm patting myself on the back at this point.
With March Madness not happening, did you have lots of holes in the schedule that needed to be filled and additional work that had to be managed?

Jacob Anderson. That's one of the things that we had to pick up. As airtime on TruTV, TBS, and TNT fell apart, and they were running movies, or syndicated content, or whatever they could to plug those spots, we had to promote those. The entertainment numbers spiked because we were the only group inside our partners that had quickly transitioned to working from home without much of a drop in workflows.
Everything that went to the vendor went through Studios, so this huge amount of work continued and increased while we were trying to figure out how to work from home. So again, there aren't one or two main things we can point to. The fact that we were able to keep the quality of work consistent with no dip is a huge achievement that I hope is not overlooked by our partners and our staff.
Are you creating more content to fill in any gaps, or have you been reusing content instead?

Jacob Anderson. It's been mostly reusing. Sports has created some, but sports took a very pointed philosophy of they didn't want to make content just for the sake of it. If it didn't matter, and if it didn't connect with our fans, there is no point in putting bad content on the air just to have content. So even though there were a lot of sports holes, they were very careful in what they did to fill those spots. I think we did fall back on syndication and movies to fill in the sports time slots. Obviously, our focus was ramping up for HBO Max launch on May 27th. You obviously don't want to put your exclusives on the air. There were a lot of different things going on.
How do you think the industry is going to be impacted moving forwards? Do you see staff going back into the office any time soon?

Eric Lund. I think this is the new normal. I think there is going to be a lot of hybridity: not workflows, but hybrid schedules, depending on what people need to do. So if I'm cutting something for sports, and I need to start, finish, and then color grade it and send it in, I should probably come in to where I have a $10,000 reference monitor, so I can look at it properly. However, we are setting up our color correction guys with good monitors, because there are only four or five of them. If I'm doing topicals, and it's a two-day session, I can work the first day on topicals, and come in the next day and do the finish work, before sending it to air. I really think there is going to be more of a hybrid scheduling from this point on out.
Jacob Anderson. You can't walk a change like this backwards. Once people start to see that they can do this work from home, there are going to be more people asking to do it. Also, as you build out this infrastructure to do it from home, you want to make sure that it's functional in both locations. Because you can't take away or replace in-person collaboration and in-person creative work. You can't replace that. We've found ways to make working from home fit better into those molds, but I don't think we're ever going to be fully offsite 100% of the time. But this opens the door to allow a hybrid approach.
If you could go back in time and give yourself tips, tricks, or advice what would it be?

Jacob Anderson. Enjoy being on campus as much as you can before you're out, because it's weird not going to work. It's a very cool place to get to go to work every day. I definitely miss that. But honestly, I've continued to be impressed, looking back at it, at how good a job we did of transitioning. I'm blown away by my colleagues and the full breadth of people that came in to make this transition happen. It really is something special to be a part of.
Eric Lund, I really miss my friends. Jacob and I would get more done with me stopping by his desk, arguing sometimes, and discussing things. Those informal hallway meetings, I always feel, are more important than some of the actual virtual meetings. There's a lot of camaraderie at Warner Media Studios. I really miss my friends. Slack doesn't replace that, really. I'm looking forward to seeing my friends again.
Where do you think you'll be in 12 months, 24 months' time?

Eric Lund. Hopefully on campus. Our plan is to have everybody either able to do work from home or the office - a hybrid scheduling arrangement. I hope that I'm able to go back into Warner Media Studios and work there as well. Not quite full-time, maybe a split week.
Jacob Anderson. At my desk. I think we're going to continue to build out this technology to have us be able to work from home or work from the office. That's a great thing to invest in. With technology like VDI, you still have your workstation there. Yes, you can get it home, so you can do whatever you need to wherever you are.
What's Next?

You have questions, we have insights. For more information on how today's leading broadcast organizations are approaching workflows during and after the pandemic, check out our report, The Future of Video Production: How Leading Video Pros Are Responding to Remote Workflows.
Questions on what Curator can do for you? Book time directly with Gabrielle below to see how Curator can help you take control of your video assets and produce quality video content faster than ever! 👇👇👇