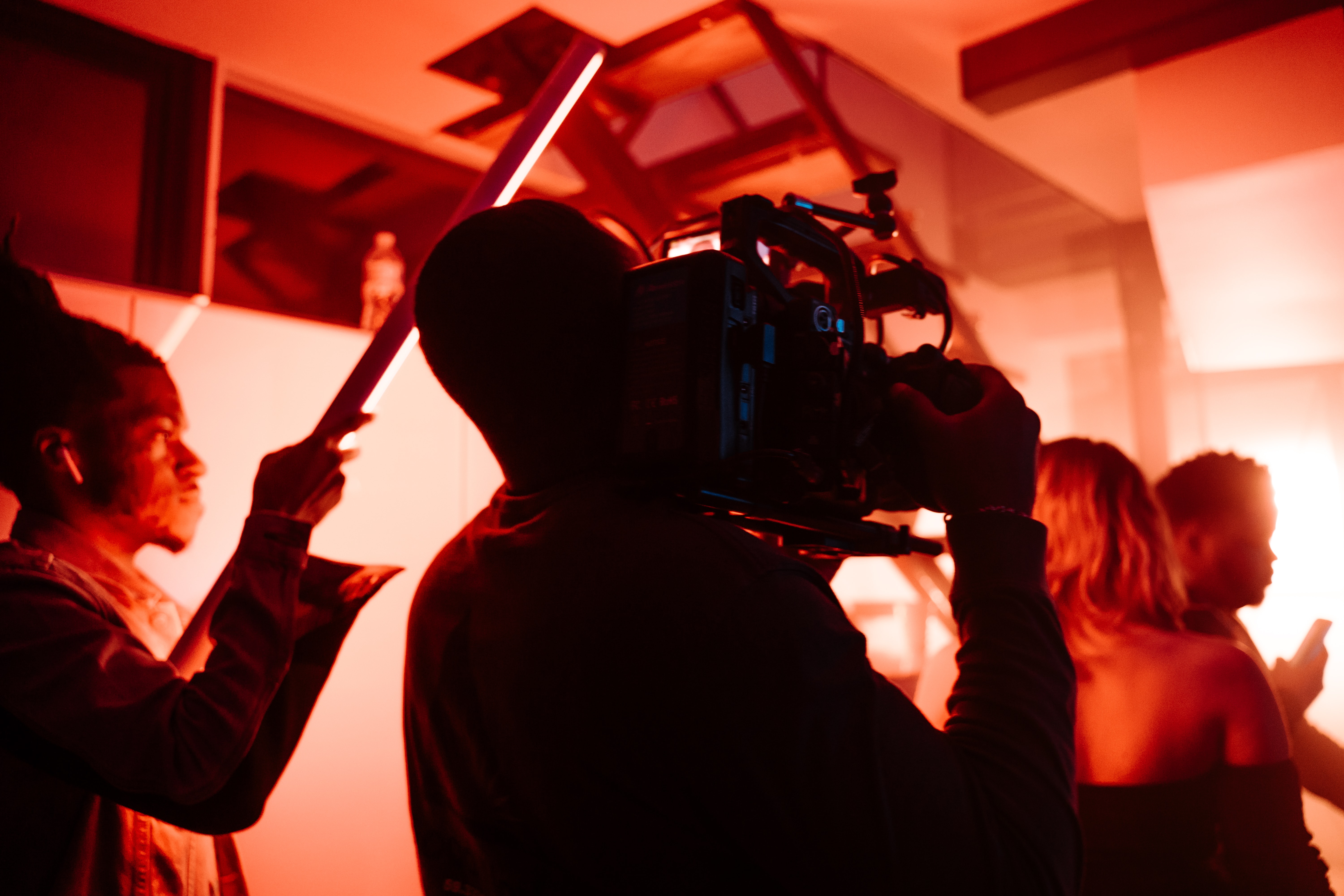 They say if you want something done right, you have to do it yourself… So what better way to ensure that your brand's content is exactly what you need than by producing it in your very own in-house studio? Over the past few years, brand-owned in-house content studios have been a growing trend. Now, they're all the rage, with brands like Red Bull and GoPro leading the way, and others, like Home Depot and Mailchimp following suit. So whether you're considering launching your brand's own in-house studio, or ready to make some major upgrades to your existing one, here's everything you need to know to make the most out of your video content strategy.
Not yet convinced an in-house studio is right for your business? Check out our previous post on the top reasons brands are migrating 70% of their established business to an internal creative team.
Content Production & Reuse
One of the more painstaking aspects of content production is having to wait for feedback before potentially restaging and reshooting footage, as well as ensuring that the critical volume of content is being reached. Here's where we can see the first benefit of an in-house studio. By producing content internally and streamlining the process in this way, the production team can keep track of content and receive approval instantly before the set is torn down, even if the approver isn't on site. The Home Depot have certainly seen their process accelerated as their studios have produced videos for brand promotion, training, and point-of-purchase displays, sending out the finished product overnight to stores.
For many businesses during the pandemic, reusing archived footage has been a great way to continue producing content at a time when filming new material is difficult. Now imagine how much easier this process is if that content is easily accessible at your entire team's fingertips with a MAM system like Curator, rather than having to go through a separate agency (not to mention the additional, unplanned budget this will cost you!).
Take Nike's legendary ad from July of this year - You Can't Stop Us. Their reuse of content from decades of momentous sporting events was an absolutely brilliant way of repurposing archival content. With a rich content library replete with all your brand's media assets, it's vastly easier (and faster) to pull together video - getting the most value out of every owned asset (we like to call that bang for your buck).
Here at IPV, we want to make things as painless as possible. That's why when you upload assets, they are automatically tagged with intelligent metadata for powerful AI-enabled search, so that they can be easily rediscovered the next time anyone in your team needs them. With our deep integration with the full range of Adobe Creative Cloud products as well, your new in-house studio could have even greater access to the remote and collaborative capabilities within the world's most used video editing suite. Archiving and accessing materials has never been easier.
Editors Can Be Anywhere
Having in-house creatives doesn't mean they have to all be in the same building, or even the same country! By now we're all aware of the geographical restraints that the pandemic has placed on our daily and working lives. However, in our pivot to remote workflows, cloud-based MAM services, such as Curator, have allowed businesses to overcome geographical barriers and make the most of the technological developments by sourcing the top talent from all around the world (more on that, here!).
Now is the perfect time to take advantage of these opportunities to build the strongest in-house studio team. With Curator's remote editing capabilities, your entire team will have access to the same resources, from whichever part of the world they call home. Curator reduces the unnecessary complexity of getting footage to the editors, saving your company time that can be better spent elsewhere.
Proxies and Remote Capabilities
Investing in the right tools and infrastructure is essential to ensure the successful development of an in-house content studio, and therefore the business in turn. If the reason for your change in production structure is to save time and money, then don't undermine this by sticking with tools that slow you down and don't allow your team to work together effectively.
Take Curator, for instance. Once your assets are ingested, Curator creates 2% proxies which can then be streamed, downloaded, and edited by anyone on your team without the need for powerful computers or enterprise broadband. So, not only can your new in-house team work remotely, but, most importantly, they can work together for seamless collaboration. And without any hard drive shuttling, plus top-of-the-range security, you never have to worry about accidentally leaking details of your next big launch - Curator will keep all of your secrets.
Maintaining Brand Consistency
These days, businesses are expected to have a multitude of channels that are all kept up to date; brand consistency throughout these channels is key for engaging with loyal and could-by customers. Creating and versioning that content can be costly - and it's even more so when working with an agency to develop it. At the end of the day, you know your customers best. There is nobody better to create and deliver that personalized experience that more customers are now gravitating towards.
For Mailchimp, regaining this creative control with their new business entertainment platform, "Mailchimp Presents", was an important step in order for them to develop a strong relationship with their customers in a new direction. Along with this tightened control, the brands who have made this change have discovered additional benefits of not having to run everything through a separate production agency: faster production times and reduced costs. Unilever reported that their switch to in-house studios saved the company 17% in agency fees in the first year! Cut out the middleman, cut the cost - it's as simple as that.
Everyone's Doing It…
Video has reached an inflection point where it's not just smart to have a video strategy - it's necessary, in the same way your company needs an HR or finance department. So whether you're looking to cut costs, increase the speed at which you're able to turn around video, or simply want to take full control over your brand - or all of the above - it's never been a better time to invest in your brand's in-house studio.
If you're ready to make your next step, book some time below with Gabrielle to find out how Curator can streamline your production workflow and increase your ability to move, manage, and monetize your brand's assets, leaving you free to spend more time creating. 👇🏼👇🏼👇🏼