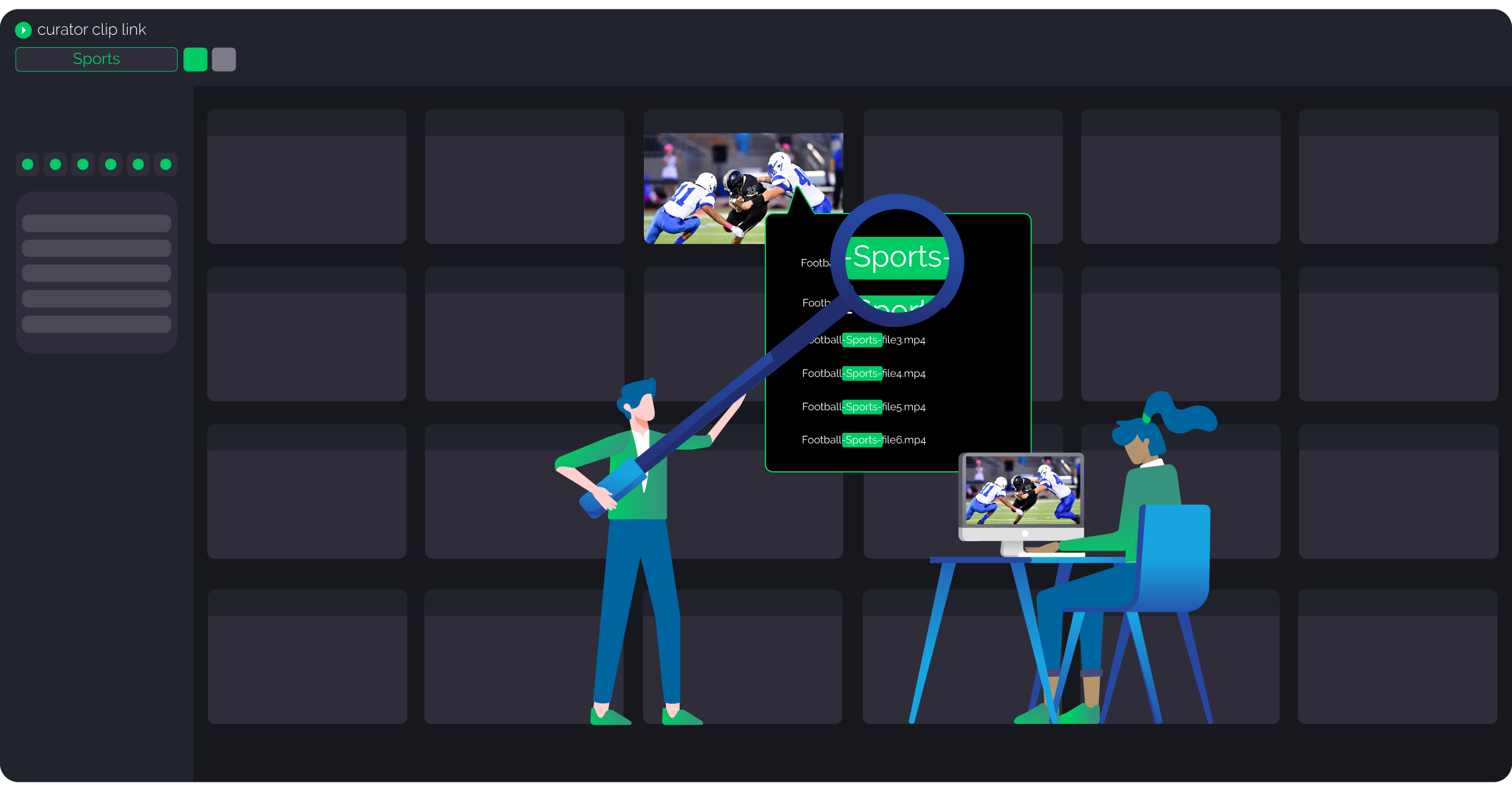 Curator Arrival 3.0 introduced one of our most user-requested features – search highlighting – into the Curator for Adobe Panel and Clip Link, and we, and our users, are pretty damn excited about it!
So what exactly is search highlighting?
In short – search highlighting is designed to help you better understand the search results you see in your Curator applications. Once you've performed your search, you can now hover over the asset thumbnails and a hover popup will show you the asset metadata field(s) that matched your search.
The match could be as simple as matching the filename of the video asset, or as complex as matching to AI-generated speech-to-text or object recognition metadata for a subclip of a parent clip.
The main point of search highlighting is help you understand why you're seeing the results when they aren't so obvious, but also to help you understand what metadata field(s) matched with your search term.
Even if you searched for "snowboarding" and got results for snowboarding, you still might want to know what metadata field(s) matched your "snowboarding" search term. Was it the file name, file path, user description, metadata logged by the Curator Logger, AI-generated metadata, etc.? Search highlighting will tell you that.
Search highlighting works with direct matches where the search has matched with the asset's metadata, and indirect matches where the search term has matched with parent metadata for a subclip.
Check out the short video below to see it in action (and read on to learn more about how this feature can help you!). You can also learn about the other exciting changes that launched with Curator Arrival 3.0 recently in this blog post!
But… isn't it obvious why the search results appear?
In many cases, your search results will be clear thanks to Curator's powerful yet intuitive text search and search filters.
Let's say you're an editor at a film studio and want to make a promotional clip of Owen Wilson saying "wow". You could search for the word "wow" and then use the Actor search filter to search specifically for Owen Wilson. You could even take it further and use the "Film Title" search filter to select specific films. In this case, you've drilled down into the specific results yourself and probably don't need search highlighting to explain each result to you.
Where search highlighting could help in this scenario is if you wanted to understand what metadata your "wow" search term has matched. By hovering over each asset, you could understand whether the search term has:
matched with Owen Wilson actually saying "wow" (e.g. AI-generated speech-to-text transcription metadata)
matched with the filename (e.g. owen-wilson-saying-wow.mp4)
or matched with the description a colleague entered when ingesting the video asset (e.g. "this is a clip of Owen Wilson saying "wow"), for example.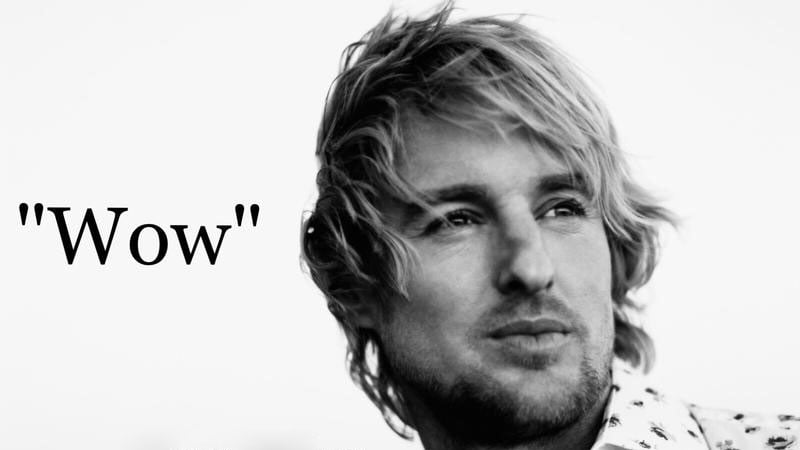 The potential problem of powerful search
Unlike many media asset management systems, Curator doesn't require you to understand complex AND/OR and wildcard search parameters to perform advanced searches (though it offers this functionality if you prefer it), and instead offers simple eCommerce-style search filters that help you to very quickly narrow down your search results by simply clicking the relevant filters.
For the most part, Curator's powerful search is a blessing and helps you find content easily. It can even use a thesaurus to search for synonyms of your search term, improving the search experience and ensuring you don't miss out on results just because you searched for "plane" when your video assets have been logged with "aircraft", for example.

But this power can be a double-edged sword. You could end up with search results that, at first glance, don't appear to be relevant. Search highlighting fixes that potential problem.
Here's an example of how search highlighting helps when your search results aren't so clear
Let's say you've searched for "Lion", but you're also seeing an asset with a thumbnail of a Zebra in your results. There will be a good and legitimate reason for the Zebra asset to have returned in your results, but it may not be clear at first glance.
You could preview the asset or use the hover scrub feature to quickly look through the asset to see if Lions are also in the clip (let's hope they aren't for the Zebra's sake!), but this can still be time-consuming, and, importantly, the match might not be visual.
In this example, an AI speech-to-text integration with Curator has automatically generated the asset's metadata from the narrator's voice, and Curator has picked up on the word "Lion" in the narrator's speech when explaining that Zebras are preyed upon by Lions. The clip is technically relevant to your search but may or may not be useful for your edit; thanks to search highlighting you can quickly see a snippet of the speech caption rather than having to watch the clip (with volume on or subtitles) to understand the result.
This ability to simply hover over the asset and see which of your asset's metadata fields has matched with your search can save you a lot of time while giving more insight and context into the asset.
Developed by users, for users
Search highlighting is just one of many features that we've designed and developed directly from feedback from Curator users. Thanks to regular feedback, the Curator Product Team get great insight into what's working well, what could be improved, and what new features would make user's lives easier.
"We've worked closely with Curator users to really understand the requirements for search highlighting and involved them in every step of the development journey. Search highlighting was one of our most requested features so we're really excited to release it. We're so grateful to our users for the excellent feedback they give us - both good and bad - as it helps us make Curator the best product possible!"
The more a particular feature or function is mentioned – such as search highlighting and the List View features released in Curator Arrival 3.0 – the more we validate that the feature is required.
In the beginning of a new feature development process, we often don't know what the end solution will look like, but thanks to the feedback we get we know there is room for improvement. Curator's Senior UX Designer, Viktoria, reaches out to users – those who have mentioned the idea but also those who haven't – to hear their thoughts.
From there, Viktoria focuses on the problem rather than the end result in order to ensure we've fully understood the issue before a solution is developed. The idea is then researched and expanded, with full consideration for user journeys and how they'll want to use the feature, before going back to users for feedback. This process repeats until we have a solution that works and is well received – and that's how search highlighting was born!
Got an idea you'd like to see developed?
Feedback is vital to us so we'd love to hear your thoughts on how we could make Curator even better! Drop us a line over on our Feature Requests and Suggestions page to let us know and we'll be in touch to discuss!
Not using Curator yet?
Not a Curator user yet? You're missing out! Join Hearst, Altitude Sports, AMPAS, NASA, Home Depot, and many other leading companies who understand the benefits of proper video asset management - book time directly with Gabrielle below to see how Curator can help you take control of your video assets and produce quality video content faster than ever! 👇👇👇
P.S - if you haven't watched the Owen Wilson saying "wow" compilation then you're missing out...