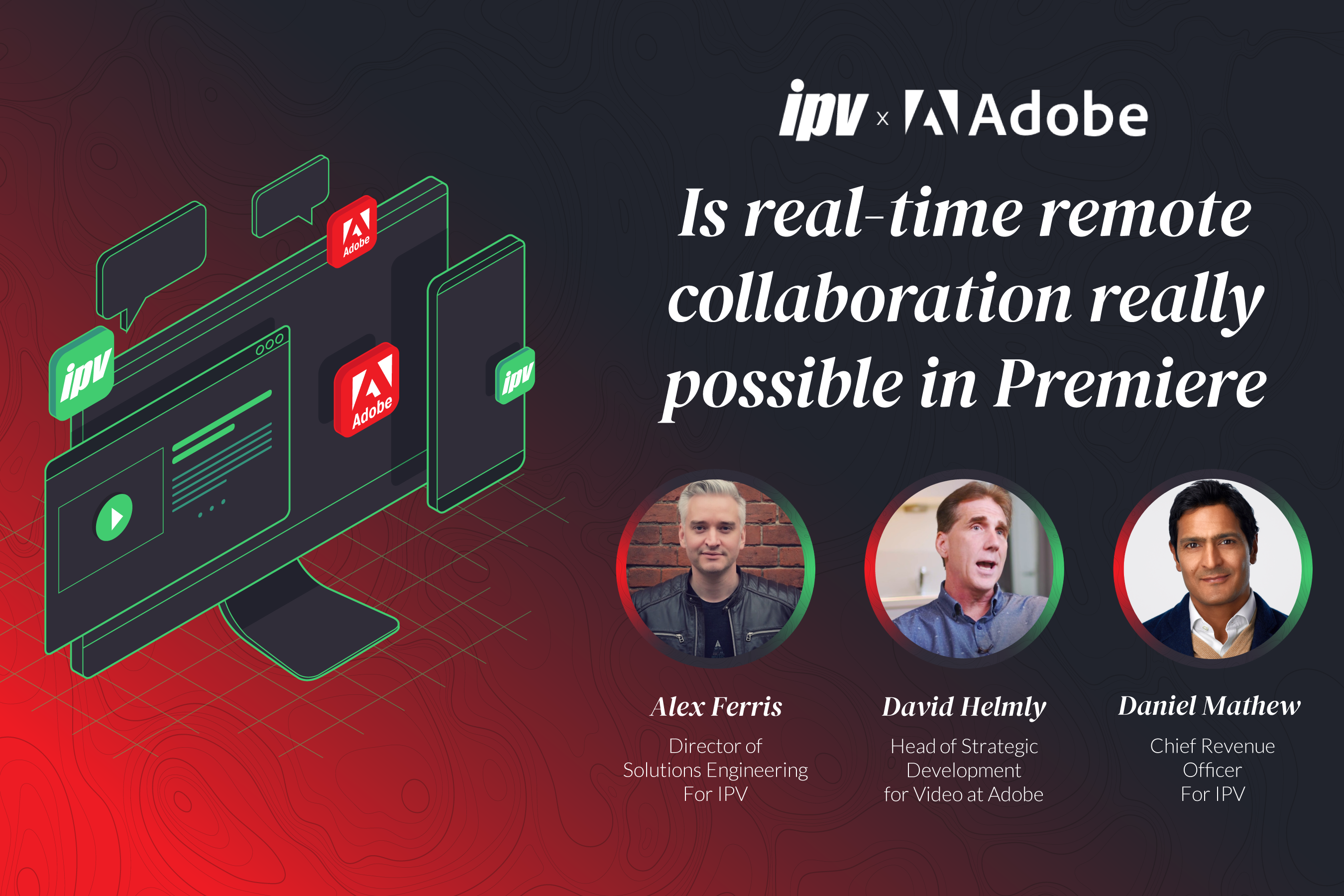 Achieving successful remote workflows is currently a real challenge for video production teams. Creating new standards that encourage seamless remote efficiency and creativity is critical. The best way to do that is to find a solution that provides remote access and production tools that support collaboration.
We, at IPV, are proud to be strategic partners of Adobe and that our MAM software (Curator) integrates directly with Adobe Premiere Pro Panel workflows using the Curator for Adobe Panel. It makes use of Adobe's inbuilt features while also adding intelligent tools to improve team communication and creative collaboration.
We recently hosted a webinar with Adobe to showcase how you can most effectively create remote workflows using our Creator for Adobe Panel solution. This blog is part of a series with pointers from that webinar and will concentrate on one specific part — how to assist you in optimizing your team's ability to collaborate remotely. We'll look at 4 features in particular that are delivered by our integration to help you better achieve remote collaboration in Adobe Premiere Pro.
Remember: Outcomes are more important than products. Our MAM software isn't the only one on the market. That being said, a number of our features are unique and by focusing on our product, we can share detailed advice and pointers with you.
Collaboration Feature #1: Proxies
One of the biggest challenges we've identified when it comes to creating collaborative remote workflows is having easy shared access and physical connectivity to storage and content away from the office. This is especially difficult when the files that your production team needs remote access to are video assets — one of the largest types of files.
The Curator for Adobe Panel solution uses frame-accurate proxy copies of all your media files. As Director of Solution Engineering, Alex Ferris, points out, "We automatically create these frame-accurate, timecode accurate proxies of all the high res [assets]... every single frame is available immediately in any Premiere interface for any of the editors."
These proxies only take up 2% of the original size, maximizing your storage space without compromising on high resolution. The main benefit here, though, is that every editor on your team can have access to the same shared files, which enhances your ability to collaborate on projects.
"You're not connected to the video directly. You're not working in a file browser. But you can access every single frame of every single video instantly within Adobe Premiere. " — Alex Ferris

Another difficulty with sharing files remotely is that, without proxies, it takes too much time to download and re-upload files to the system for live sharing and collaboration to be possible. Streaming proxies allows you to "preview it in the panel without the need for download". You can even preview files before you import them into your project bin — all without having to consolidate any media.
With proxies in the Adobe Panel, it only takes a few seconds to register a project. As Alex Ferris goes on to comment, "At that point, anywhere in the world, any other editor can see that project. They can look inside it. They can comment on it. They can use elements from it in their projects."
You save time and allow for true remote collaboration. Remote workflows no longer limit you, but actually encourage you to work with more creators around the globe.
Collaboration Feature #2: Metadata
Using proxies provides a huge collaborative advantage to enable your production team to easily access and use shared assets, but it's wasted if you don't have an appropriate system to find those assets. Alex Ferris explains that "some of Curator's customers have 40 to 50 million assets in their Curator Panel". It's no wonder that finding assets to work on collaboratively is challenging. This is where Curator's sophisticated metadata generation tools come in.
Locating assets
Curator utilizes advanced object detection and speech recognition software to create descriptive tags for each video asset, as well as metadata-enabled text, search bar and filter search options. This means that you can easily find any content that your colleagues have shared in the system to add to your collaborative project timelines.
Here are some ways that you can efficiently locate video assets:
Find a particular section of a video:

Curator's AI features mean that if you need to find a specific clip where someone says a certain word, you can just type that word into the search box and the appropriate clip will appear.

Import Curator's metadata fields into project bins:

When your collaborative Premiere Pro project bin becomes large, you and your colleagues can identify specific sequences using a search function.

Personalize the configuration

manually and automatically: Our faceted metadata means you can categorize your project to display whatever description you'd like that makes it easiest for your collaborators to find.

Access archived video assets:

This allows you to collaborate on archived material and achieve monetization of your archive footage.
Being able to locate video files across the whole system allows everyone on the team to work collaboratively on that content and supports team communication even when everyone is miles apart. But metadata also takes it a step further than just locating data.
Tracking live progress
Thanks to parent metadata, Curator can automate the progression and the status of changes made to projects in live time, which can be shared with other team members that are collaborating on the project with you. These changes can be tracked from when the production is in progress all the way to completed or in review. This means you can communicate and collaborate with your team as if you were in the same room.

Collaboration Feature #3: Review and approve functionality and logging tools
David Helmly, Head of Strategic Development for Adobe Professional Video, says that the "number one problem" with remote workflows is "getting people to communicate when they're not in the office together". He warns that collaboration tools like Slack and Teams, for example, are a starting point but that their stumbling block is "they don't live with the projects or the environment in which you're editing". Having collaboration tools within the editing system, like Curator in Adobe Panel, is what makes all the difference in being able to implement a permanent solution to the challenge of the collaborative nature of content creation.
In the webinar, Alex Ferris introduces us to the term "screamernet". A bit like sneakernet (carrying hard drives from one place to another), screamernet is sharing ideas or opinions — or screaming them — across the studio, which is key to communication. That, of course, is impossible when everybody is sitting in their own homes. Curator in Adobe Panel aims to get as close to screamernet as possible while working remotely.
How to make the most of communication with Curator:
Curator's review and approve features enable editors to share their projects with team members anywhere in the world for them to — you guessed it — review and approve. This is made possible with our logging tool, which uses web-based tools to annotate and provide feedback on timelines in real time with live markers. These markers populate into the Adobe Premiere interface automatically so your feedback is never lost.
These are some options of ways to communicate with your collaborators in Curator for Adobe Panel:
Leave time-based comments.

Look inside any project

you have access to and

offer feedback

by commenting on it.

Use a sequence

of someone else's project in your own.
At the center of any remote workflow that supports collaboration on video editing is the assistance of live communication features. Without it, true remote collaboration isn't really possible anywhere other than in the office with your colleagues.
Collaboration Feature #4: Check-in and check-out ability
The processes of checking projects out (selecting projects to work on in the project bin) and checking projects in (sharing that project back into the system) have got an upgrade in the Curator for Adobe Panel program.
"When you check a project out, it delivers into your Adobe project bin instantly. Inside, it has sequences and assets that have already been brought into the project... You don't need to download any of the media and can start editing straight away." — Alex Ferris

This is made possible with multiple features and options that appear at both stages and support creative collaboration and shared access.
Check-out
When you click check-out on a project available for multi-user access in the Adobe Panel, Curator presents you with lots of different options. These include:
A choice of which version of the project to check out

A view of all the tracked actions in all the different versions of the project. These include project analytics like:

Which assets are in it

Which users are working on it

Whether someone has exported a version of the project already
The ability to view, interact with and work on different project versions created by your collaborators is key for production teams looking to achieve efficient and creative remote collaboration.
Thanks to proxy streaming, like we mentioned earlier, when you check out a project, it delivers into your Adobe project bin instantly without having to sit around waiting for it to download onto your personal computer. You can load the video asset straight into your source monitor and start editing immediately, so there's no delay in your collaboration.
Check-in
Check-in is the critical sharing part of remote collaboration in Curator for Adobe Panel because it's what allows you to put your project or the version of your project back into the system for your team members to find and work on. With proxy versions of your assets, check-in is fast and available to anyone with shared access seconds later.
Side note: It's also an option to lock projects, meaning that you restrict your project to a single user so you're the only one able to view it if that suits your process better.
Simply put, without a quick and easy check-in tool like this, you wouldn't be able to effectively share content and collaborative productions with your colleagues.
True, multi-faceted remote collaboration exists
Now that the initial months of quickly adjusting to remote workflows are behind us, it's important that you find long-term solutions to your remote editing problems, specifically collaboration. Thankfully, that's possible and it's as easy as utilizing a MAM integration with the widely used Adobe Premiere Pro. Curator is the technology platform and enablement layer underneath Premiere Pro that adds crucial remote capability and collaboration capacity.
As David Helmly from Adobe said, "Besides just getting remote editing to work… the number one problem is getting people to communicate, because they're not in the office together." — David Helmly.

In order to collaborate, teams need access to files, the ability to communicate. Curator with Adobe Panel solves both of those issues with easy to use and sophisticated features, like hyper-descriptive metadata, search capabilities, multi-user sharing and live logging tools. See how Curator helped Hearst to vastly improve the level of collaboration between stations thanks to the group registry of content.
This all means one thing — you can collaborate with whoever, wherever they are and whenever you want without compromising on the creative outcome. To learn more about Curator, you can book some time with Gabrielle below.👇👇👇