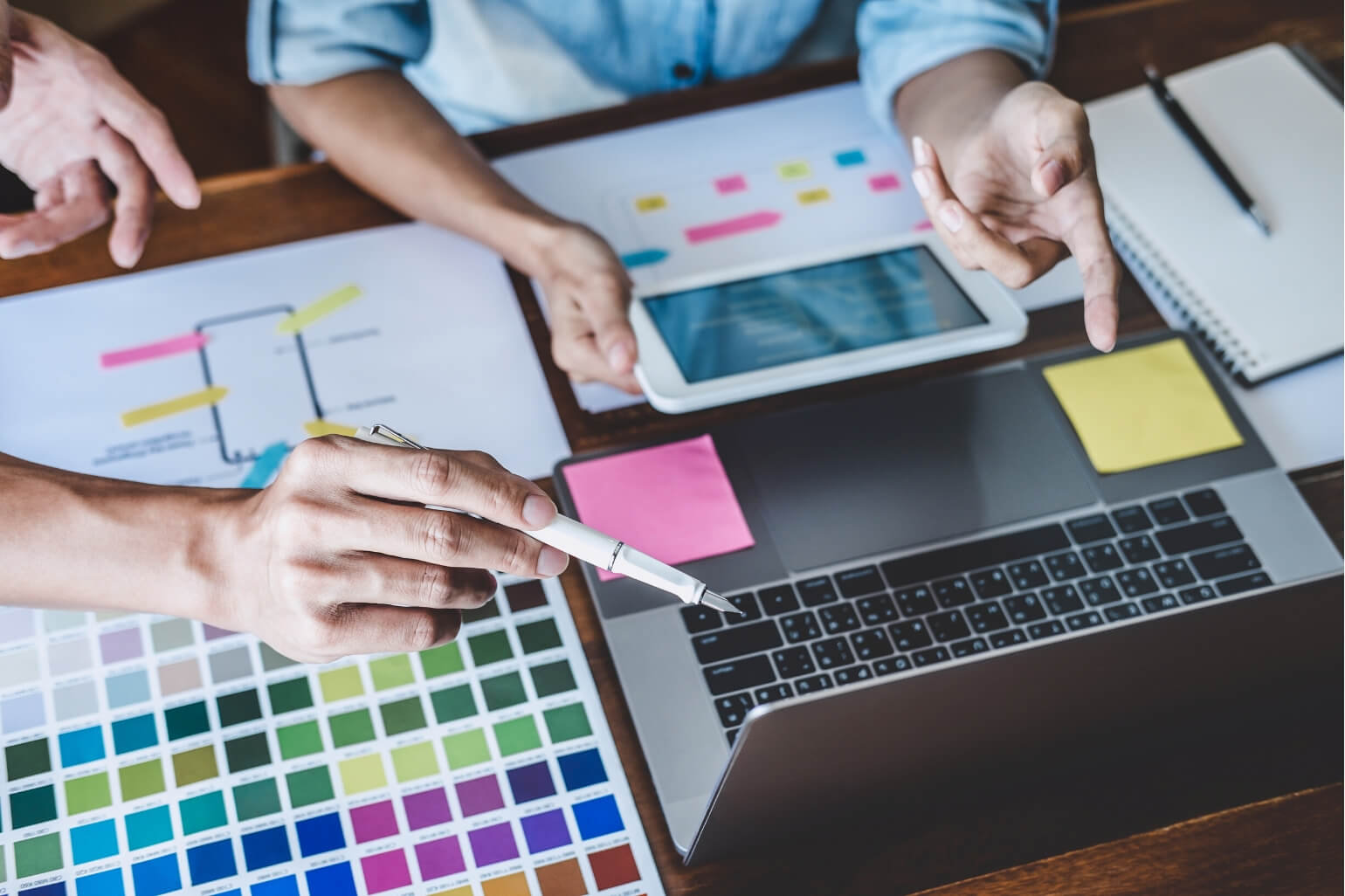 Creating something special is hard to achieve in a vacuum. The creative juices tend to flow more freely when we're among others whom we can bounce ideas off of, and exchange ideas. One of the greatest gratifications for the creatively-minded entrepreneur is the chance to assemble and work with a creative team that brings out the best in one another. A team whose complementary skills and experiences allow them to become more as a whole than the sum of their parts. A team who can help your brand to be the best that it can be and help your business on its way to market dominance.
Still, assembling that team can be a challenge. While there's no shortage of creative marketing talent out there, this is a specific kind of alchemy. One that requires entrepreneurs and marketing heads to combine knowledge, understanding, insight and intuition. Here are 5 steps to building an awesome in-house creative team…
Step 1: Identify your needs
This may seem insultingly obvious. But it's not as straightforward as you might think. A business' needs are diverse, and your creative marketing efforts will have a knock-on effect on many.
When identifying your needs, they'll generally fall into two camps: your business needs and your brand needs.
Your business needs include maintaining productivity, staying profitable (or attaining profitability in your early years), maintaining cash flow, managing costs and ensuring that your marketing efforts generate a sufficient ROI.
This overlaps somewhat with your brand needs. Your brand needs to sustain awareness and positive impressions through engaging copy that resonates with your target audience. It needs to leverage storytelling and narrative conventions to ensure organic engagement.
If you're already working with an external agency, you may find that your business needs are met but your branding needs aren't. Or vice-versa. An agency might be able to deliver outstanding marketing copy, but they might falter when it comes to building campaigns with sustained momentum.
If you want to transition towards using an in-house creative team, you need to understand all the areas in which your current provision is failing to live up to its full potential.
Step 2: Know where to find the right creative talent
Step 1 should give you a wishlist of aims and objectives from a business and brand perspective. But you need the right creative talent behind you to make those wishes come true.
Look in all the right places
Finding the top-tier creative talent you need can be a huge challenge. Not only will you be competing with other businesses like yours building their own in-house teams, but you'll also be competing with discrete marketing agencies. Agencies who have great relationships with all the best design schools, PR agencies and an employee referral scheme.
Suffice to say, a standard job ad isn't going to cut it.
Target recruitment fairs at local schools and colleges. Post listings in more niche places than conventional job sites like freelancing hubs and creative resources. Establish relationships with design schools, art groups and community creative projects.
You never know where that perfect candidate might come from.

Create a strong employer brand
Needless to say, if you're to make a big impression on first-rate candidates in the face of overwhelming competition, your online reputation needs to be absolutely solid. Make sure your content marketing and social channels create a favorable impression of your business. Use blogs and vlogs to give your brand a sense of personality that resonates with candidates as well as customers.
See what people are saying about you on sites like Glassdoor. And if they aren't saying anything, see if you can incentivize existing team members to leave some words that will encourage candidates to take an interest in your brand.
Look for key values
Your job ads are posted and the responses are starting to roll in. What kind of candidate should you be looking for in this online ocean of résumés? Look for someone who has worked on a diverse range of campaigns yet can bring a sensibility that is well and truly theirs to the table. Look for someone who has worked well with lots of different teams and departmental structures. Crucially, look for someone with great communications and interpersonal skills with whom you'll get along.
Diversity is important for creative teams. Not just in terms of cultural or ethnic background or gender, but in terms of experience and expertise. When people with different perspectives are brought together on a shared goal, there's a great opportunity for them to learn from one another, experiment and take risks together.
Step 3: Treat your team like an in-house marketing agency
An internal creative team and in-house agency might seem like the same thing. Indeed, they are… in some ways. Yet, while an in-house team can be prone to operational inefficiencies like overlapping of duties or unclear designation of responsibilities, in-house agencies are fundamentally more organised.
An in-house marketing agency works and operates in much the same way as an outsourced agency. Except they have only one client. Sounds like a pretty great deal, doesn't it?
They operate quasi-autonomously as a discrete department and have their own account managers, project managers and senior executives. Working this way is often advantageous for businesses as it is more cost-effective than using an external agency. Furthermore, it tends to yield greater productivity than most in-house creative teams where roles and responsibilities are more loosely defined as there is a more distinct chain of accountability.
Step 4: Establish the right conditions for creativity
This is a battle you'll have to fight on two fronts. The first is your workplace culture — the more ephemeral aspects of the workplace like attitudes, values and ethos. The second is the physical workspace and how conducive it is to effective concentration, collaboration and communication.
Workplace culture
Your workplace culture is hard to define and even harder to perpetuate. But it can either cause creativity to flourish, or stifle it, resulting in designs, campaigns and copy that are, at best, tepid. One of the best ways to create a creative culture is by listening. Assure everyone that there are no right or wrong answers. Help them to show respect even when they disagree. Push them to see the potential in others' work as well as their own.
Your business premises
There are lots of ways in which different businesses foster creativity in their teams. Some have dry erase walls and encourage employees to write or draw on them. Others ensure that working spaces have ample access to natural light and plants, while some chase a golden ambient temperature to unlock productivity.
It's all about knowing what best suits the needs of your team and the character of your brand.
Step 5: Step back, but know when to step in
Finally, it's hard to create great things when your boss is standing over you. Be prepared to take a step back and let your team (or in-house agency) work their magic. It makes for a simple but sincere demonstration of your faith in them.
Still, you can take a hands-off approach and still know when to step in. Your team will value your creative input, and synergy with them will help ensure consistency in your branding. Ask leading questions that will draw them to interesting conclusions and encourage them to look at and think about their work in different ways. This will ensure that the creative flame continues to burn brightly.