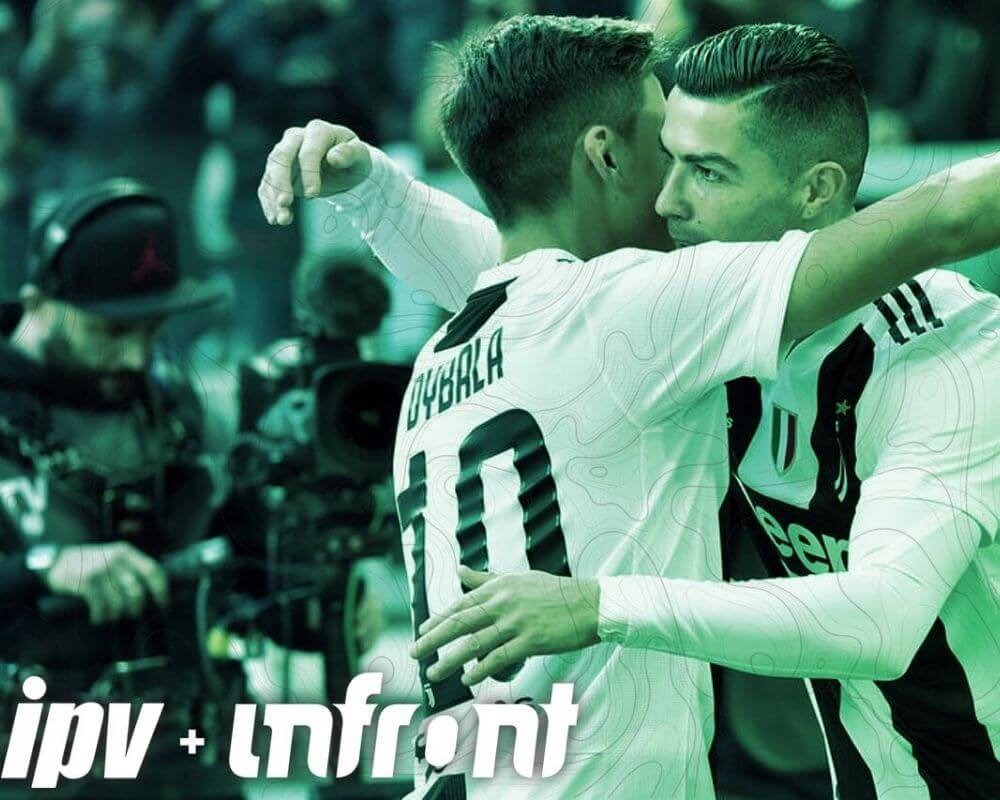 As the broadcast home to incredibly popular sporting brands such as Serie A, the Italian soccer league, Infront Sports Media has positioned itself as one of the most innovative sports broadcasters in the world today. And as an innovator, it's critical for Infront to have the best platform possible to manage their countless hours of video content.
We're happy to say that they've received just that… IPV is proud to announce that we're expanding our partnership with Infront Sports Media to now provide them with a new video content management platform for their entire library of sports coverage.
Infront's winning formula
Infront is a sports marketing firm that manages a number of high profile promotions, events, and properties. The firm manages all aspects of sporting events including media rights distribution, media production, and sponsorship. Based in Zug, Switzerland, with a team of over 1,000 across 40 offices in 13 countries, Infront's portfolio includes 4,100 event days of elite-level sporting events all across the world.
Infront Italy's biggest footprint is in Italian soccer, though that represents just a fraction of what they do, which includes:
Serving as the exclusive media rights advisor to Italy's Lega Calcio and Serie A
Commercial advisor for Federazione Italiana Giuoco Calcio
Oversees the archive for Lega Serie A
With Infront Headquarters, manages the digital media and broadcast rights for the FIS Alpine, Nordic, Snowboard, and Freestyle Ski World Cup along with the 2019/2021 FIS World Championships.
Distributes media rights for CEV European volleyball and beach volleyball championships
Infront's sister company, HBS, was the host broadcaster for the 2019 FIFA Women's World Cup and also serves as the host broadcaster for the 2019 Rugby World Cup held in Japan.
Infront's biggest challenge

Way back in 2011, IPV began helping Infront with in-game and live Italian soccer league highlights, to help create local highlights packages across the country. Infront partnered with a seperate Media Asset Management (MAM) who were responsible for editing and publishing their content along with managing Infront's footage archive.
Fast forward 8 years and this technical system duplication became a pain for Infront's users, creative teams, technical operations and, of course, their finance department.

Infront's challenge was to identify a platform that could meet the content management needs of other groups and business units as well as working seamlessly across multiple regions. Plans for future iterations would add localized stations as well.
The challenge was about more than just taking over Infront's specific collection of video assets. It was about broadening the scope of their sports coverage overall.
Other than news, no other form of production demands as much from a VAM system - Video Asset Management - as sports coverage. It involves reacting quickly to coverage of live events. Sports networks need to be able to analyze, edit, and broadcast footage within seconds to provide the viewers with the highest quality service. They need it to provide highlights, replays, and any other type of video footage that will help improve the broadcast.
Providing their viewers with this level of coverage during a sports broadcast isn't a luxury anymore; it's now an expected part of any sports broadcast. The challenge for Infront - and in turn, IPV - is to bring all these capabilities under one roof in a way that makes the production team's lives easier and the end product better for the viewer.
In short, Infront wanted their entire VAM platform aligned and would need to identify a company who could assist them with that.
Curator cruises to victory
When Infront looked for a partner to help keep all their video assets in one place, they didn't have to look far. They went with a trusted partner they knew could excel in the role.
In 2019, Infront looked to IPV to replace the current MAM with Curator, our world-leading video asset management platform. In addition, Infront looked to IPV to provide them with a preservation archive. These duties included:
Transferring all video content and metadata from the current archive and importing it into the new platform.
Increasing the number of sport disciplines IPV provides support for.
Enable both manual and automated content logging, performed with manual insertion of the metatags while also importing external data sources.
Being able to navigate the complicated and ever-changing broadcast rights associated with sports broadcasting.
IPV's solution? Transition Infront's video assets to its IPV Curator platform.
Infront and Curator: A winning team
Sports networks can collect thousands of hours of content, all of which can and should be re-purposed or re-packaged at some time or another. With its variety of sports it provides coverage for, Infront was in this situation as well. But having all the footage in the world won't help if you don't have a system in place to easily access and manage your content when you need it most.
When it comes to sports production related to VAM, it's critical to focus on having the right capabilities. At IPV, we think the focus should be on the following:
Having the ability to work faster with your video content, even during a live broadcast.
Knowing you'll be able to work with speed and accuracy when logging.
Being able to access and edit content, even when you're in on the go, in transit.
Making your archived content easy to search and re-use.
IPV Curator is a comprehensive VAM perfectly suited for Infront's diverse suite of broadcasting needs. It doesn't just help them collect and hoard their video content. It helps Infront manage it more effectively. Just a few of the benefits Infront will enjoy include:
The ability to work with live video at speed
Most sports happen at such a fast pace that fans can miss some fast-developing plays if they blink. Curator's ability to work with live video at speed can help you bring these moments back to the viewing audience's attention without missing a beat. Within moments, every play broadcasted can be accurately and instantly logged. It can then be made visible to editors. Real-time live markers will appear in Premiere Pro to create replay highlights.
Access to relevant metadata
Managing sports broadcasts can provide your broadcast team with a lot of metadata that can be hard to sift through at a moment's notice. You can end up with hours and hours of footage accumulating from multiple broadcasts.
With access to only the metadata they need - namely, metadata about the game they're currently logging - Curator enables your loggers to find the right play with optimal speed and accuracy.
Remote access for those who need it most
You may have editors or producers unable to attend the game. Despite not being able to be there in person, they still need instant access to your content. Curator allows them to gain access to these materials instantly, even if they're remote. They can review or edit the video from anywhere in the world, regardless of where the event is held.
Transform your archive into a profit center
Your archive has value beyond the first viewing of the footage included within it. Its value goes beyond just having it as a storage facility. Whether you're looking to create a highlight show, marketing campaign, or another type of show that taps into your viewer's nostalgia for their favorite teams and players, having an easily accessible archive can help. It's not just a repository for old footage - it's a curatable content hub with an endless supply of clips with the players, goals, and memorable moments your audience wants to see.
You can also track your advertisers' screen time. Record every instance of their logo or branding appearing. This can be used to cull quantifiable data to justify ROI and persuade an advertiser to increase their spending.
In-game data feeds
Having access to in-game data feeds provides the ability to restore content relative to a specific play - in other words, being able to pull up similar plays from your archives that resemble the play your audience is currently seeing. This can be done using data such as player actions, changes in the score, or injuries. Curator enables its partners to use this capability. It taps into archival footage to strengthen real-time live broadcasts, making the presentation that much more effective for the audience at home.
IPV is excited to provide these enhanced services for video asset management to Infront the way we have for our other clients, including Turner Sports, the Golf Channel, NBA TV, and Kroenke Sports Entertainment (KSE).
Here's a quote from one of our partners, KSE senior vice president of operations and engineering David Zur, on how effective Curator was as a solution for their organization:
"Curator enabled us to deploy a media asset management and storage infrastructure that enhanced and integrated smoothly into the workflows at all of our production houses. At the end of the day, if you can't find the content, you don't own it."

IPV and Infront have been a great team since 2011 and we're excited to enhance the partnership further with Curator.
Ready to take a closer look at Curator? Book a bespoke demo tailored specifically to your needs and speak to one of our IPV VIPs today!